Generally, field watches are affordable, have a military appearance, and are simple thereby making them a top choice.
In this article, we will be looking at the 10 best field watches under $500, so sit back, let's take a look at them.
Best Field Watches Under $500
Below is the list of the best five fields watches that are below $500
1. MVMT Field At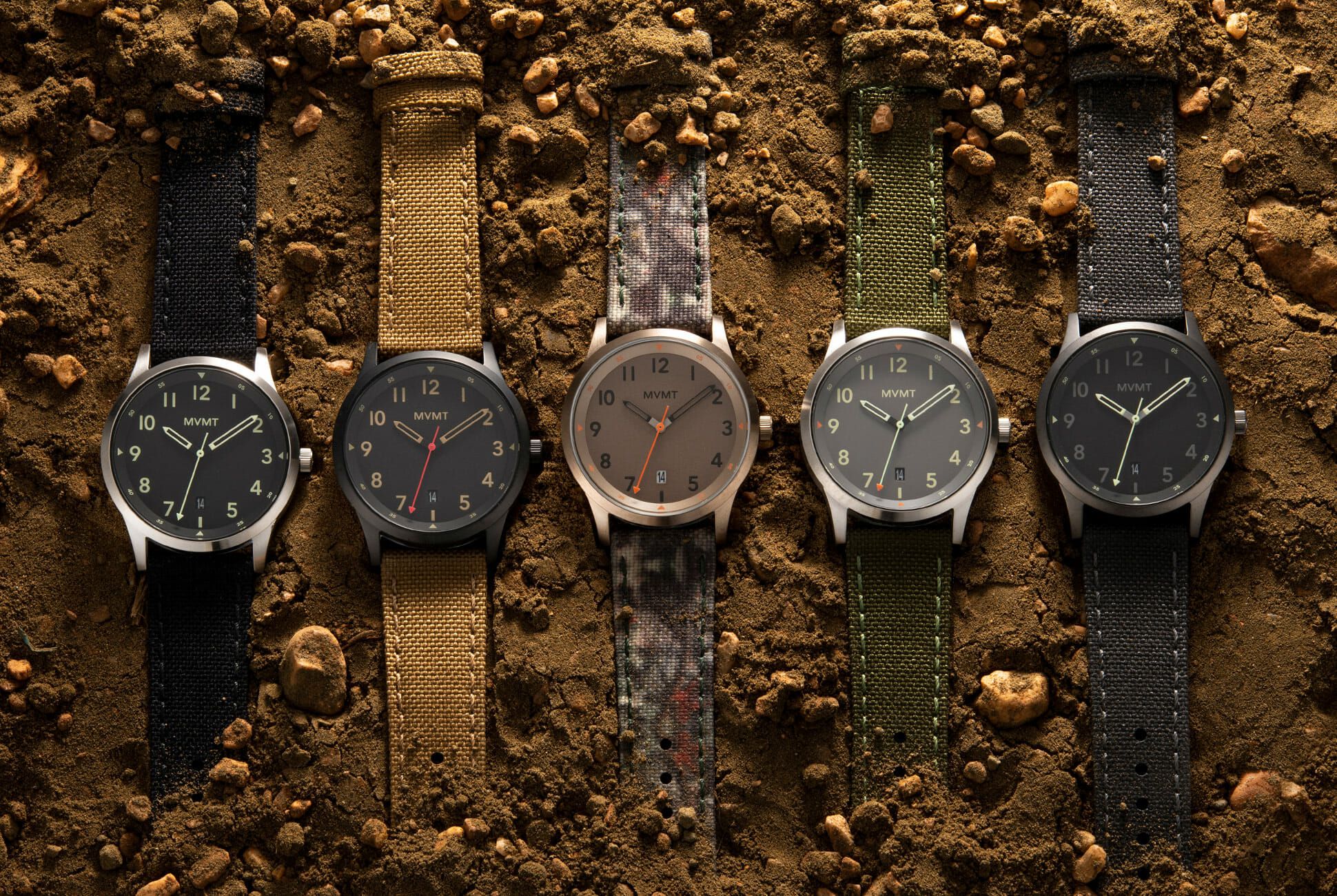 One outstanding feature the MVMT has is that although its dial strays from the traditional designs, it finds a way to include modern elements yet you can easily tell that the watch was indeed tailor-made for the field.
Key Specifications
Diameter: 41mm
Movement: Quartz (unspecified)
Price: $95
Read More: 10 Best Smartwatches Under $200 For [2022]
2. Seiko 5 SNK Series
You can't afford to mention the Seiko 5 SNK series field watch which is approximately $100 on the list of affordable yet incredible field watches below $500. 
What draws the attention of many to this field watch is the fact that it is a solid automatic watch with a cool design such that you can even throw it on a new strap and experience first-hand what I am talking about.
Key Specifications
Diameter: 37mm
Movement: Seiko 7S26 automatic
Price: $110
3. Bertucci A-2T
An outstanding feature of Bertucci is that it is made up of variations on the field watch theme yet simple and durable as expected of a field watch.
Additionally, it has a lightweight titanium case thereby making it ideal for its purpose. 
Key Specifications
Diameter: 40mm
Movement: Japanese quartz
Price: $130
4. Timex MkI Mechanical
Since its existence, the MK1 is known to be a nice,  affordable watch built for the military in the 1980s but in a quartz version. You can't help but notice its hand-wound movement which sparks another level of interest.
Key Specifications
Diameter: 36mm
Movement: Hand-wound mechanical
Price: $185
5. Merci LMM-01
The ideology most people have of a field watch is that it appears fierce, however, on seeing the Merci LMM-01 with its sophisticated and playful appearance, you may have to reconsider your take on field watches. 
That being said, this watch has an unarguably sleek design yet is admirably precise. 
You can find it in a quartz version below $500 but if you need a mechanical one, you can get it for a bit more than $500.
Key Specification
Diameter: 38mm
Movement: Ronda-513 quartz
Price: ~$269
6. Boldr Venture
Featuring an automatic movement and titanium case, the Boldr Venture is slightly different from other field watches within this price range due to the modern feel it exudes.
All thanks to the brand's signature case shape, and vivid colors.
Key Specifications
Dimensions:38mm W x 12.2mm H x 44mm L
Movement: Seiko VK64
Country of origin: Singapore
Maximum accuracy deviation:+/- 20 seconds per month
Price: $299
Advantages
1. It is a suitable watch for medics and corpsmen
2. It is long-lasting, flexible, and accurate
3. It has an outstanding functionality
Disadvantages
1. A lot of people perceive Quartz to be less cool
2. It has a controversial style
3. Top-heavy design
Read Also: 10 Best GPS Tracker Apps For Android in 2022
7. Bulova Hack Watch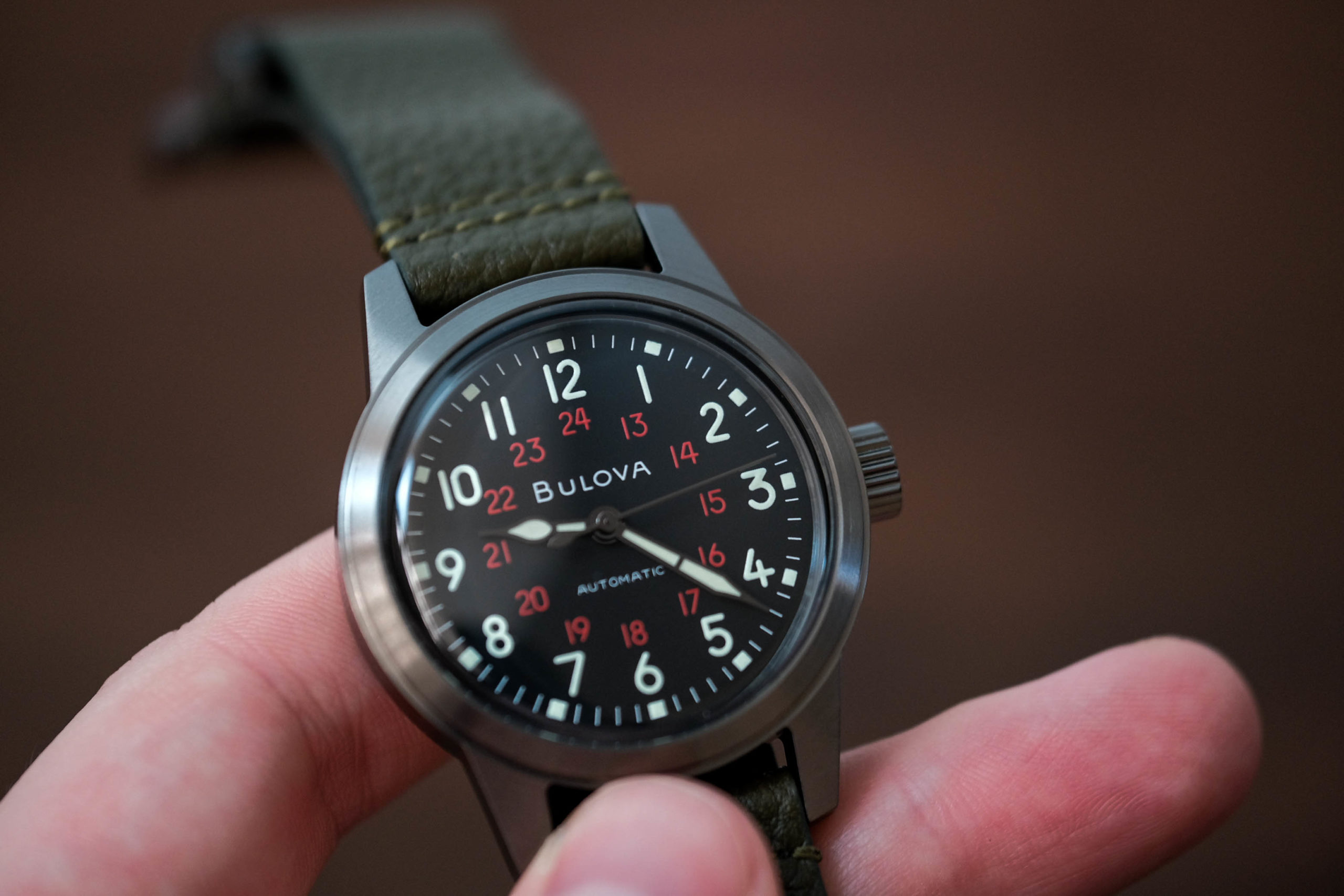 If you have mastered your watch history, then Bulova shouldn't sound strange to you because it is known as far back as the 50s and '60 as one of the companies that produced the original MIL-W-3818A spec field watches for the US military.
Interestingly, the popular "Hack" watch made it to their new Military collection, so it's safe to say that this field watch has some historical significance.
Diameter: 38mm
Movement: Miyota 82S0 automatic
Price: $315
8. Marathon General Purpose Mechanical
Just as the name implies Marathon, a Canadian company known for making watches used by militaries is known as an all-around rugged watch with an automatic movement.
Interestingly, it uses tritium gas tubes for dial illumination, has a plastic-composite case with a "sage green" color, and comes in different versions including quartz.
Key Specifications
Diameter: 34mm
Movement: Automatic
Price: $360
9. Vaer A5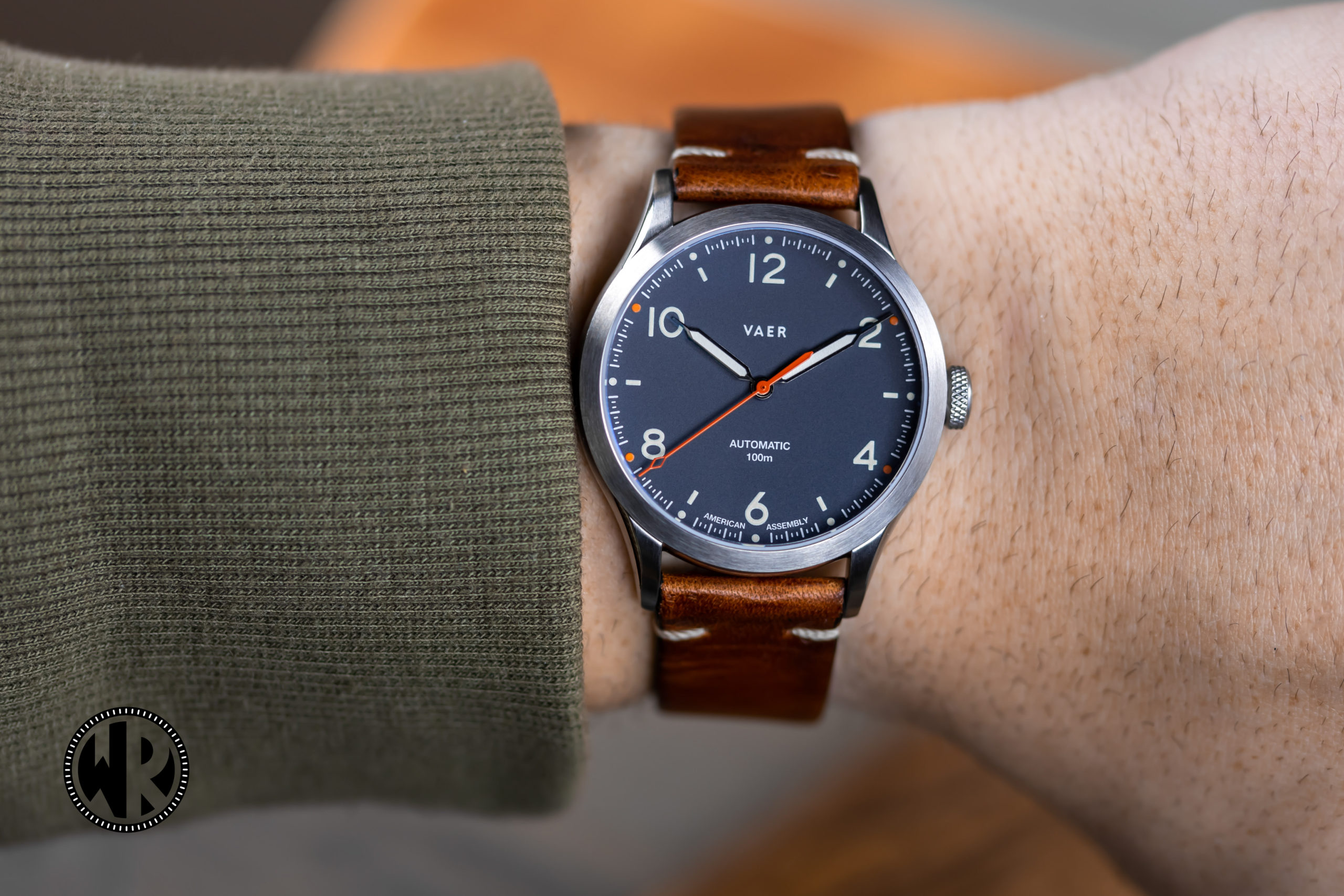 A5, a classical field watch design here with a unique white face, is one of the Vaer watches assembled in the US.
Its transparent case back window showcases the Japanese automatic movement inside, and it also has a sapphire crystal over the dial.
Key Specifications
Diameter: 40mm
Movement: Miyota 9015 automatic
Price: $449
10. Hamilton Khaki Field Mechanical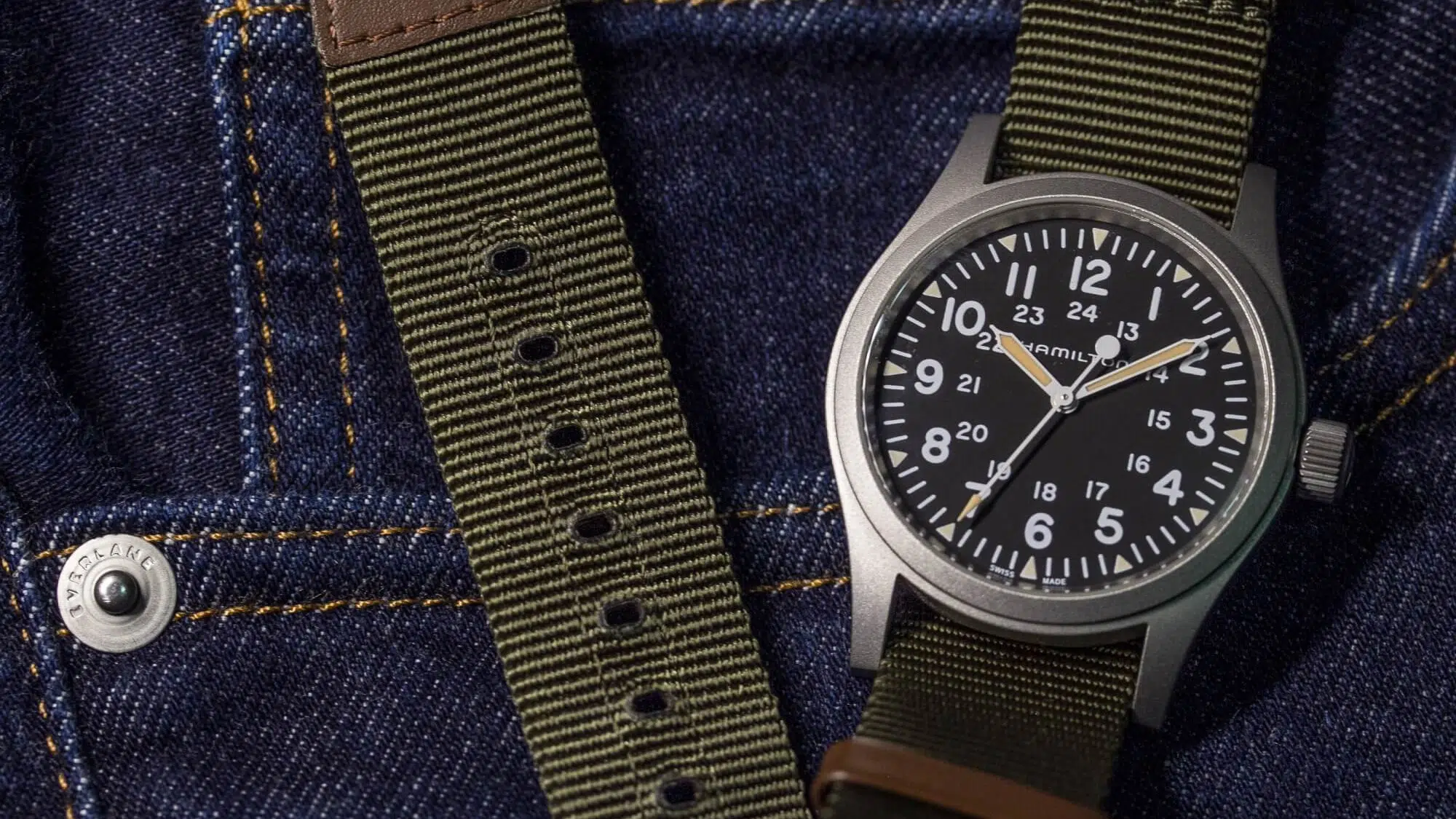 The finishing of Hamilton Khaki Field Mechanical is an ideal example of a field watch – basic.
Despite this, the value it offers is enormous yet affordable ($495), and it features a manually wound Swiss mechanical movement, sapphire crystal and an overall classic character.
Key Specifications
Diameter: 38mm W x 9.8mm H x 47mm L
Movement: Hamilton H50 mechanical  (slowed ETA 2802)
Price: $495
Country of manufacture: Switzerland
Maximum accuracy deviation: +/- 20 seconds per day
Advantages
1. It has a classic styling
2. It is long-lasting 
4. It has a very long power reserve
Disadvantages
1. Manual winding
2. It is very small for some users
3. It has no anti-reflective coating
Frequently Asked Questions
Can you wear a field watch with a suit?
Why not? You can wear field watches in a suit, and in fact, watches like the Hamilton Khaki King are tailor-made for this purpose, and feature field watch DNA, but with better styling. 
 Why is it called a field watch?
It is called Field watches because it is a timepiece worn by military men and women, explorers, and workers, and is made to suit what they do. They are durable, legible, and affordable.
Should field watches be small?
Generally, field watches are small because they need to fit various  body types, and should also not snag on anything while in use. 
This doesn't mean that there are no bigger options as we have some of them such as the Orient Star Outdoor, 38mm Hamilton and a 36mm Vaer.
Conclusion
We've successfully looked at the top 10 field watches under $500 alongside their key specifications, pros, and cons.
Having seen them, which of them do you find fascinating, and can you not wait to add them to your collection?
Kindly share your thoughts with me in the comment section, and if there is any other field watch you think is missing from our list, let us know and give us your reasons why it should be added to this category of field watches.