Washington state hosts one of the largest game development communities in the U.S., second only to California. Portland and Vancouver both have their own massive gaming scenes, which typically means there are a lot of independent developers hard at work at any given time.
The Seattle Indies community typically organizes a two-part event in the early fall to show off and display its members' new and upcoming projects. The first, the Seattle Indies Expo, made its physical return earlier this year over Labor Day weekend in downtown Seattle.
The second, SIX Online, was a slightly bigger Twitch event on Sept. 24 that showed off trailers and gameplay from the SIX exhibitors, as well as several other studios and developers that couldn't make the physical show in Seattle.
I've had the chance to play many of these locally-made indie games, which showcase the variety of the field in 2022. Some of these are years-in-the-making passion projects; others began due to pandemic cabin fever and are now getting close to completion; and a few more are simply local geeks making the games they've always wanted to play.
Auto Fire – Vertigames, Seattle, Wash.
Patrick Lipo is a nearly 30-year veteran of the American video games industry, beginning with Raven Software's 1993 RPG Shadowcaster. He's currently employed as a lead designer at Seattle's Harebrained Schemes.
For the last six years, Lipo has also been working on and off on his solo project Auto Fire, which he calls "a game I've been wanting to make for 35 years." It's a turn-based strategy/tactics game that's influenced by the 1985 RPG Autoduel and Steve Jackson's Car Wars.
In a post-apocalyptic future where most of humanity is crammed into walled cities, your custom character has grown up idolizing the Drivers who use custom cars to brave the wilderness. When you end up behind the wheel of an AI-driven car of your own, you're suddenly thrown into the deep end as one of those Drivers.
Lipo had originally planned to fund Auto Fire via a Kickstarter campaign, but now intends to put it on Steam Early Access at some point in early 2023.
Bad Baby Lich Lords – Heart of the Deernicorn, Olympia, Wash.
Bad Baby Lich Lords is a competitive card game for 2 to 4 players. It was playable at the Seattle Indies Expo in physical format, but there's also a virtual tabletop version in the works.
It's one of those games that threads the needle between "bleak" and "adorable," with a trailer in the style of a Saturday morning cartoon (above) You're one of the children of the undead Lich King, who's successfully wiped out all living creatures and settled down for a long nap. Your goal as his bratty children is to use your dark powers and armies of minions to make as much noise as possible and wake the Lich King right back up.
Bad Baby Lich Lords was developed by Ross Cowman, who previously worked on tabletop games like Fall of Magic and City of Winter. A crowdfunding campaign is planned for early 2023, in order to gather money for Bad Baby Lich Lords' final development stretch.
Batsumaru – Team Clover LLC, Redmond, Wash.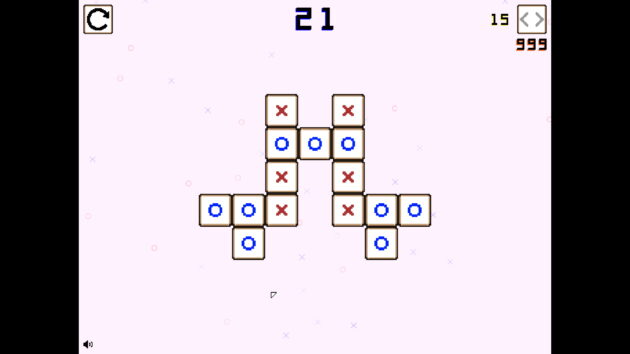 Batsumaru is a deceptively simple puzzle game. It's easy enough to figure out – the tiles have red Xs on them, and you want to flip them so they have blue Os – but there's just enough complexity involved to get and hold your attention.
Batsumaru is a side project from Redmond-based programmer Tyler Rae, who's previously worked on games like Minecraft: Pocket Edition, Quantum Break, and State of Decay. He built Batsumaru over the course of a couple of years in his spare time, hiring freelance composer Yusi Liu for the soundtrack, and released it on Steam in June.
Rae's next step is to port Batsumaru to mobile devices.
Bone's Cafe – Acute Owl Studio, Lacey, Wash.
Bone has dropped out of necromancy school, and has decided to switch to a slightly less demanding profession: running a small restaurant. Now, Bone has to juggle feeding his customers, arranging his store's layout, and occasionally, dealing with the consequences when his cooking kills somebody.
Bone's Cafe is a mash-up of Overcooked and Sweeney Todd. At the start of the game, you've just got Bone to work with and the pace of the game is genuinely frantic, where you have to keep moving and cooking to serve each day's customers. You can bring in more players to try and make the game easier, or simply raise the dead in order to press them into service at the restaurant.
The game is being built as a passion project by Acute Owl Studio, a husband-and-wife team from Lacey, Wash. Both are currently working full-time on Bone's Cafe, and are chronicling what they've learned from the project on their dedicated GitHub page.
Breakwaters – Soaring Pixels Games, Duvall, Wash.
I played Breakwaters on Steam Early Access a few days before PAX and was promptly jumped by both a hostile crab and a hostile chicken. Take from that what you will. Animal ambushes do not equal endorsements.
Breakwaters is an open-ended survival/crafting game where you're shipwrecked on the shore of a magical island. You've got little more than your bare hands, and from there, must build the weapons, armor, facilities, and tools you need to gather food, build shelter, and eventually, take down the enormous Titans you can see roaming in the distance.
At time of writing, Breakwaters has been in Early Access since December 2021, with plans to add online cooperative play in the near future. Its lead developer, Philip Heckinger, is a Duvall, Wash.-based art director, who's previously worked at Airtight Games and on Microsoft's HoloLens project.
Byte Lynx – Artful Games, Redmond, Wash.
The team behind Byte Lynx, which released on Steam on Oct. 12, describes it as "RTS [real-time strategy] without the units." It's a game of tactics where you build bases and buildings, then wire them into your power grid in order to control as much of the map as you can.
Any construction that you don't have linked into your network can be stolen by your opponent, but by the same token, you can capture structures to exploit your enemy's labor. It was deliberately inspired by Starcraft, but in play, reminds me more of the board game Go than anything else. You're trying to sever enemies' supply lines, so to speak, so you can take and use the facilities they've built.
Byte Lynx was built over the course of roughly a year and a half by Tucker Bane and Micah Rust, working out of a house in Redmond, Wash. Both Bane and Rust are graduates from DigiPen, and made Byte Lynx as a "spiritual successor" to a student project called Encroach.
Cirrata – Aaron Ingersoll, Seattle, Wash.
After his culinary career takes a major hit, Kier, an anthropomorphic red panda who works as a chef, ends up isolating himself for several months. When he finally shakes himself out of his stupor, he doesn't recognize the world outside his door, and sets out to explore it. Really, it's a useful metaphor for the 2020s.
Cirrata is a food-themed "Metroidvania"; your weapons are mostly kitchen tools, your power-ups are drinks and food, and your home base is a bar and grill. Your goal is to find out what's happened and search for a new purpose in life for Kier.
Aaron Ingersoll, a Seattle-based sushi chef, built Cirrata in the course of two years with Game Maker Studio, Photoshop, and Procreate. He estimates that each individual piece of art in the game took him an average of 7 hours to make. Minnesota-based game and theater composer Benji Inniger provides Cirrata's soundtrack and SFX.
The Curse of Grimsey Island – Miga Games, Renton, Wash.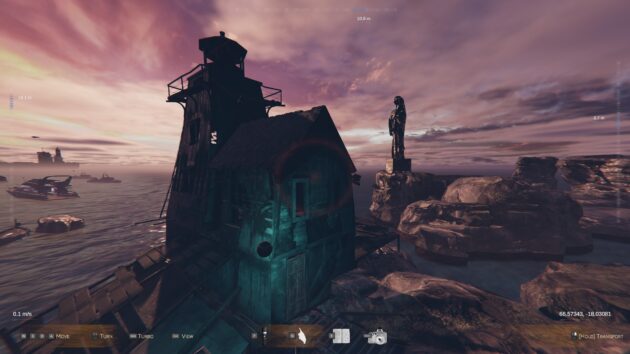 At a glance, I thought this would be a horror game. Instead, it's a surprisingly intricate near-future detective simulator.
The Curse of Grimsey Island is the third game from the Renton-based studio Miga Games; "miga" is the Italian word for "breadcrumb." You play as an unnamed, unseen forensic investigator, who uses a specialized "NanoDeck" system to recreate crime scenes in highly detailed virtual reality. With the help of a partner AI, you're out to solve a missing-persons case.
Grimsey Island's solo developer, Larry Johnson, has been building it in the Unity engine for the last year. A demo is currently available on Steam, with no official release date at time of writing.
Miga has plans to release a second detective game, Forest Grove, through the Australian publisher Blowfish Studios in early 2023.
Echoes of the Plum Grove – Unwound Games, Seattle, Wash.
Echoes is a farming game that's influenced by Don't Starve, Graveyard Keeper, and Paper Mario, with a setting that's roughly based on the United States' colonial period. Your character inherits a farmstead in the New World, where you can grow your own food, raise animals, and befriend the local villagers.
At the same time, however, you must regularly eat to keep your character from getting sick, and keep track of the food in your inventory before it spoils. This stands in stark contrast to the easy-mode mechanics in "cozy life sims" like Stardew Valley. While there's no combat in Echoes, it does give you the opportunity to actively offend the local villagers, and even to deliberately poison them if that's what you're into.
Sarah and Erik Schaeffer, a husband-and-wife team of developers from Seattle, have been working on Echoes off and on for the last four years using Unity and Fmod. They officially debuted the game at this year's Emerald City Comic Con in the indie showcase before exhibiting Echoes during PAX.
Erwin's Retreat – Studio Atma, Seattle, Wash.
If you were hanging out at indie-game showcases in Seattle before COVID, you may have seen Studio Atma's previous project, an ambitious Japanese-style RPG called Gravastar. It was so ambitious, in fact, that the team has shelved it for the time being.
Instead, Studio Atma is currently working on Erwin's Retreat, a smaller, more personal action-RPG that serves as a prequel to Gravastar.
Described tongue-in-cheek by Studio Atma's Derek Blair as "Secret of Mega Mana," Retreat follows Erwin, a widower who's come to a woodland retreat to find it infested with monsters. He must simultaneously deal with them; solve the mystery of his wife's recent death; and use his botanical expertise to create the potions he'll need to survive each night in the woods.
Studio Atma hopes to bring the game out for PC and consoles in late 2023.
Farmageddon – Goodenough Games, Seattle, Wash.
An unspecified calamity has reduced the world to barren desert, primarily occupied by hostile giant bugs. As "guerilla gardeners" Donna and Blitz, you need to split your focus between tending to your crops and beating back the wildlife that wants to eat it before you can.
Farmageddon is a relatively simple tactical RPG that began as a submission to the IndieCade Climate Jam earlier this year. Its two original creators, full-time Seattle-based indie dev Andrew Goodenough and Polyarc Games senior character artist Kieran Lampert, decided to continue to explore the idea after the Jam.
The result is a short demo that's now playable on the game's Itch page, with additional development by Bungie narrative tech designer Seth Paxton, composer Steven Garcia, and environment design by Tania Pavlisak. Lampert describes Farmageddon as currently consisting of a core gameplay loop; the next step in its development is working on its systems of advancement, like leveling up.
Islets – Kyle Thompson, Portland, Ore.
Islets bills itself as a "surprisingly wholesome Metroidvania." I found it to be a chill game about exploring a floating island in the sky… but then I ran into the first boss.
Islets is, in my experience, all about that false sense of security. Most of the time, it's a calm, smoothly animated game about exploration and discovery, with enemies that are rarely both hostile and dangerous, but the boss fights really take it up a notch. The further you go, however, the more surreal its environments seem to get.
You play as Iko, a young explorer and warrior in a world that's comprised of big floating islands that are slowly moving further apart. Your goal is to pull the world back together by finding and repairing each island's magnetic core. You'll be aided in that by a big cast of deeply weird friends, frenemies, and new acquaintances.
Islets was released in late August for Steam, the Epic Games Store, the Switch, and the Xbox platform. Its developer, Kyle Thompson, previously released and self-published 2020's Sheepo.
Manafinder – Wolfsden LLC, Seattle, Wash.
There's a lot of Sega's Phantasy Star franchise in Manafinder's creative DNA. It's a turn-based JRPG in a 16-bit style, made with RPG Maker, that came out on Steam and Itch.io on Oct. 6. It's not so much a low fantasy game as it's set in the dark underground of a high fantasy game, telling a story about the people who're scraping by in its margins.
In the fantasy world of Aevi, its cities are protected by massive mana shields that keep away the monsters that live in the wilderness. When Lambda is forced into exile from her hometown, she barely survives the experience.
When she finds her way into a settlement built by other exiles, Lambda's subsequently press-ganged into service as a manafinder: an explorer who's charged with finding sources of magical power to keep the settlement's jury-rigged shields going.
Manafinder began in 2016 as a writing exercise by Seattle-based, Mexico-raised software engineer Jorge Blanco. He told me that he'd always intended to pursue game development, and moonlighted on Manafinder while maintaining his day job.
Paranormal Detective: Escape from the '90s – LunaBeat, Portland, Ore./New York City
Escape from the '90s came out earlier this year as the second game in the Paranormal Detective series. It's a nostalgic virtual escape room that's currently available on Steam and the Meta Quest storefront.
In '90s, that means navigating a pastel nightmare with a grunge soundtrack. As a down-on-their-luck detective with a fully anachronistic smartphone, you're on the trail of a girl who vanished in an abandoned arcade.
Once you've managed to escape your own office, just to tip you off about the sort of human disaster you're playing as, the game sends you into that arcade. Here, as part of solving puzzles to find your way back out, you'll play skee-ball, collect stuffed penguins from a claw machine, and get smoked at virtual air hockey.
The team behind LunaBeat, Laura Tallardy and Scott Adelman, has been making games together since 2012. Adelman works out of Portland, Ore., while Tallardy is in New York City.
Peglin – Red Nexus Games, Vancouver, BC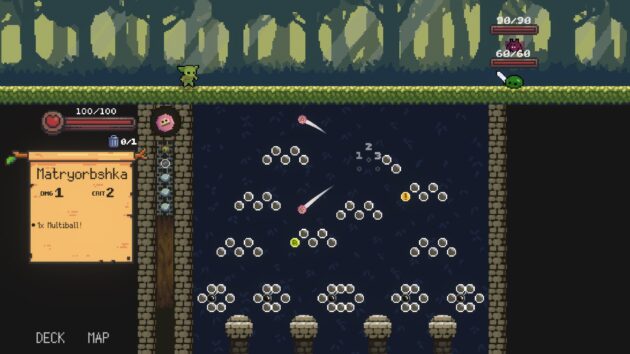 Like 2020's Roundguard, which it's currently bundled with on Steam, Peglin is a "roguelike" dungeon crawler by Dylan Gedig that replaces its combat with a pachinko-based minigame. Your attacks deal damage based on the number and type of pegs your shot is able to hit on its way down the board.
As you progress, you can gradually acquire an arsenal of relics (one of which is actually called the Round Guard) and specialized balls that let you adjust or break the game's rules.
Peglin began as what its composer, Crashtroid, called a "COVID cabin fever" project. It has been available on Steam Early Access since last April, and has put out three major updates so far, many of which have focused on game balance.
PIXELS: Digital Creatures – Anigram, Kirkland, Wash.
The first thing someone might think upon looking at PIXELS is Pokemon, which is entirely intended. The game is built as a "creature-battling roguelike," with a replayable cycle of gameplay similar to Slay the Spire, where you try to escape from a constantly-changing virtual world by building a team of digital monsters. Each step along the hexagon-based in-game map could hold a new fight, a town, randomly-generated loot, or other secrets.
Anigram, a collaborative team comprised of Digipen graduate Jonathan Cho and Jennifer Mendez, published PIXELS via Steam Early Access in July.
Cho describes PIXELS as a "self-funded passion project" ("We really love doing it"), which he and Mendez have worked on for the last year and a half. It's the first game, and a full-time job, for both Cho and Mendez.
Riposte – Misdirection Games, Seattle, Wash.
Aaron Maus, a solo developer in Seattle, released his first project Riposte in April of 2020, right in time for lockdown measures. "The start of the pandemic was not ideal timing for a local-multiplayer party game," he told me via email, "so I didn't do any expos. Now that SIX is back in person, I figured I would give it a go."
Billed as "the party game where you can stab your friends," Riposte is a fighting game for 4 to 8 players. As a bunch of idiots who got rejected from a tournament in 12th-century England, you've gone off to the pub to stab one another for fun and bragging rights.
In play, Riposte isn't what you might expect. You directly control your character's weapons, which float in space in front of them, and the goal is to tag your opponent's torso while keeping yours intact. It's a lot more like Pong—to the death—than any kind of remotely realistic duelist simulator.
The current version of Riposte supports tournament modes, 2v2 play, a 4-player free-for-all, and a variety of minigames.
R.I.P. Tour – Ghost Clown, Seattle, Wash.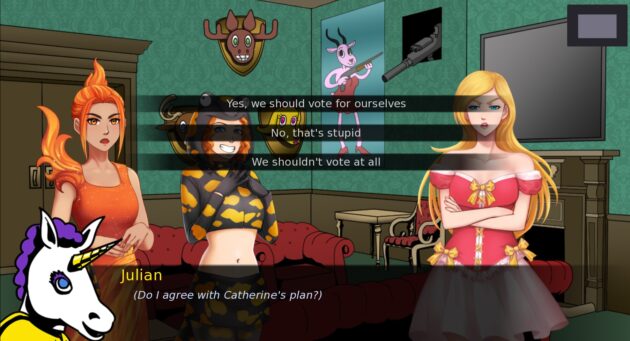 In the visual horror novel R.I.P. Tour, your customized protagonist ends up trapped in an abandoned amusement park on Halloween night, with a unicorn mask they can't remove, several new acquaintances who probably can't be trusted, and a sadist on the PA system who wants your group to decide who lives and who dies.
According to R.I.P. Tour's developer Victor Wolfe, the game is intended as a homage to both slasher movies and the surprisingly pervasive subgenre of "death game" interactive murder mysteries (i.e. Danganronpa, Zero Escape). Wolfe cites the Japanese freeware game Your Turn to Die as a particular influence.
R.I.P. Tour was a "COVID project" for Wolfe, which he revisited last summer with the intent to turn it into a full release. Since then, he's enlisted Minneapolis-based sprite artist Ruby Dian to replace his original art, and implemented a soundtrack by indie composer Benjamin Gear. Wolf hopes to have R.I.P. Tour feature-complete by the end of 2023.
Spirit & Stone – Garden Gate Interactive, Kenmore, Wash.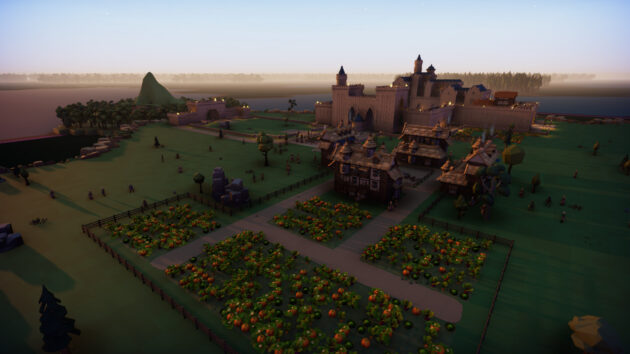 Caleb Fisher describes Spirit & Stone as, variously, a kingdom/village management simulator, or as "Rimworld meets Townscaper." It's a medieval fantasy game where you can design buildings, rule a colony of villagers, befriend the spirits in the nearby forest, open trade routes, and expand into nearby lands.
This is Fisher's first game as an indie developer. He's been working on Spirit & Stone for two years as part of a two-person development team, after he was affected by the sudden, controversial shutdown of Star Theory Games in early 2020.
Spirit & Stone, in his words, is a "LEGO set brought to life," with a storyline and in-game environment that are both randomly generated every time you play.
Super Pickleball Adventure – Andrfw, Seattle, Wash.
Andrew Murray, a Seattle-based software engineer, built Super Pickleball Adventure over the course of six months. It's visually inspired by deliberately-simplistic web comics like Andrew Hussie's MS Paint Adventures, and is playable on browsers for free via Murray's Itch.io page.
It's a short game, set in a universe where every man, woman, and child you encounter is both a pickleball enthusiast and looking to challenge you. (At PAX, Murray compared the process to how everyone you encounter in a Pokemon game is an experienced Pokemon trainer who thinks they can take you.) Over the course of Super Pickleball Adventure, you'll take on cowboys, ninjas, and portal-wielding scientists before a final match against the pickleball world champion.
Throne of Bone – Windmill Slam, Seattle, Wash.
"Auto-battlers" have been steadily growing in popularity for the last couple of years, owing to games like Dota Underlords and Storybook Brawl. Throne of Bone, by solo Seattle developer Pete White, is a more Tim Burton-ish take on the concept than most.
You play as a necromancer who's been deposed, because for some reason, the rest of the world doesn't seem to consider reanimating the dead to be honest work.
Throne of Bone is a single-player, deckbuilding "roguelike." You start off with a couple of weak minions, then use them to fight your way back into your castle from its crypt. Along the way, you get to raise the dead, summon demons, and bust up self-righteous cultists. It's currently planned for a full release later this year.
Unstable Scientific – Studio Castle Soodalkov, Winthrop, Wash.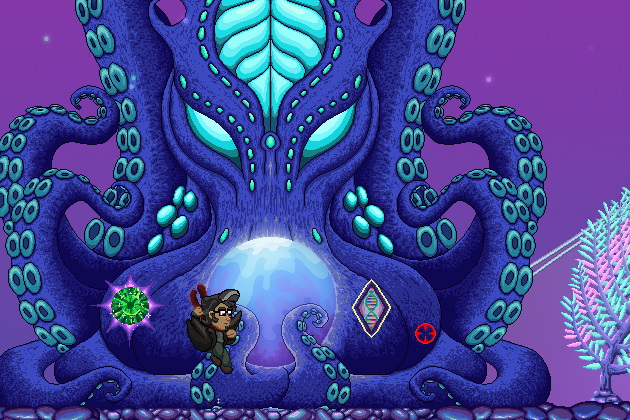 "Growing up in Russia," Masha Falkov told me, "scientists were my heroes." That, as well as Falkov seeing Ghostbusters for the first time, inspired Unstable Scientific, a base-building action/platforming game.
In Unstable Scientific, your protagonist is forced to start their career over after a rival destroys their lab. That brings you to the strange island of Toromiro, where you can rescue and befriend fellow scientists, fight monsters, and collect resources to rebuild your facility.
Falkov is an artist and glassblower who now works out of Twisp, Wash. She and her partner Dustin Soodak have been working on Unstable Scientific for the last five years, especially during the COVID lockdown. The team's next goal is to put together a demo of the game, with hopes to release it in the winter of 2023.
Voodoo Detective – Short Sleeve Studio, Bellevue, Wash./Los Angeles, Calif.
Short Sleeve Studio is the team of Eric Fulton, a software engineer who's worked at Amazon and Blue Origin, and his friend Eric Ackerman. There's no big story here; according to Ackerman, they just decided one day to make a video game. Two and a half years later, the result is Voodoo Detective, a point-and-click adventure that's equally influenced by Monkey Island and Dashiell Hammett.
In addition to Fulton and Ackerman, the game's creative staff includes a number of LucasArts veterans like long-time Star Wars voice director Darragh O'Farrell, with animations by John McFarlane (The Simpsons, Futurama, The Iron Giant).
Set in the 1930s on the fictional island of Zo Wanga, you play as the titular Voodoo Detective, who's hired by a mysterious amnesiac woman to find out who she actually is. Somehow, this case ends up building to the point where reality itself begins to unravel.
Voodoo Detective was released for PC and mobile platforms back in May, with a Switch port coming later this month. Ackerman told me at PAX that the next step for Short Sleeve Studio is either job-hunting or an attempt to secure more funding, based on how the audience reacts to the game.