The Penny Arcade Expo has traditionally been a big event for the Pacific Northwest's game development community, but 2022's show in September took it up several notches.
This year's PAX West 2022 event in Seattle was a bigger production than last year's safety-first show with more booths and more attendees, but once again, many of the "AAA" companies in the games industry skipped PAX this year.
The exceptions were Nintendo, which was there to promote the impending release of the head-to-head paint-'em-up Splatoon 3, and the Japanese studio Bandai Namco.
While several big names from both Sony and Microsoft were in attendance, including PlayStation Indies head Shuhei Yoshida, neither company had an official presence at PAX. Other significant no-shows included Capcom, Bungie, Square Enix, and Ubisoft.
Unlike PAX 2021, however, a large number of middleweight developers and publishers stepped in to pick up the slack in the expo hall. This included Devolver Digital, Skybound Games, Larian Studios, Finji, Rogue, Raw Fury, and tinyBuild. If PAX 2021 was an indie expo with a budget, PAX 2022 was where the "AA" studios took charge.
There were well over 40 locally-produced games at PAX, between the convention center itself and the Seattle Indies Expo on Sept. 4, and I did my absolute best to track down as many of them as I could, before and after this year's show. Here's what the Pacific Northwest had to offer, as seen from PAX 2022's expo hall.
30XX – Batterystaple Games, Seattle, Wash.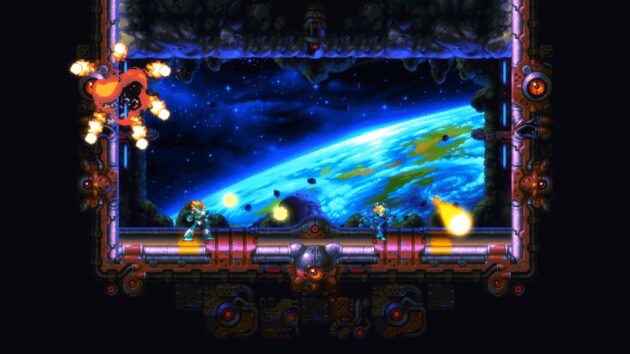 To quote studio head Chris King, Batterystaple Games' previous release, the 2017 action/platformer roguelike 20XX, "did better than it had any right to." The experience left Batterystaple, which moves its operations from Washington D.C. to Seattle in 2020, with a few more ideas that the team wanted to try.
That led to the creation of 30XX, now in Steam Early Access. Like its predecessor, 30XX is essentially a fan-made spiritual sequel to the Mega Man X series; in fact, the games' names come from the deliberately vague year in which the Mega Man series takes place.
For 30XX, Batterystaple has implemented a big visual overhaul and added a new style of play. In "Mega Mode," 30XX procedurally generates each of its stages at the start of the game, but then keeps that seed intact and lets you work through its stages in any order you like, similar to the central gameplay hook of Mega Man.
Alternatively, you can still play through 30XX in its default roguelike mode, where you've only got one life in which to clear an entirely randomly-generated version of the game. You can once again play in co-op mode, and choose to play as either Nina, who focuses on ranged combat, or the swordsman Ace.
According to King, there's no particular roadmap for when 30XX will leave Early Access, but it's unlikely that its development will end with version 1.0.
Bare Butt Boxing – Tuatara Games, Vancouver, B.C.
Yes, that actually is its name. Bare Butt Boxing is a party game for up to six players, where an assortment of cartoon fighters brawl throughout surreal landscapes. The "boxing" part is arguably a misnomer, as it's more like a Royal Rumble; you earn points by knocking other players' characters offstage, typically by punching or throwing them into one of four giant portals.
Bare Butt Boxing has been in development for 18 months, and is the product of a widely distributed team. While Tuatara Games (a tuatara is a reptile from New Zealand) is officially headquartered in Vancouver, it's also got developers in the Spain, France, the U.K,, and eastern Canada. The plan is currently for BBB to be released on Steam Early Access in the first quarter of 2023, with both local and online play.
Colossal Cave 3D – Cygnus Entertainment, Seattle, Wash.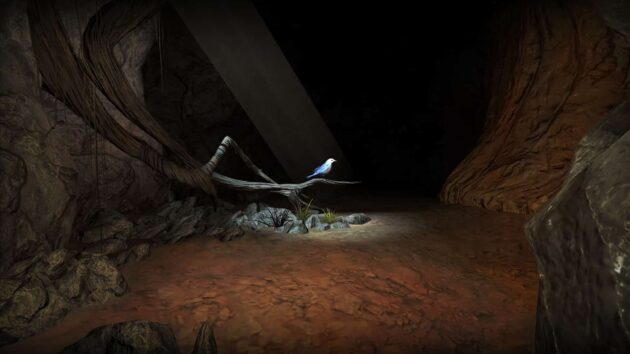 Back in 1976, Will Crowther's Colossal Cave Adventure effectively invented both the adventure game and text-based interactive fiction. There are a lot of in-jokes from both video games and computer programming in general that go back to CCA, such as the magic word "xyzzy."
Now the Seattle-based Cygnus Entertainment, headed up by adventure-game legends Ken (Mystery House, Space Quest) and Roberta Williams (King's Quest, Phantasmagoria), has "reimagined" CCA for modern systems by providing its first-ever graphic interface. The puzzles haven't changed, but now you can actually see every detail of Crowther's cave system in 3D or VR as you explore it in search of treasure.
The story behind Colossal Cave 3D's production is surprisingly long, but boils down to this: the project's lead 3D artist, Marcus Mera, picked up retro computing as a hobby during lockdown. He ended up meeting Ken Williams during a museum presentation, and slowly coaxed Williams into coming out of retirement for a new project. That turned out to be CC3D, with Roberta Williams eventually coming along for the ride.
The new Colossal Cave 3D can be played in 2D on the Switch and Epic Games Store and in VR on the Meta Quest 2. It's due out later this year.
Dungeons of Aether – Aether Studios, Seattle, Wash.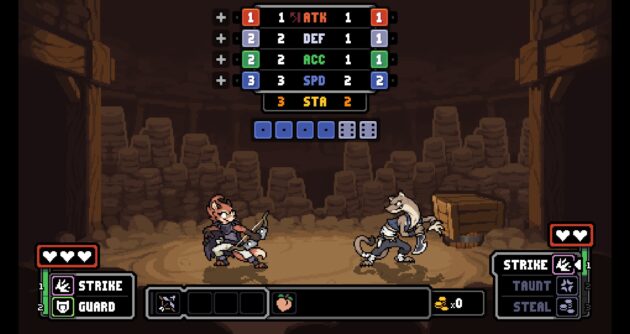 The creators of the indie "platform fighter" Rivals of Aether founded Aether Studios in 2021 to create further games and transmedia projects set in the larger Aether universe.
So far, that's included the April Fool's joke turned actual game Lovers of Aether; a card game for mobile devices, Creatures of Aether; a digital comic series by Ian Flynn, the long-time writer of the official Sonic the Hedgehog comic; and ongoing work on a sequel to Rivals. The original Rivals of Aether is reportedly now feature-complete, with no plans to add anything else to it.
A new fourth game in the shared Aether setting, Dungeons of Aether, made its debut at this year's PAX. It features four brand-new characters who go up against a crooked mining company, with a script written by Flynn. Its mechanics are deceptively simple; each character in Dungeons has four fixed stats, which you can manipulate on the fly with random dice rolls, consumable items, and careful play, which removes much of the guesswork from a round of combat.
Dungeons is tentatively planned to be available on Steam in February 2023.
Freshly Frosted – the Quantum Astrophysics Guild, Seattle, Wash.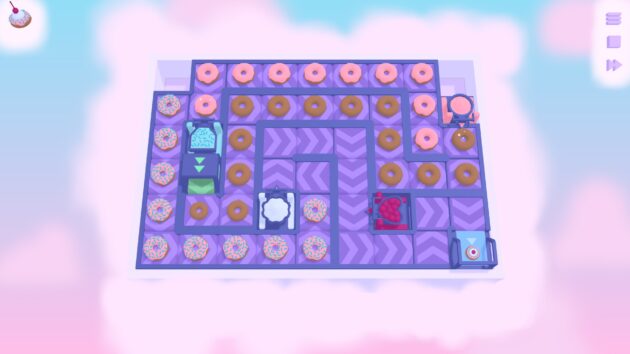 Freshly Frosted is a puzzle game about creating virtual donuts on an imaginary assembly line. You begin each map with a number of machines fixed in place, and must figure out how to get appropriately decorated donuts from point A to B, with no time limits, infinite retries, a gently encouraging narrator, and a relaxing soundtrack.
It was designed to be "extremely cute and extremely satisfying" by a small team of three Seattle developers, who got together to work on it every Monday night for about three and a half years.
Freshly Frosted was released on Steam and the Switch in June by the Seattle-based indie publisher the Quantum Astrophysicists Guild, and was one of the 10 games selected for this year's PAX Rising showcase.
Gunbrella – Doinksoft, Portland, Ore.
It's difficult to explain Gunbrella in a way that makes any sense to someone who doesn't play a lot of video games. It's a high-speed 2D side-scrolling action/adventure game that the developers call "noir-punk," set in a stylized version of Great Depression-era America. Playing it at PAX, it reminded me of nothing quite so much as the infamously difficult 2007 fan project I Wanna Be the Guy; it's got some of that game's aerial maneuverability, high challenge rating, and pixelated ultraviolence.
Your character has ended up as the wielder of a weapon that's half shotgun, half bulletproof umbrella, all makeshift aerial maneuverability tool. In an attempt to learn more about the Gunbrella, you head to an isolated island, which is full of mad cultists, mutants, angry ghosts, and ramshackle dungeons. The result is a fast-paced shoot-'em-up with gallons of blood and very little margin for error.
The developer on Gunbrella, Doinksoft, is a small studio in Portland that typically works with the Texas-based indie publisher Devolver Digital. Its previous games include the monochrome "Metroidvania" Gato Roboto and this year's Demon Throttle, which is only available as a limited-edition physical cartridge via Special Reserve Games.
I Was A Teenage Exocolonist – Northway Games, Vancouver, BC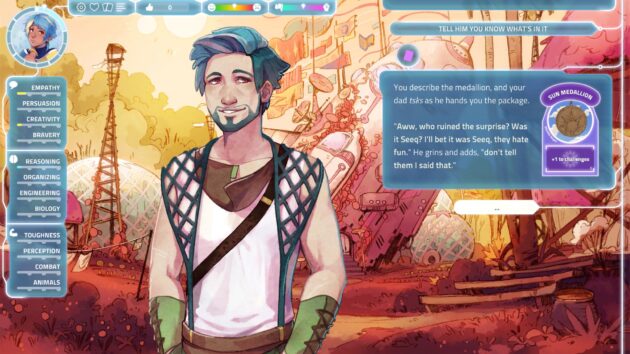 Released shortly before this year's PAX for Steam, the Switch, and the PlayStation 4/5, I Was a Teenage Exocolonist doesn't fit neatly into any genre classification. Its publisher Finji calls it a "narrative deckbuilding RPG," but in play, it feels more like an interactive children's novel. Specifically, it's an old children's novel, like Bridge to Terabithia, that isn't afraid to hit you with unexpected emotional body shots.
You begin Exocolonist as a 10-year-old kid, whose appearance and gender are up to you, who's joined their parents on a colony expedition to an alien planet. Over the course of the next 10 years of your character's life, you choose what subjects to study, skills to master, and relationships to maintain. Eventually, what you do, or fail to do, will determine your new colony's chances of survival.
Northway Games was founded in 2008 by the husband-and-wife team Colin and Sarah Northway, who currently work out of Vancouver, B.C.; the Northways' other games include Fantastic Contraption, Incredipede, and the Rebuild trilogy. At PAX, Sarah Northway told me that she's been working on Exocolonist for the last five years, although it started off as a much smaller project. The finished version also features the work of a team of four artists, including a watercolorist, and the Vancouver-based sound design studio A Shell in the Pit (Wandersong).
The Last Hero of Nostalgaia – Over the Moon Games, Vancouver, B.C.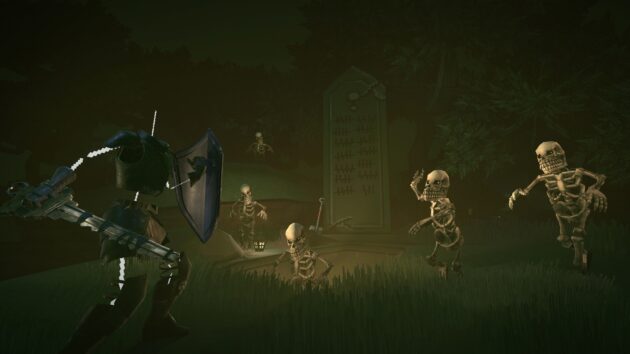 Like Gunbrella, this is a little inside baseball. The Last Hero of Nostalgaia is a game that's very deliberately directed at an audience that plays a lot of video games.
Nostalgaia is the next project from Over the Moon, the studio behind 2018's The Fall, Part 2, and is an affectionate parody of the "Soulslike" sub-genre of action-RPGs.
In a fantasy world that's slowly succumbing to a bizarre form of (file) corruption, as represented by a gradual pixelation of its people and environments, you play as the latest and possibly last hero that's been sent to save the day.
That same corruption has afflicted you just as strongly, however, so your character is a pixel-art stick figure, which wears 3D armor and carries 3D weapons in a 3D environment. You must go on to fight zombies, monsters, armored guardians, and the game's hostile narrator, who isn't above hacking the world in order to put bigger problems in your way. It was released for PC and Xbox on Oct. 19.
Lifeless Moon – Stage 2 Studios, Snohomish, Wash./Denver, Colo.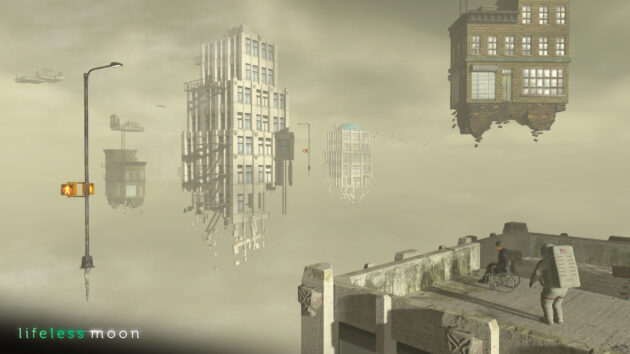 Stage 2 Studios' David Board describes Lifeless Moon as a 5-year "indie passion project," inspired by classic science fiction and the natural scenery of Alaska. It's an adventure game that serves as "sort of a prequel" to Stage 2's previous release, the 2014 "walking simulator" Lifeless Planet.
During a lunar expedition, two astronauts suddenly find themselves transported back to a small town on Earth. They set out to explore the town in an attempt to figure out what's happened and why, in a story that Board describes as "not quite full horror." Instead, it's meant as a surreal, creepy experience.
The developer on Lifeless Moon, Stage 2 Studios, is a collaboration between two different businesses by the same name. Stage 2 Interactive in Washington state creates educational apps and games, while Denver's Stage 2 Video is an award-winning video producer. Stage 2 will publish Lifeless Moon on Steam through the indie studio Serenity Forge in early 2023.
Salt and Sacrifice – Ska Studios, Seattle, Wash.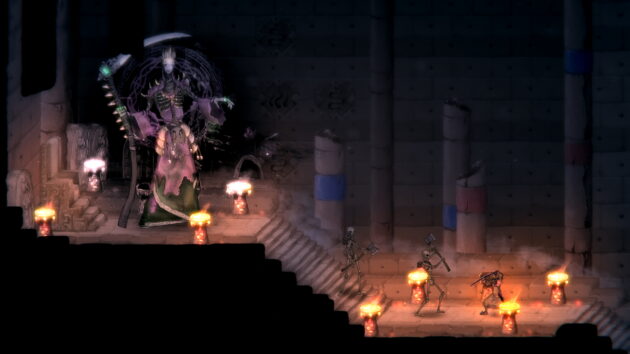 Anyone can show off their new video game at PAX, but it takes a company like Ska Studios to hack together a brand new game mode, with no intention of adding it to the actual retail product, and exhibit that.
Ska Studios' most recent project, Salt and Sacrifice, came out in May for the PlayStation 4/5 and Epic Games Store. Like its predecessor Salt and Sanctuary, it's a dark fantasy action-RPG that was directly inspired by From Software's Dark Souls. Players take the role of inquisitors, sent out to find and dispatch the hostile mages that are endangering their nation.
As a PAX exclusive, creators James Silva and Shane Lynch slapped together a 4-player vs. mode within Sacrifice in two weeks. Visitors to the Ska Studios booth were challenged to fight each other, with winners collecting an official Sodden Knight plush doll.
Silva told me at PAX that Sacrifice has done well for the company, with a few thousand people logging in to play it every day since its launch. A big content update for Sacrifice is planned for the near future, with new weapons and armor, increased flexibility to better suit players' individual styles, and a new ability, which allows players to exchange health for ammunition/resources in the field. That update, notably, may or may not include the PAX-exclusive PVP mode.
Seafrog – Oh My Me Games, Port Townsend, Wash./Phoenix, Ariz.
The best way to describe Seafrog is that it's a momentum-based skateboarding platformer. You don't simply jump around; you slide down hallways, grind on pipes, flip off levers, and style all over the pirates that are trying to take you down, sort of like a 2D version of Tony Hawk's Pro Skater.
Seafrog is being developed by director/artist Tyler Maitland, working out of Port Townsend, Wash., with programming by Mariano De La Cruz. Both Maitland and De La Cruz were employed by the Phoenix-based mobile game studio Grumpyface until the company went on hiatus in 2020.
Maitland and De La Cruz subsequently spent 18 months working on an early version of Seafrog and submitted it to the first Rogue Jam. It won that competition's grand prize, taking home $500,000 and a publishing deal from Rogue Games. The game is planned for release in 2024.
Superior – Drifter Entertainment, Seattle, Wash.
Drifter Entertainment's next project, after the 2020 virtual reality horror game Lies Beneath, goes back to the company's roots as an action developer. Superior is a 3-player cooperative "horde shooter," where players go up against roving hordes of superhuman mutants in an attempt to save the world.
Ray Davis, Drifter's CEO, described Superior's story to me as a dark, cynical take on superheroes, inspired by recent shows like Invincible and The Boys. In Superior's world, all of the superheroes have turned into hostile monsters, which forces you to take them down, absorb their abilities, and use those stolen powers to help save the world.
It's a fast-paced, brutal third-person shooter with roguelike elements, where part of the challenge is to come up with a truly broken combination of stolen powers before the hordes take you down.
More controversially, Drifter has teamed up with the recently-founded blockchain company Gala Games to publish Superior. Players can currently buy and trade Superior character skins as NFTs, using one of several cryptocurrencies, including Ethereum and Gala's own tokens. Davis describes Drifter's movement into the blockchain gaming space as an "educational journey."
"Our first priority is to make the game fun," Davis told me at a PAX afterparty, "and we'll figure out the NFTs as we go. As an independent game developer, I want to figure out if this is a new model that can be used to fund game development."
System Shock – Nightdive Studios, Vancouver, Wash.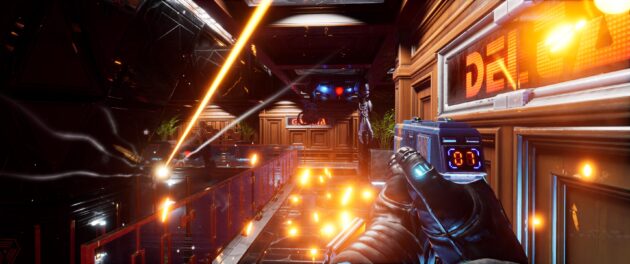 Nightdive Studios is best-known at this point for its remasters of various classic '90s games, such as Quake, Doom 64, Blood, PowerSlave, and SiN, many of which had fallen out of print or become unplayable on modern hardware. Its "Enhanced Editions" have given several dead/abandoned games a new lease on life, or at least provided old-school PC gamers with an easy nostalgia fix.
Nightdive's next big project is a full-on remake of the original 1994 System Shock, by the late, lamented Looking Glass Studios. Nightdive already released a port of System Shock on Steam in 2015, but the 2022 version is a ground-up reconstruction of the full game in the Unreal Engine. It effectively recreates System Shock in the image of its sequel, the highly influential System Shock 2.
You play System Shock as a nameless hacker who wakes up aboard a space station that's been taken over by one of the great all-time video game villains, the hostile AI SHODAN. You must sneak, fight, or hack your way through the station's corridors and its new population of hostile robots and cyborgs, in an attempt to destroy the station before SHODAN can weaponize it to attack Earth.
Tails: The Backbone Preludes – Eggnut, Vancouver, BC
After appearing at the Indie Megabooth at PAX in 2018, Eggnut's post-noir detective game Backbone came out in 2021 to interestingly mixed reviews. (Some people did not care for the ending.) Backbone ended up doing well enough that Eggnut – a 15-person team that's headquartered in Vancouver, BC, with distributed workers in Portugal, Russia, and eastern Canada – has gone back to make a prequel.
Like Backbone, Tails: The Backbone Preludes is a pixel-art adventure game, starring anthropomorphic animal characters, that takes some of its inspiration from LucasArts' "SCUMM games" of the '90s.
Unlike Backbone, Tails features a cast of four playable characters, one of whom is brand new, and consists of 4 illustrative vignettes from each character's past; Backbone's protagonist Howard, for example, shows up in Tails as a young college student who's nothing like the cynical detective he'll eventually become. It's intended as a standalone project, but also serves to fill in some of the background details of Backbone's dystopian version of Vancouver.
Tails is scheduled for a full release in 2023.
Zombies Noir – Synodic Arc, Bellevue, Wash.
Recently launched into early access on the Meta Quest 2, Zombies Noir bills itself as one of the first mixed-reality action games on the platform. It uses the Quest 2's built-in cameras to let you place two virtual doors in your vicinity, then defend yourself as waves of cartoon zombies come rushing at you.
As you defeat zombies, you earn points and cash, the latter of which can be spent between waves to earn bonuses, create barricades, and get new weapons. The trick, I found, is that Zombies Noir isn't just a shooting gallery; you can, and in fact probably ought to, duck and weave around the virtual zombies instead of simply trying to stand your ground.
The studio behind the game, Synodic Arc, has been making games on Steam since 2018, starting with the visual novel The Book of Regrets. Its next project, The Boo Crew, is planned as a 4-player co-op game in the spirit of Nintendo's Mario Party.
Returning projects
In addition to new games and recent releases, some exhibitors at PAX were making a repeat appearance. Here are some local developers from the PNW who were making a second trip to PAX, to announce expansions, further development, or simply to get word out to the fans.
Calico: Pawsome Edition – Peachy Keen Games, Seattle, Wash.
Since its showing at the Indie Megabooth at PAX 2019, the magical-cat-cafe simulator Calico got picked up by Pennsylvania's Whitethorn Games, an indie publisher that specializes in similarly zero-stress experiences. Calico eventually came out on Steam in late 2020, where it accrued a Very Positive rating. It's since been ported to the Switch, Google Stadia, and the Xbox platform.
Calico reappeared at PAX this year to promote its forthcoming Pawsome Edition. First announced at the Wholesome Direct show in June, which celebrates "uplifting, thoughtful, and wholesome" indies, the Pawsome Edition of Calico is a major expansion to the base game. Its additional content includes cooking minigames, more animals to collect and ride like owls and rats, and in-game customizations such as being able to pick your cafe's rugs and wallpaper. It's due out later this summer.
Cricket: Jae's Really Peculiar Game – Studio Kumiho, Redmond, Wash.
Redmond's Studio Kumiho is the only company that's made it into every single one of these PAX roundups I've written for GeekWire. It was at PAX West 2022 to continue promoting Cricket, an RPG that draws inspiration from Korean mythology and classic JRPGs, particularly Earthbound.
Unusually, Cricket hasn't really changed much since its appearance last year; its 2022 PAX demo showed off the same "vertical slice" of an early section of the game, but with a lot more polish and significantly retouched graphics. It's still a weirdly melancholic gut-punch of a game, where you can be fighting homicidal flowers one moment and grappling with a surprisingly honest portrayal of grief the next.
Harvest Hero: Origins – Gemdrop Games, Vancouver, Wash.
At last year's PAX, Harvest Hero: Origins was essentially a proof of concept, which put up to 2 players against an infinite army of monstrous "greebles" in an attempt to keep their village safe.
HH:O made its official debut on Steam and Itch.io this past Feb. as a $3 arcade game with story and survival modes, as well as four more playable characters. HH:O's developer Clay Paris is currently making plans for his next project.
Since HH:O's release, Paris has released two free DLC packages, which have added a couple of unlockable guest characters from other games. One is Zack, a party member from Cricket; another is Shroomella, from the Boston-made indie platformer Renaine.
Minotaur Princess – Bunnies4peace Studios, Bellevue, Wash.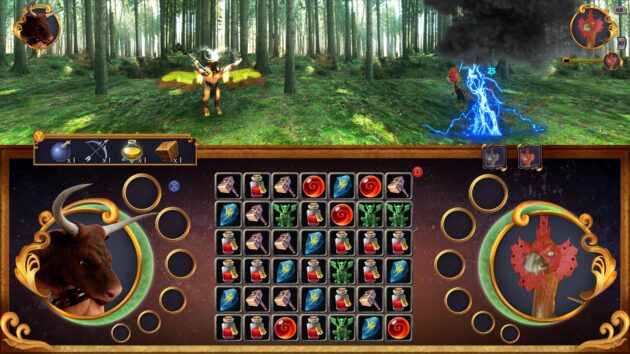 Bunnies4peace's Charles Kimball describes Minotaur Princess as "what I thought Puzzle Quest would turn into." Set in a scratch-built fantasy world, you play as Atrea, a princess who's been body-swapped with a minotaur on the other side of the continent. In theory, this was to get Atrea out of the way in order to target her father.
The rest of the game is the process of minotaur!Atrea rampaging across the world to get back home, as depicted by a series of match-3 puzzles. Imagine Bejeweled, except when you successfully match 5, you cut a monster in half with an axe.
Minotaur Princess was barely in alpha during PAX 2021, but was far enough along this year that it hosted a full head-to-head tournament at its booth in the expo hall. It's being made in Game Maker Studio by a team of five first-time garage developers, with a targeted release date of the spring of 2023.
Sail Forth – David Evans Games, Seattle, Wash.
Back in 2019, Sail Forth showed up at PAX in the Indie Megabooth as a sort of bite-sized sailing simulator, with realistic water physics and about an hour's worth of gameplay.
Since then, there have been some changes, which have included a major story overhaul. Now, Sail Forth is an open-world adventure game that takes cues from Assassin's Creed 3: Black Flag and The Legend of Zelda: The Wind Waker.
Set in a big open ocean that's full of hand-made but randomly placed encounters, you can gather resources, unlock tools, and gradually build yourself up from a single pirate captain on a leaky ship to the commander of an entire AI-controlled fleet. It's scheduled to get published by the Quantum Astrophysics Guild in the near future.