It wasn't that long ago that Al Michaels had no idea what streaming was. But for the veteran broadcaster, joining the broadcast team for Amazon Prime Video's exclusive coverage of "Thursday Night Football" is a chance to try new things while winning over NFL fans with a high-quality production.
"I find it to be exciting in the sense that all of my friends and my kids and my grandkids all think this is about the coolest thing in the world," Michaels said Tuesday during a video chat with media and other members of Amazon's new "TNF" team.
Even though Michaels and longtime producer Fred Gaudelli, analyst partner Kirk Herbstreit, and sideline reporter Kaylee Hartung are headed to a different platform, buoyed by the Amazon's tech expertise and deep pockets, Michaels said there is no plan to reinvent the wheel when it comes to broadcasting a football game.
"We're not going to do anything that's crazy. Maybe the interactivity is something that's a little bit different than a standard broadcast," Michaels said. "I said to somebody, they think we're coming over the Rockies in a covered wagon. I said we're coming over the Rockies with broadband. We are the pioneers."
This season, Amazon will become the first streaming service to exclusively offer a national broadcast package with the NFL. The Prime Video deal spans 11 years and may have cost Amazon $1 billion per season. Sportico previously reported that Amazon effectively doubled the $660 million Fox was paying for "TNF."
Amazon's move is part of a larger trend among tech giants to become major players in acquiring the broadcast rights of live sporting events. It's a "terror for media companies," The New York Times reported this summer, as tech companies such as Apple and Google "aren't playing by the same financial rules."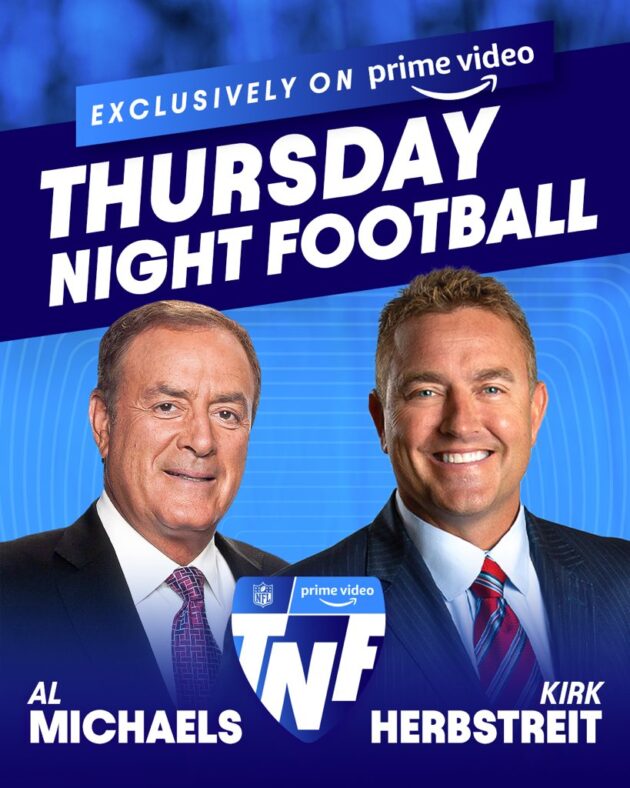 Michaels and Herbstreit, the Emmy-winning college football analyst at ESPN, signed on officially in March and while they've done a non-broadcast test game together already, their first true streaming test comes this Thursday at 4 p.m. PT with a preseason game featuring the Houston Texans and San Francisco 49ers.
The "TNF" regular season officially kicks off on Sept. 15 with a matchup between the Los Angeles Chargers and Kansas City Chiefs. Games will be streamed on the Amazon.com homepage, via the Prime Video app, on Amazon-owned Twitch, and on over-the-air TV stations in the two home markets of the competing teams.
Amazon also announced a new deal with DirecTV to allow for the broadcast of games in bars and restaurants.
Amazon previously held streaming rights as part of a tri-cast with Fox and the NFL Network, so Prime Video has some past experience in knowing what it wants to bring fans. As the exclusive provider, Amazon is promising new pregame, halftime, and postgame shows as well as alternate feeds, such as a pairing with the guys from Dude Perfect.
Interactive features like X-Ray, alternate streams, and Next Gen Stats are a mainstay for "TNF" on Prime. And Gaudelli, a 24-time Emmy-winning producer who has worked with Michaels for 21 years, ticked off some more of the tech at his disposal.
"We're gonna have dual sky cams, so we'll have regular sky cam and high sky," Gaudelli said. "I think we have 13 high-speed super-slow-mo cameras. We'll have the kick technology that we pioneered on 'Sunday Night Football.' It's going to be a very, very robust production."
Amazon VP of Global Sports Video Marie Donoghue said Amazon is an "innovation-first company" and Prime Video will approach the broadcast that way.
"We have some surprises planned for you," Donoghue said, adding that the streaming platform provides a great opportunity to engage fans with data and highlights and almost infinite choice. "Not everybody wants to watch the game the same way. We're not choosing one type of fan to serve, we're trying to serve all fans."
Here's a few more highlights from Tuesday's news conference:
"With respect to marketing, the entire Amazon company is behind the marketing effort. I don't know if you've gotten any Amazon boxes in the mail yet, but they'll either be promoting 'Thursday Night Football' or 'Lord of the Rings: Rings of Power.'" — Marie Donoghue
"Some of the things Fred [Gaudelli] talks about like highlights and augmented highlights that they will be showing on the main broadcast, a lot of our optionality actually is to put those types of controls and options in the hand of the viewer. So things you'll see Fred and the team do on air for a certain number of plays you could potentially do for an unlimited number of plays through X-Ray." — Marie Donoghue
"NFL fans have a very definitive expectation when they turn on the television. The best people in television and sports television work on the NFL, and when it comes to prime time, I think their expectations are even heightened. And if you don't come with a real quality show, they're probably not going to come back." — Fred Gaudelli.
"I think a lot of people are curious since it is such a new template and a new platform as to what's gonna go on. We just want to put on a very high quality show. Come one, come all." — Al Michaels.