Amazon's Prime Early Access Sale, slated for Tuesday and Wednesday Oct. 11-12, is the company's attempt to jump-start the holiday shopping season and replicate the effects of its summertime Prime Day event on its bottom line.
It's one factor that will make the 2022 shopping season different from any before.
As a bonus for Amazon, it's also a potential remedy for a post-pandemic hangover.
Amazon was holding a record $38 billion worth of inventory as of the end of June, up 58% year-over-year, according to its 10-Q filing with the Securities and Exchange Commission. This followed a second quarter earnings report in which the company reported that online sales fell 4% year-over-year, to $50.9 billion.
The Prime Early Access Sale is shaping up as "a win-win for Amazon," said Melissa Burdick, president and co-founder of the Pacvue e-commerce software company, who previously worked for 10 years at Amazon, helping to launch the company's health and beauty business.
"They've got an inventory problem, so they can get through that," she explained. At the same time, "it brings customers in early, starts the holiday season early, and spreads out the demand throughout the whole season."
The challenge: Higher inventories and lower sales can handcuff retailers both economically and logistically, impacting cash flow and making it more difficult to stock up items that will be in-demand for the holidays.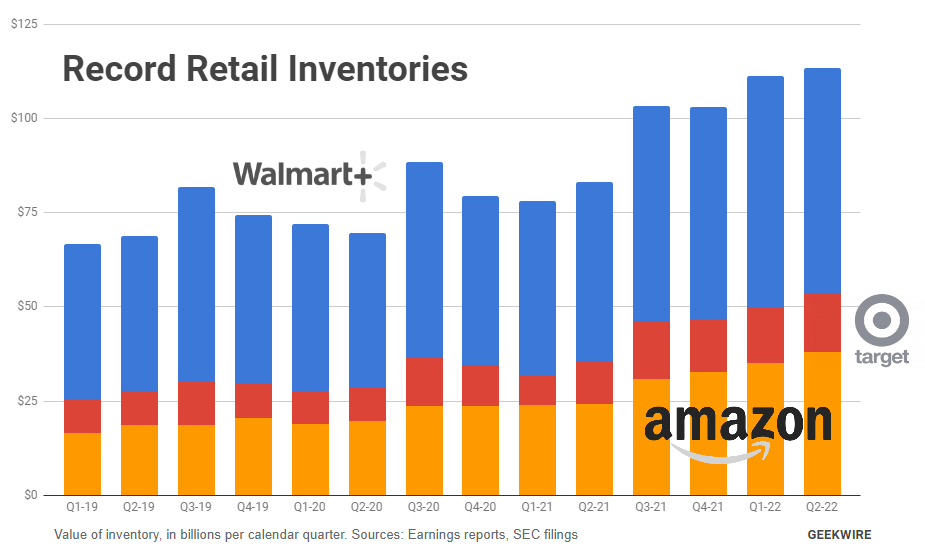 The company is being careful not leave the impression that it is selling overstock or unwanted items. For example, it will offer deals from a Top 100 list of products in conjunction with the Prime Early Access Sale, which it describes as "some of the season's most popular and giftable items."
At the same time, Amazon acknowledges that it's holding more inventory in its fulfillment centers than normal at this time of year. Facing supply chain disruptions and longer lead times in the second quarter, Amazon says it took steps to make sure that key items didn't go out of stock, resulting in higher inventory levels.
Amazon was in a good position to stockpile inventory this year. The company reported in April that it had over-anticipated demand and added warehouse space faster than it ultimately needed at the height of the pandemic, resulting in excess capacity and an extra $2 billion in costs in the first quarter.
Larger economic issues: The company is far from alone among major retailers in dealing with extraordinary inventories right now. Walmart, Target, and others are also holding their own early deals events.
"Most major retailers are currently over-inventoried and trying to drain down," said Andrea Leigh, a former Amazon general manager who is founder and CEO of Allume Group, an e-commerce learning company.
Many retailers ordered too much earlier this year based on prior forecasts, only to see consumer demand slow due to changing shopping patterns and inflation.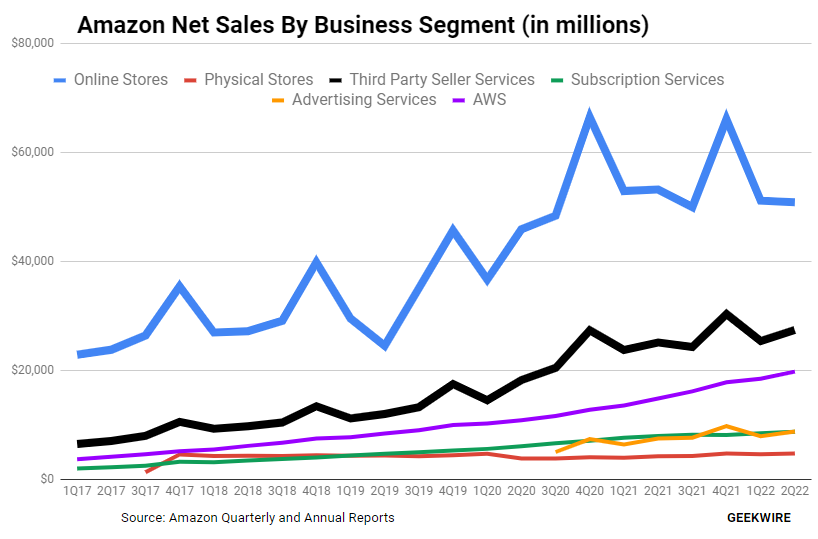 Consumer concerns about inflation help to drive interest in these sales events. During the summertime Prime Day event, many shoppers sought deals on everyday household goods, trying to stock up on items that they would end up buying regardless. In the past, Prime Day discounts sparked more incremental discretionary purchases.
Adobe Analytics, which still considers Nov. 1 the official start of the holiday season, says it expects U.S. online holiday sales in 2022 to reach $209.7 billion between Nov. 1 and Dec. 31, up 2.5% from last year.
By comparison, U.S. online holiday sales in 2021 were $204.5 billion, up 8.6%.
"The shape of the holiday season will look different this year, with early discounting in October pulling up spend that would have occurred around Cyber Week," said Patrick Brown, Adobe VP of growth marketing and insights, in a statement. "Even though we expect to see single-digit growth online this season, it is notable that consumers have already spent over $590 billion online this year at 8.9% growth, highlighting the resiliency of e-commerce demand." 
For retailers, even if the fall sales event doesn't result in a major increase in overall sales for the quarter, it spreads the holiday shopping season over a larger timeframe, reducing the pressure on the supply chain and delivery network.
Prime Day vs. Prime Early Access Sale: Compared with widespread participation by brands and sellers in the summertime Prime Day sale, the reaction to the new fall counterpart has been less consistent.
Some brands aren't participating in this week's Amazon sale due to their own inventory or profitability challenges, whereas others paused or reduced their promotional budgets in September to be able to participate in the October sales event, Pacvue's Burdick said.
At the same time, there seems to be less enthusiasm from third-party sellers than there typically is for the traditional Prime Day.
Following its debut in 2015, Prime Day has become one of the most important annual milestones for the Seattle-based company, ultimately expanding to two days and effectively creating a second peak shopping season.
Amazon's planning for the first Prime Early Access Sale has felt ad hoc, similar to the first Prime Day seven years ago, said Chris Purcell, founder and CEO of digital e-commerce agency Nexus Brand Group, who was Amazon's head of apparel promotions during the original Prime Day.
For example, Amazon didn't really start ramping up communications with brands about the Prime Early Access Sale until after Prime Day in July, said Purcell, whose agency works with Amazon vendors and third-party sellers in areas including apparel, supplements, toys, and other consumer goods.
"A 90-day lead time is very unachievable for most brands without planned inventory," he said. "That's one of the challenges they will face with this. But since Amazon holds generally more inventory at a lower-cost basis, they'll probably be able to run some deals without the partnership of brands on the inventory side."
What to expect: Deals previewed by Amazon in advance included discounts on Peloton bikes, Casper and Ninja home and kitchen products, Melissa & Doug and Hasbro toys, Drybar and Caudalie beauty products, and Calvin Klein and Orolay fashion products, in addition to many others.
Although Amazon held Prime Day in the fall in 2020, after it was delayed by the pandemic, this is the first time the company has held a second two-day sales event in the same year. The company isn't yet saying whether it will make the Prime Early Access Sale an annual tradition.
Amazon's Prime Early Access Sale begins at midnight Pacific time on Tuesday, Oct. 11, and runs for 48 hours, through Wednesday, Oct. 12.