This site may earn affiliate commissions from the links on this page. Terms of use.
The CES trade show takes place in a few weeks, and AMD's CEO will be delivering the opening keynote. Dr. Lisa Su will take the stage in Vegas, and is expected to deliver the company's vision for the future. That should include the highly-anticipated Zen 4 CPUs with 3D Cache, as well as more members of the RDNA3 GPU family. The keynote will be live-streamed on Wednesday, Jan. 4, 2023, at 6:30 p.m. from the Venetian.
The most anticipated announcement is Zen 4 CPUs with V-Cache. Although people were generally impressed by Zen 4 CPU performance at launch, the existence of the previous V-Cache CPU kind of crashed the party. AMD conspicuously left that CPU out of its comparisons, seemingly because it was still so competitive against the new architecture. Intel even tried to hide the 5800X3D in its Raptor Lake comparison slides, too. V-Cache CPUs can dramatically boost performance in games, so people are giddy with anticipation about that being applied to Zen 4. The company is expected to announce three V-Cache CPUs, which is a break from tradition. It previously only announced a single X3D CPU and did so at the very end of AM4's lifecycle. This time around, AMD is facing a serious threat from Intel's Raptor Lake, which is just as fast and less expensive to upgrade to than AMD's new CPUs. Therefore, it's rumored to be moving the announcement up to blunt Intel's advance.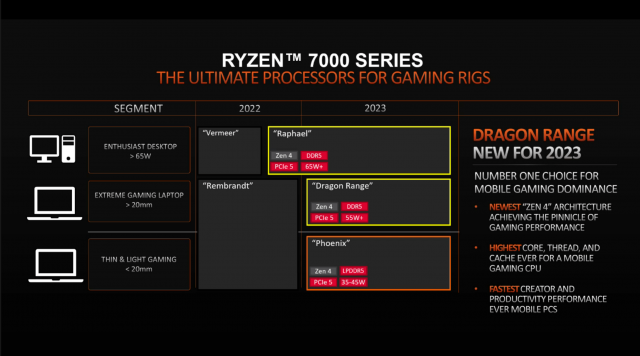 Dr. Su will likely also be announcing the mainstream lineup for Zen 4. These are the more affordable, non-X versions of its CPUs, such as the 7600, 7700, and so forth. AMD is also anticipated to finally unveil the 8000 series mobile lineup, as well as the previously mentioned Dragon Range mobile CPUs. The company announced their existence on an investor call in May of this year, but we've heard nothing since. However, the company promised to offer the highest "thread, core, and cache" amounts for a mobile gaming CPU ever. That's a lofty promise in light of the fact that Intel is also readying a 24-core mobile chip based on Raptor Lake. AMD will likely also unveil its Phoenix APUs.
AMD has only announced its flagship RDNA3 GPUs so far. Therefore, anticipation is high for the RX 7800 XT, and possibly an RX 7700 XT. Nvidia has also held off on announcing any midrange GPUs. This has led to a market hungry for an affordable GPU using next-gen architecture. Nvidia will probably announce the RTX 4070 Ti at CES, which is the formerly cancelled RTX 4080 Ti. Pricing is TBD, but since it's Nvidia, it'll probably be high. This gives AMD an opening to once again undercut Nvidia on price.
"I am excited for the opportunity to deliver a keynote at CES 2023 to highlight the next generation of high-performance and adaptive computing innovations, and products that will push the boundaries on what is possible and play an important role helping solve our most important challenges," said Dr. Su in the announcement.
Now Read: