This site may earn affiliate commissions from the links on this page. Terms of use.
AMD is fresh off the release of its 4th gen Ryzen 7000 CPUs, but it's not resting on its laurels. As expected, AMD CEO Lisa Su has just unveiled the server side of its updated CPU lineup with the 4th Gen Epyc Genoa platform, which it claims is the "world's best data center CPU." These chips use the same Zen 4 core architecture as the new Ryzens, but they come with up to 96 cores on a single processor, along with other meaty upgrades like DDR5 memory and PCIe 5.0.
As it's based on Zen 4, Genoa uses TSMC's 5nm process node with up to 90 billion transistors. That advance offers twice the component density and at least 1.25x the performance of 7nm chips like the 3rd Gen Epyc. The Epyc 9004 family will have the cores grouped into as many as 12 Core Complex Dies (CCD), each with 32MB of L3 cache and 1 MB of L2 cache.
Unlike most CPUs in servers and desktops, AMD's Epyc designs are fully integrated chiplets, also known as a system-on-a-chip. That means they have all the core components, like the memory and SATA controllers, integrated into the processor. This eliminates the need for a powerful chipset on the mainboard, lowering costs and improving efficiency compared to similar chips from Intel. The Epyc chip is a bit unusual in the way it implements these features. The I/O die (seen in the center of the chip below) uses a 6nm process technology, while the CCDs surrounding it are 5nm.
AMD says boosting the core count is also a boon to efficiency. The top-end Genoa chip has 96 cores and 192 threads, whereas Intel's latest Xeon Platinum CPU maxes out at 40 cores — AMD also says its Zen 3 cores are up to 55 percent faster than Intel's cores. AMD claims businesses will be able to get by with a third as many servers in some applications if they use Epyc Genoa instead of Xeon.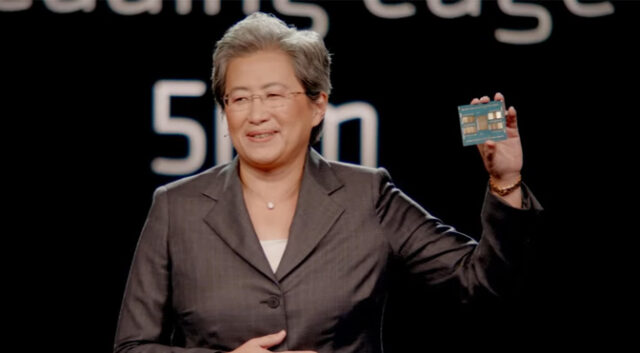 AMD is claiming a significant lead in high-performance computing tasks compared with Intel's latest Xeon chips. The company says the 4th Gen Epyc is 2.5 times faster at weather modeling and computational fluid dynamics, and 2.6 times faster at running the math on structural analysis. It also offers 3x better integer performance, which is important for cloud technologies. The move to PCIe 5.0 doubles I/O bandwidth compared to the last gen, and DDR5 allows for a big 2.3x boost in memory bandwidth. That's important for keeping up with all those CPU cores.
Since these are not consumer-focused chips, AMD isn't worried about an overly complicated product lineup. There are 18 variants of the Genoa chips, ranging from the 200-watt 9124 with a paltry 16 cores all the way up to the 360-watt 9654 with 96 cores. These chips will begin rolling out to partners in the coming weeks.
Now read: