This site may earn affiliate commissions from the links on this page. Terms of use.
AMD has published a new blog post attempting to convince people of its status as a GPU industry leader. Along the way, it seems to have inadvertently admitted its older GPUs are a better value than the newest models. It reminds us of the oft-used online phrase, "An attempt was made."
The gist of the blog is boilerplate PR about how AMD Radeon GPUs are the best at every resolution and price point. It notably does not compare its GPUs against Intel or Nvidia with numbers. Anyway, with many AAA titles out currently and more on the way, AMD wants people looking to upgrade to buy an AMD GPU. To help convince them, it provides a handy chart showing the fps-to-dollar ratio for its entire 7000 and 6000 lineups across six games at 1080p: Apex Legends, Valorant, Call of Duty: Modern Warfare 2, The Callisto Protocol, GTA V, and Overwatch 2.
All games were tested at "Max" settings, aside from the entry-level RX 6400, which ran these games at a "Medium" preset. It's in this chart that it shows its 7900 GPUs offering the worst bang-for-the-buck value of its entire product stack.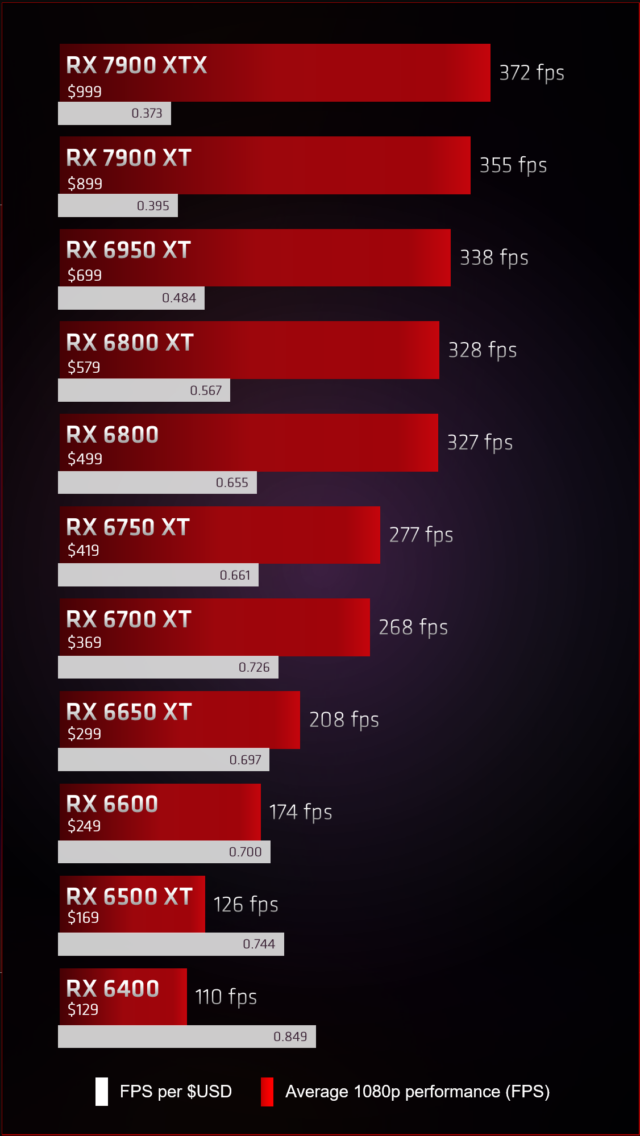 If you just pay attention to the grey bars, you'll note how they start out small at the top. They then proceed to get wider and wider, all the way to the bottom as it ticks through the 6000 series. This essentially shows that as you go down the product stack, fps-per-dollar only goes up. It means that every 6000 series GPU offers more fps-per-dollar than its most recent GPUs.
We're not sure why AMD's marketing team felt compelled to point this out. Perhaps it is just stating the obvious, that its newest GPUs have an early adopter tax built into their pricing. Maybe AMD is still happy to be selling RX 6000 series GPUs. We imagine Nvidia is in the same camp, as it needs to clear out its Ampere GPUs to pave the way for more Ada Lovelace purchases. Still, AMD seems to be faring well so far with its RDNA3 GPUs, vapor chamber issues aside.
As we reported previously, the RX 7900 XT is currently the top-selling GPU in Germany. You can insert a David Hasselhoff joke here, but the numbers show it's been a success so far.
We reached out to AMD to help us understand why it's pushing this angle, as it paints its older GPUs in a more favorable light than its newer models. We'll update this article if and when we hear back.
Now Read: