Take a breath, Seattle. The Mariners are back in the postseason for the first time in 21 years, ending the longest active drought in professional American sports after a stunning walk-off victory Friday night at T-Mobile Park.
If you're new to Seattle or you're a soggy, seasoned native, Seattle was undoubtedly a much different city in 2001. Heck, it was wildly different just five or 10 years ago!
The technology industry and the companies, personalities and products associated with it have reshaped Seattle into a hub of innovation. It's a workplace destination for transplants galore, many of whom couldn't pick Edgar Martinez out of a baseball lineup or tell you what "95 slide" means.
The last time the Mariners made the playoffs they did so riding a record 116-win season. They were dispatched by a New York Yankees team seemingly rooted on by an entire country bruised by the events of Sept. 11.
The 2022 Mariners are a dancing, Swelmet-wearing bunch built around rookie sensation Julio Rodriguez, who was less than a year old the last time the team saw the postseason.
GeekWire wasn't born until March 2011, but plenty was going on in the prior decade that would shape who and what we would cover. We like to say, "What happens here matters everywhere." Let's hope that also translates to baseball in October.
So, get out the rye bread and mustard (or just order Uber Eats) and keep reading for a look back at some of the tech and cultural milestones from 2001:
The dot-com bust which began in 2000 was fully realized in 2001 as a number of companies that operated in Seattle shut down, including charity website GreaterGood, group buying platform Mercata, computer software retailer Egghead.com, sports recruiting site Rivals.com, online delivery retailer Kozmo, advertising startup Mediapassage, online grocer Webvan, and more. But others, including Microsoft and Amazon, survived and later thrived.
T-Mobile Park was a 2-year-old stadium by the name of Safeco Field back in 2001. The insurance company held 20-year naming rights before Bellevue, Wash.-based wireless carrier T-Mobile made a magenta splash in 2019.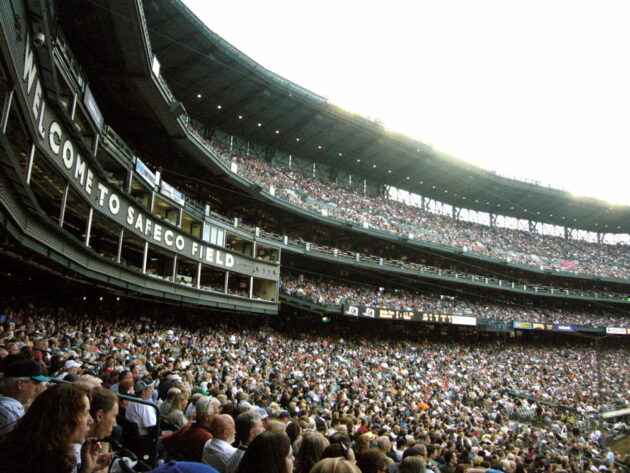 Sujal Patel and Paul Mikesell took the startup leap and launched Isilon Systems, anticipating a massive increase in unstructured data in the world. That gamble paid off as Isilon sold to EMC for $2.5 billion in 2010, one of the largest acquisitions of a Seattle tech company.
As a burgeoning online book seller, Amazon reported record revenue of $3.12 billion in 2001 and the company inked e-commerce partnerships with Target and Borders. The much-transformed tech giant — which has changed the entire look of Seattle — had revenue of $469.8 billion in 2021.
Microsoft reported revenue of $25.3 billion for its 2001 fiscal year, compared to $198.3 billion, 21 years later. The software maker released Windows XP and entered the video game console business that year with the release of the Xbox. The Rock was (mostly) a wrestler back then …
Starbucks introduced the Starbucks Card for the first time and had 4,709 stores in 2001. The coffee giant has continued to invest heavily in technology — mobile orders account for about a quarter of U.S. transactions at company-operated stores — and Starbucks now has more than 34,000 locations in 84 markets.
Hometown aerospace giant Boeing announced that it was relocating its corporate headquarters away from Seattle (where it had been based since its founding in 1916), eventually landing in Chicago. Boeing this year said it would move its HQ again, this time to Virginia. The company continues to make airplanes in Everett and Renton, Wash.
Apple released the first iPod, as well as iTunes, and it opened its first retail stores, ushering in an era that would take its battle with Microsoft beyond operating systems and desktop computers.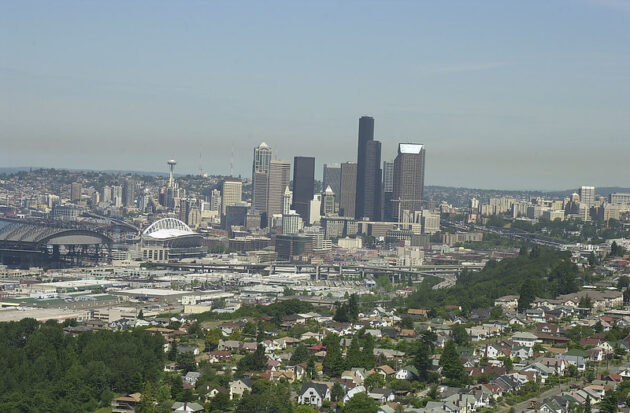 Long before Beast Quake, a bigger, scarier earthquake hit Seattle. The Feb. 28, 2001, Nisqually earthquake struck at 10:54 a.m. local time and lasted nearly a minute, with a magnitude of 6.8.
The median home price in Washington state in 2001 was $179,900, according to the Office of Financial Management. The figure in 2021 was $560,400. Housing affordability in Seattle has become a critical civic issue.
Some last gasps of post-grunge music can be heard in "Hanging by a Moment," by L.A. band Lifehouse, which was Billboard's No. 1 song on the Hot 100 charts in 2001.
And there were a lot more Blockbuster rental stores…