University of Washington students developing a potential test for endometriosis took home the top prize Thursday at the 8th annual UW Hollomon Health Innovation Challenge.
The competition gives students the chance to make connections and win funding that could help develop their school projects into startups. The winning group, Endozene, received $15,000 sponsored by Washington Research Foundation.
Endozene's test involves detecting signs of endometriosis in menstrual blood using a lateral flow assay, the type of method used in over-the-counter COVID-19 and pregnancy tests. Endozene's test is designed to identify the presence of a small RNA molecule, a microRNA, associated with the condition.
Students on Endozene's team included graduate students earning masters degrees in bioengineering and applied bioengineering and an undergraduate student studying biology and physiology.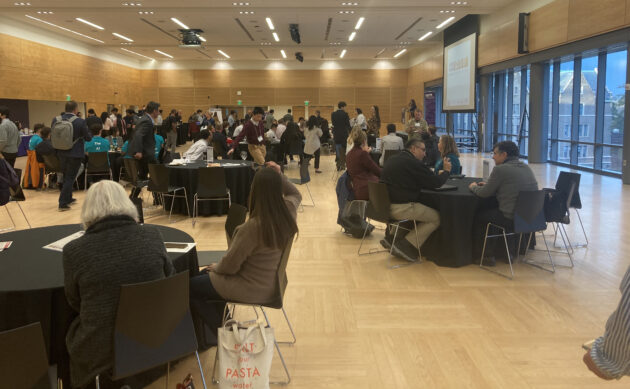 Judges selected the top teams from 22 finalists who presented at the competition, winnowed down from a pool of 41 applicants. Other prizes awarded at the competition include:
2nd place, $10,000: Amor (Innovative Artificial Liver Support System)
Amor is developing a device to support liver function in patients healing from injury or waiting for an organ donor. Amor's prototype device is designed for ease of use by providers trained on dialysis machines and is being tested in a clinical trial at UW Medicine. The team consists of five UW undergraduate and graduate mechanical engineering students.
3rd place, $5,000: OneCourt
OneCourt aims to help people who are blind or have low vision enjoy sports through a handheld device that communicates spatial relationships. The device communicates using a "haptic" language that conveys spatial relationships such as ball and player locations.
OneCourt previously won third place at another UW event, the 2022 Dempsey startup competition. The team plans to work full time on the startup after its members graduate in June, said team member Antyush Bollini, a graduate student with the UW Global Innovation Exchange program. OneCourt also plans to initiate pilots with professional sports teams later in the year.
The following best-in-class projects each took home $2,500:
The Jim & Timmie Hollomon best idea for addressing health access and disparities: LegUp Prosthetics. LegUp is creating a modular, below-knee prosthetic for children in low-resource communities.
IntuitiveX best idea for a medical device: Fight for 98. Fight for 98 is developing a breast cancer screening device using hardware design and machine learning algorithms.
The Kent & Lisa Sacia Best Idea in Digital Health: GenePedia. An AI-powered assistant for genetic counselors is emerging from this project.
Best idea for patient safety: SmarTrach. SmarTrach is developing a device to wirelessly monitor airflow through a tracheostomy tube and provide alerts about obstructions. Prize sponsored by the Patient Safety Technology Challenge.
The competition was hosted by the UW's Buerk Center for Entrepreneurship in the Foster School of Business and provided more than $40,000 in prizes.
Startups that have emerged from previous Hollomon competitions include Seattle biotech company A-Alpha Bio, which won first prize in 2018 and raised $20 million three years later, and 2019 first prize winner Nanodropper, which raised $1.4 million. Spira took home third place in 2020 and was acquired the following year by New York-based healthcare company Galileo for its software tool to enhance patient screening.