The Federal Trade Commission has been on a mission to compel Twitter to turn over internal communications and documents related to its ongoing layoffs, the Wall Street Journal reports.
As Twitter's workforce continues to shrink, federal regulators seem afraid that the bird app will soon have too few employees left to comply with an earlier FTC settlement that, in light of the company's many past data breaches, mandated strict new protections to secure users' information. As a result, the federal agency has apparently been asking Twitter to turn over internal communications related to its new head honcho, Elon Musk.
The Journal's reporting is based on a dozen letters sent by the FTC to Twitter since Musk's takeover last October. The letters paint a picture of concern regarding Twitter's ability to comply with an $150 million settlement the company made with the federal agency last May.
"We are concerned these staff reductions impact Twitter's ability to protect consumers' information," a representative from the FTC apparently said in one of the letters sent last November.
Now, the FTC's letters have been obtained by the Republican-led House Judiciary Committee, which published "excerpts" of them Tuesday in a staff report that was highly critical of the federal agency's investigation, the Journal reports. Indeed, the committee has accused the FTC of overstepping its bounds and claims that the agency is casting too wide a net when it comes to its demands of Twitter.
G/O Media may get a commission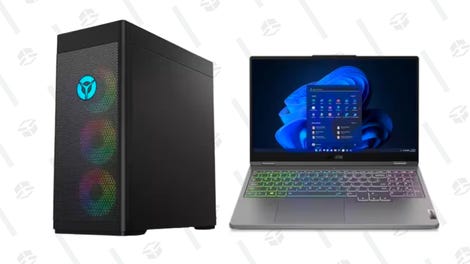 up to 75% off
Lenovo Annual Sale
Save on laptops, desktops, and more
If you're refreshing your living space, your wardrobe, and other areas of your life, it's time to go ahead and get some new tech, too. And what better time to get a new laptop or desktop computer than during the Lenovo Annual Sale? Right now through March 16, you can save a up to a whopping 75% off PCs and electronics at the retailer. We've selected some of our picks below.
"There is no logical reason, for example, why the FTC needs to know the identities of journalists engaging with Twitter," the committee's recent report says. "There is no logical reason why the FTC, on the basis of user privacy, needs to analyze all of Twitter's personnel decisions. And there is no logical reason why the FTC needs every single internal Twitter communication about Elon Musk."
One area of concern is the FTC's apparent request that Twitter "identify all journalists" that were given access to internal company documents—surely a reference to the so-called "Twitter Files," which have been published mostly by one journalist, former Rolling Stone reporter Matt Taibbi, who now runs his own Substack. The agency apparently asked Twitter to describe the "nature of access granted" to each reporter and questioned how giving out access to that data was "consistent with your privacy and information security obligations under the Order."