Hundreds of Seattle-area high school students learned how to discern fact from fiction at the University of Washington's 2023 MisinfoDay earlier this month.
The event helped students read charts, evaluate claims and fact-check data. A "Loki's Loop" escape room tested student savvy.
Students also learned how TikTok collects clicks and influencers create fake videos, and when to "share or beware."  
"This is really useful information to help protect yourself as a teenager on social media," said Ballard High School student Amelia Wagenbrenner.
The UW launched the first MisinfoDay in 2019 and held its first in-person events since the pandemic this month in Seattle, Vancouver, and Pullman, Wash.
Classes in how to assess online information are not commonly taught in U.S. schools, said Shawn Lee, a government and history teacher at Ballard High School.
"I think we all really need this," said Lee, who was inspired by MisinfoDay and hosted a MisinfoNight last year at Ballard High.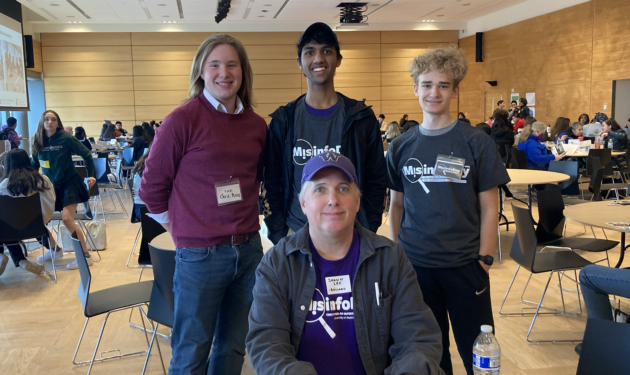 MisinfoDay is designed to help fill the gap for high school students. It is sponsored by the UW Center for an Informed Public and by the Washington State University Edward R. Murrow College of Communication.
The UW is unique in providing a dedicated, university-led misinformation program for high school students, said Jevin West, director of the Center for an Informed Public. The center also develops curriculum for use by high school teachers.
The event comes amid a continued deluge of misinformation on the internet, including popular social media platforms such as TikTok. Almost 20% of searches for major news topics pulled up videos containing misinformation on TikTok, according to a September research report.
Young people's ability to reason about online information is "bleak," according to a 2016 analysis by Stanford University. Fewer than 20% of middle school students could differentiate between journalism and sponsored content on a news site.
Speakers at MisinfoDay taught students how to debunk online misinformation like the viral TikTok "garlic challenge," in which people shove garlic cloves up their nose and create a giant mucous gusher.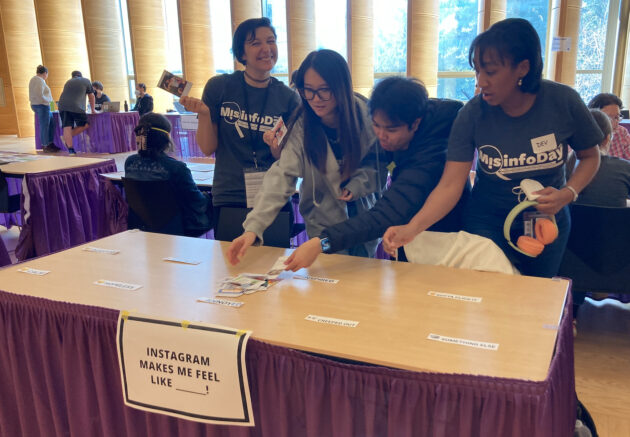 Ballard High student Xander Howard said he learned about assessing the credentials of a content creator and whether content is too good to be true. He also learned more about body image and health misinformation on social media.
Howard said he and his friends are part of a group raised on technology and social media throughout childhood. "Who knows how that may affect us 20 years down the line?" he said. "We are little guinea pigs."
Ballard student Amelia Laing is vision-impaired and said it is difficult for her to assess information visually, creating an extra barrier when evaluating online information. At the event, she learned to be more critical about posts from sources she admires, including celebrities. "There is this trust that you have," said Laing.
Laing and Natalie McManus, who help cull outdated books at the Ballard High library, said the event helped them hone their information assessment skills, as did high school journalist Sabi Yoon.
Wagenbrenner said she learned how to discern images of people generated by artificial intelligence.
Chris Ross, a Marysville High School junior who is part of a student board that advises MisinfoDay, was pleased by the turnout. "It's really exciting to see a lot of people our age interested in discovering misinformation, attacking it and finding out to avoid it," said Ross.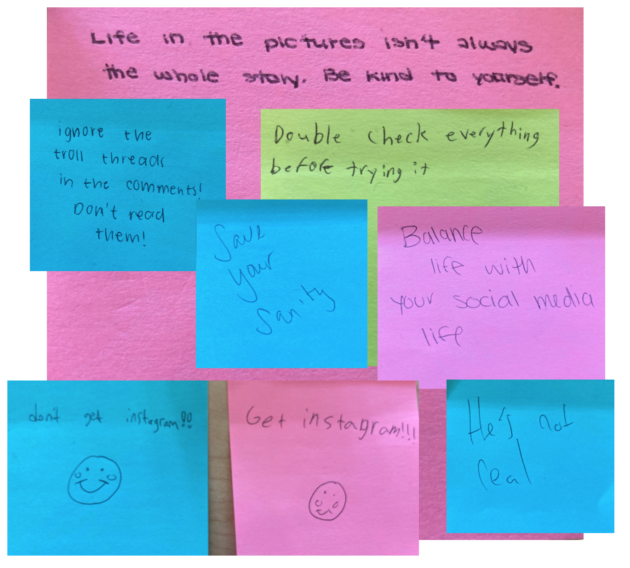 At one display, UW Information School students invited students to pick cards with images from Instagram and match them with the emotion they conjured. The idea is to get people to think about how social media makes them feel, said Yim Register, a doctoral student at the Information School.
After the exercise, students wrote advice they would give a social media newbie. Responses included: "Double check everything before trying it," and "Don't compare yourself," and "Save your sanity."  
Recent lawsuits filed by schools districts — including Seattle Public Schools — allege that social media companies are worsening student mental health.
Some U.S. states like New Jersey and Texas have begun to implement teaching standards for internet literacy. But the U.S. has a long way to go before it reaches the level of comprehensive instruction in Finland, which ranks number one in Europe for media literacy.