You think you're sly, don't you? You think you can sneak a peek at your girlfriend's phone when she's not looking and read all her text messages. 
Well, you're right. 
If you are in a relationship and want to know what your girlfriend is texting, some apps can assist you. 
However, not all of them are created equal. This article will look at some of the most popular ones on the market today that will help you read your girlfriend's text.
Apps That Let You Read Your Girlfriend's Text Messages
Some apps let you read your girlfriend's text messages without her knowing. Here are a few:
1. FlexiSPY
If you need to check your girlfriend's text messages, FlexiSPY is a powerful cell phone monitoring software. It is available in both Android and iOS versions. 
Below is how to use FlexiSPY on an Android smartphone or tablet to determine if your partner or spouse is sending suspicious messages.
Install the app onto your device using Google Play Store or iTunes Store (you may also download it directly from their website). 
After installation, launch the application and click "Start." You can configure it according to your needs by clicking the "Settings" button at the screen's top right corner after launching the program for the first time. 
Choose "Data Types" under the "Data Collection" section on the left side panel after launching FlexiSPY for the first time. 
Select the desired category from the dropdown menu under the Search section, where all information related to the selected category, such as contacts lists, etc., will appear automatically.
2. Spyera
If you need to check your girlfriend's text messages, then Spyera is the best choice for you.
It is a powerful spy app that allows you to monitor all the activities of your loved ones. Experts have developed it in cybersecurity and privacy protection, ensuring complete privacy while using this app.
Spyera is compatible with Android, iOS, and Windows Phone operating systems; therefore, anyone can use it without any issues. 
The exciting thing about Spyera is that it has a feature called Call Interception, which lets you listen to calls made by the target phone but not from your own. 
3. MSpy
MSpy is a powerful spy app that tracks your loved one's activities on their smartphone. It can track text messages, call logs, and the target phone's location. Once installed on her phone, you can start monitoring her activities without letting her know.
You can get the app by installing it on your mobile device to monitor all his/her activities remotely without having any physical access to him/his phone. To do this:
Download MSpy for Android or iPhone from here (free trial version).
Open Google Play Store on either Android or iOS devices where you want to install it; Search for "Mspy" and install it; 
Click the Next button; Enter an email address if required (we will send all data back after successful installation).
Click Next again if asked whether I have read the Terms Of Use & Privacy Policy.
Agree with the terms before proceeding further.
Accept the License Agreement if needed before clicking the Install button.
4. iKeyMonitor
iKeyMonitor is an excellent option for checking your girlfriend's text messages. It's easy to use and doesn't require any special software or hardware. 
You don't even have to have an iPhone or Android phone—you can use just about any computer with internet access, so long as you have a webcam and microphone.
You can install iKeyMonitor on your computer by clicking here: https://www3.keymonitorapp.com/download/. After installing the app on your computer, open it up and follow the steps below:
Click "Start Monitoring" in the top left corner of this window. This will bring up another window where you can enter basic information like what device you want to be monitored, which apps are allowed through mobile notifications (email apps), how often they should occur, etc.
When making changes, click "OK" to finish configuring iKeyMonitor. Now that everything is running go back to your iPhone or Android device and send yourself a text message from your girlfriend.
You should then get a notification that says "KeyMonitor" on the top of your screen. This indicates that iKeyMonitor has intercepted the message and is now recording everything being displayed on your phone. 
To stop listening, simply click on this notification, and it will go away—this will also stop recording any more conversations occurring through mobile notifications.
5. mCouple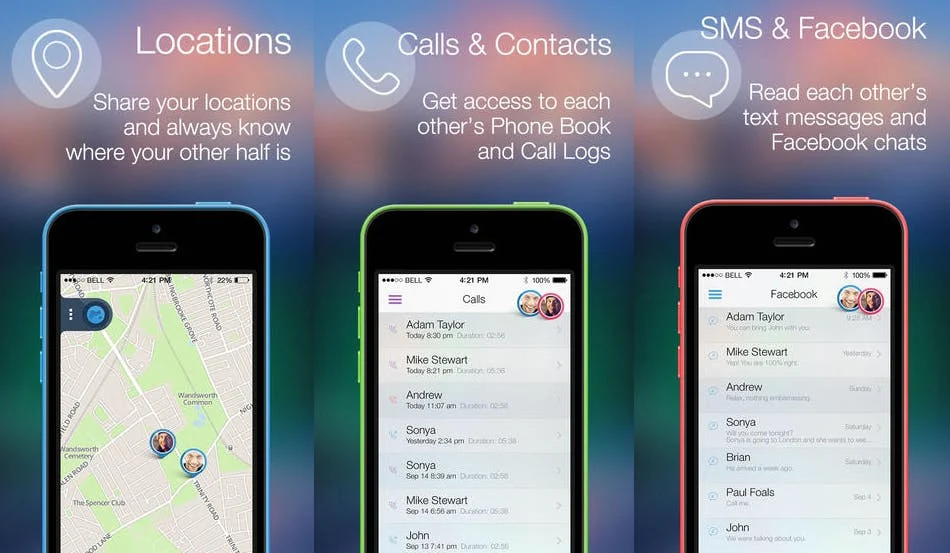 mCouple is an app that monitors your partner's text messages. It allows you to see all their calls and messages on the go, so you can know what they're up to. If anything goes wrong or seems suspicious, you'll know immediately.
This spy software can be used by any couple who wants extra peace of mind regarding monitoring each other's activity via cell phone.
The app is designed to be used as a monitoring tool but can also be used for other things. For example, it has a GPS tracker that allows you to see where your partner is at any given time, and it can also tell you how much data they use on their phone each month.
This can be useful if one of them is being secretive about their data usage or spending too much money on apps like Candy Crush.
The app also has an SMS tracker that lets you see all incoming and outgoing text messages on your partner's phone. This is useful if they're texting someone else or talking too much with people they shouldn't be communicating with. The app can also help you keep track of their calls so you know who they're talking to and what's being discussed.
6. Hoverwatch
Hoverwatch is a great app for monitoring your girlfriend's text messages. It's easy to use and has a user-friendly interface that allows you to check your girlfriend's texts in just a few seconds.
You can get started with Hoverwatch by downloading it on either Android or iPhone (or both). Once installed, open the app, enter your phone number, then tap "Start Monitoring." You'll see all the messages sent from her phone—and even more.
If she decides not to turn off the notifications (which is totally possible), they'll appear right below each message and how many times she's read them over time.
How To Check Girlfriend's Text Messages Without Her Knowing?
If you can access your girlfriend's phone, you can easily check her text messages without knowing.
Firstly, you must create a secret password for yourself and only use it when accessing your phone. This will let you know what she has been saying in private conversations without being seen by anyone else.
If this does not work out for some reason (for example, if there are too many people around), try using an app that has been developed just to check out these kinds of things. 
You should also ensure that the app has good reviews from previous users so that there won't be any problems with its functionality when trying out different features like logging into accounts or changing settings etc.
Conclusion
With all the spying apps available, you can now easily check your girlfriend's text messages without her knowing.
We hope you have benefited from reading this blog post.
Now, go read some text messages!