This site may earn affiliate commissions from the links on this page. Terms of use.
Intel CEO Pat Gelsinger holds an 18A SRAM wafer (Credit: Intel)
In today's edition of "Intel Roadmap Watch," we're learning the company has finalized plans for its most advanced nodes. If you recall, the company's roadmap ends with 18A, an evolution of 20A. That's when the company finally says goodbye to FinFET and moves into the Ångström Era of transistor design. Intel's President and Chairman for China, Rang Wui, confirmed to Chinese media outlet UDN that it's completed the prep work on these two nodes. That includes figuring out performance targets, manufacturing requirements, and final specifications. Even though everything is now written in ink, Intel won't begin high-volume manufacturing until 2024 and beyond.
Wui's comments echo previous statements from Intel CEO Pat Gelsinger. In April 2022, he announced 18A was six months ahead of schedule. Because of that, it was moving its arrival from early 2025 to late 2024. In its Q4 2022 earnings call, Gelsinger also addressed the status of these future nodes. "On Intel 20A and Intel 18A, the first nodes to benefit from RibbonFETs and PowerVia, internal test chips, and those of a major potential foundry customer have taped out with the silicon running in the fab. We continue to be on track to regain transistor performance and power performance leadership by 2025," he said, according to a transcript by The Fool.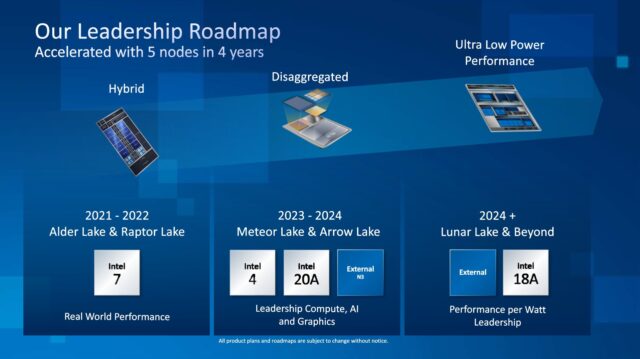 If all goes according to plan, which is a big if, Intel will attempt an unheard-of pace of node advancement soon. It's currently producing Intel 7 products for Raptor Lake. It will shortly advance to Intel 4, a node shrink going from 10nm to 7nm. That'll be for Meteor Lake, which is due later this year. Intel 3 comes after that, as a refinement of the node, for Arrow Lake. Then the big one comes; Intel 20A (2nm). This is when Intel moves away from FinFET in favor of RibbonFET Gate-All-Around (GAA) transistors. It'll also be introducing PowerVIA backside power delivery. That's a lot of new technologies simultaneously, so this is a critical step for Intel.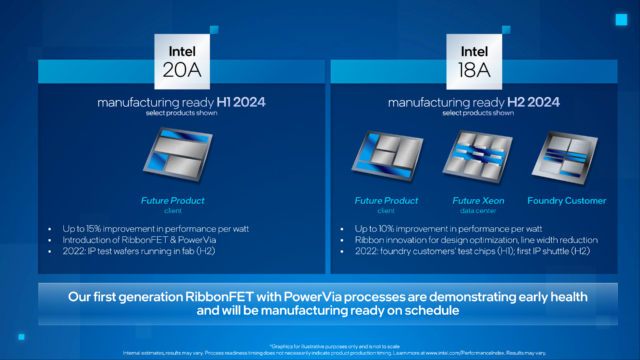 Intel plans on starting production on 20A in the first half of 2024, with 18A (1.8nm) coming in the latter half of the year, according to Tom's Hardware. If that occurs, it will have gone from Intel 4, 3, 20A, and 18A in two years. Just because it begins manufacturing on these nodes doesn't mean we'll see products immediately. It will take some time to ramp up to high volume, possibly pushing 18A into 2025. It's not unreasonable to expect a year or so between being ready for production and products being in peoples' hands.
This is a crucial period for Intel as it attempts to reestablish its dominance over rivals TSMC and Samsung. Both companies are currently in the early manufacturing phase for 3nm, with Intel still on 10nm. It has its work cut out for it. However, Gelsinger has never backed off his claims that the company will hit its targets. He even recently publicly denounced rumors of delays for Intel 4. "You know, these rumors, like many others, will be proven by our execution to be firmly false," he said.
Now Read: