This week on the GeekWire Podcast: what AI means for startups. We're joined by Ali Partovi, a technology investor, entrepreneur, and mentor who is the CEO of Neo, a startup accelerator, mentorship community, and venture firm.
The Neo Accelerator this week announced a new AI track, working in collaboration with OpenAI and Microsoft to help startups build their businesses on newly emerging artificial intelligence capabilities.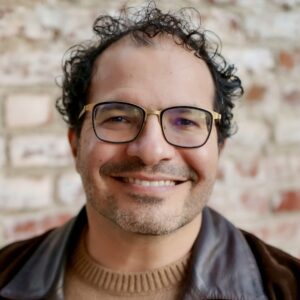 Partovi, who grew up in Tehran during the Iran-Iraq war, sold his startup LinkExchange to Microsoft in 1998, was an early investor in companies including Airbnb, Dropbox, Facebook, and Uber, and 10 years ago co-founded Code.org with his twin brother Hadi Partovi, who continues to lead the computer science education nonprofit.
On this week's episode, Ali Partovi discusses the role that AI will play in the future of startups; Microsoft's relationship with OpenAI; his experience at Microsoft reporting to a young Satya Nadella as his manager; Neo's approach to identifying and supporting a diverse group of technical and entrepreneurial leaders; and more.
Listen below, and continue reading for highlights from Partovi's comments, created with help from Momento, an AI startup that was part of the Neo Accelerator's 2022 cohort.
The story behind Neo: It starts when I was a startup founder myself at age 24. One of the most important lessons I learned was, it is just incredibly surprising, the difference that a single individual can make.
Throughout my career as an investor, some of my biggest successes have been betting on young people smarter than myself. And some of my biggest regrets have been when I didn't bet on somebody who was just an absolutely brilliant technologist, and I had doubts about their business plan or lack thereof.
Neo is a firm that I started about five or six years ago around the thesis that you can identify exceptional talent quite young, when they're still in college, and encourage them and support them towards entrepreneurship.
The AI opportunity for startups: It is the most inspiring moment for new innovation that I've seen in more than a decade, maybe in multiple decades. … There's certain moments that I look back to, saying, this changes the technology world, this changes what's possible. And I think we're witnessing a moment like that right now.
Neo's collaboration with OpenAI and Microsoft: It's a combination of both technology access, free compute credits and perhaps most importantly, access to people who are experts in the field, who can help people overcome challenges or potentially find new solutions and learn how to make the most of these new tools.
So we're super excited to have announced this. It's been less than eight hours since we announced it (as of Tuesday, when we recorded this conversation) and we've already had a spike in new applications coming in. I feel pretty confident that this package has hit the spot.
What it was like to have Satya Nadella as a manager: He was an incredible champion for me. I was a headstrong, stubborn, probably insufferable young guy at the time. And Satya did so much to both teach me and to champion my work at Microsoft. So I have looked up to him. That was more than 20 years ago.
And then I could never have predicted that he would become the CEO, and that my new company 20 years later would have a relationship that's intertwined with Microsoft in this way. And I have to say, it is truly inspiring how Microsoft has gone back to being at the center of the most exciting wellspring of innovation in the tech world.
The potential for AI to disrupt Neo's approach: AI is disrupting everything. I can't tell you how exactly it'll disrupt us or where we'll end up. But I can tell you, for sure, that we're going to have to revisit all our practices, just as everyone else has to figure out how the world is different.
The world is changing around us faster right now than really ever in our lives. I think the best we can try to do is remain agile, remain optimistic, remain open-minded, and keep trying to go where the hockey puck is going.
Listen above, or subscribe to GeekWire in Apple Podcasts, Google Podcasts, Spotify or wherever you listen.