Microsoft's future just got a major edit.
The metaverse, hybrid work, flexibility, trust, and technology's role in the global economy are some of the new additions in the latest version of a key piece of text that Microsoft publishes each year.
Presented under the heading, "Embracing Our Future," it's the first section of Microsoft's annual Form 10-K report to the Securities and Exchange Commission. While it might be easy to dismiss as mere boilerplate in an obligatory regulatory filing, it's more than that. The brief passage states Microsoft's reasons for being, presents its vision for the future, and doubles as a sign of the times.
One of the notable changes this year is the debut of the word "metaverse."
Microsoft still uses "mixed reality" elsewhere in the document, its preferred phrase for the technology that includes virtual and augmented reality, as exemplified by its HoloLens headset. However, the phrase has been replaced by "metaverse" in this key section, reflecting the broader evolution of the company's vision for virtual worlds (and a tendency to gravitate toward industry buzzwords).
2021: Physical and virtual worlds are coming together with the Internet of Things ("IoT") and mixed reality to create richer experiences that understand the context surrounding people, the things they use, the places they go, and their activities and relationships. A person's experience with technology spans a multitude of devices and has become increasingly more natural and multi-sensory with voice, ink, and gaze interactions.

2022: We are enabling metaverse experiences at all layers of our stack, so customers can more effectively model, automate, simulate, and predict changes within their industrial environments, feel a greater sense of presence in the new world of hybrid work, and create custom immersive worlds to enable new opportunities for connection and experimentation.
Over the years, the "Embracing Our Future," section of the 10-K has evolved and grown steadily. It tops 300 words for the first time this year, in four paragraphs, more than doubling in size since 2016, when it appeared under the heading, "Our Vision," with fewer than 150 words in two paragraphs.
Whether or not Microsoft CEO Satya Nadella agonizes over every comma, the tweaks and additions each year make it clear that certain people inside the company consider these words carefully. In that way, they offer a window into the mindset of the company, and the state of the industry.
The changes this year are especially significant, including a new focus on efficiency and resiliency, reflecting the uncertain economy.
Microsoft is "creating the tools and platforms that deliver better, faster, and more effective solutions," reads one new addition. Another notes that the company is "innovating and expanding our entire portfolio to help people and organizations overcome today's challenges and emerge stronger."
See all of the edits in this screenshot from the "Compare Docs" feature in Microsoft Word, with new additions in green, deletions in blue, and unchanged text in black. (Here's a larger version.)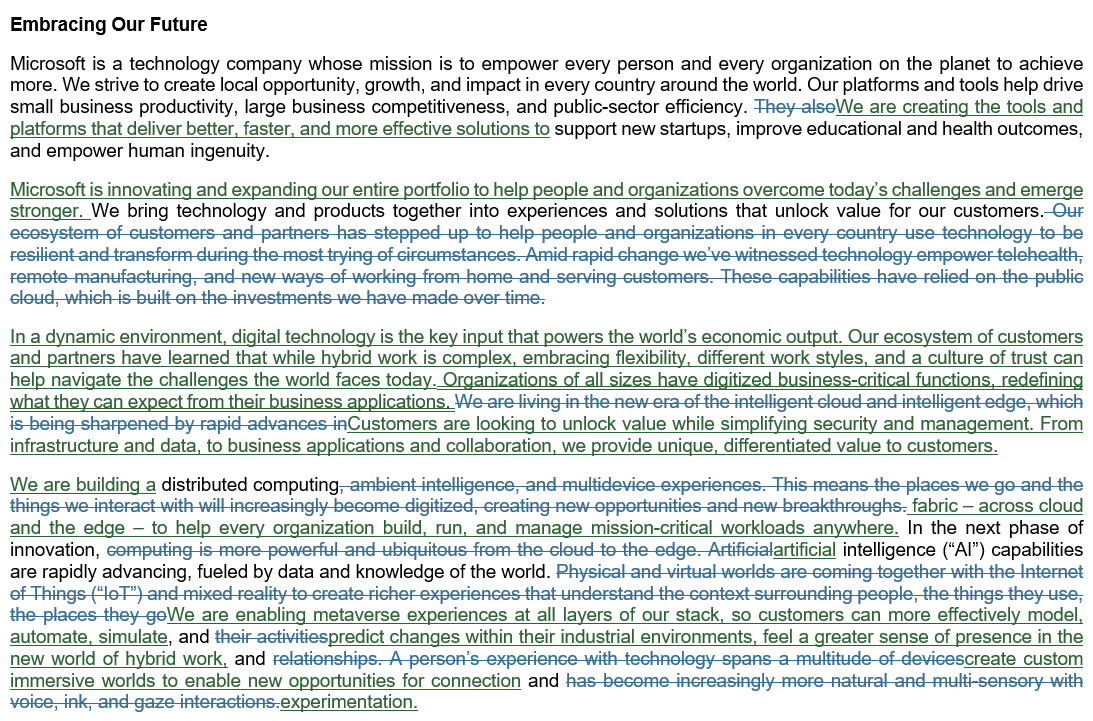 Here are a few other changes that stand out:
2021:  Our ecosystem of customers and partners has stepped up to help people and organizations in every country use technology to be resilient and transform during the most trying of circumstances.

2022: Our ecosystem of customers and partners have learned that while hybrid work is complex, embracing flexibility, different work styles, and a culture of trust can help navigate the challenges the world faces today.
2021: Amid rapid change we've witnessed technology empower telehealth, remote manufacturing, and new ways of working from home and serving customers.

2022: In a dynamic environment, digital technology is the key input that powers the world's economic output.
2021: We are living in the new era of the intelligent cloud and intelligent edge, which is being sharpened by rapid advances in distributed computing, ambient intelligence, and multidevice experiences.

2022: We are building a distributed computing fabric – across cloud and the edge – to help every organization build, run, and manage mission-critical workloads anywhere.
Read the full text in Microsoft's 10-K filings from 2022, 2021, and 2016.
Also see this earlier story based on data from the 2022 10-K: Microsoft added record 40,000 employees in past year, up 22%, before job cuts.