A newly issued report says Washington state provides one of America's best settings for expanding the frontiers of quantum information science — but those frontiers are so strange and new that it's hard to get a handle on their potential.
The technology landscape report, titled "Quantum Information Sciences in Washington State," was prepared by analysts at Moonbeam for the Washington Technology Industry Association's Advanced Technology Cluster — and issued by the WTIA in conjunction with this week's Northwest Quantum Nexus Summit at the University of Washington.
Formed in 2019, the Northwest Quantum Nexus' membership shows why the region is well-suited to play a leading role in the quantum revolution.
NQN's partners include Microsoft and Amazon Web Services, which have both rolled out cloud-based quantum computing platforms; Pacific Northwest National Laboratory, which is working on a range of quantum applications for national security purposes; and premier research institutions including UW and Washington State University.
"This report validates our thesis that Washington state has the right mix of organizations and capabilities — ranging from startups to legacy enterprises — to ensure Washington becomes a global leader in both quantum adoption and commercialization," WTIA's CEO, Michael Schutzler, said in a news release.
But the report also says the state's tech ventures aren't taking full advantage of homegrown talent.
"Washington state is producing more quantum-qualified professionals than they're able to employ," Moonbeam CEO Nirav Desai told summit attendees today. "Not surprising, considering that you're such a nascent field, but the grads who come out of our premier institutions here are taking jobs in other states."
The report found that 50 percent of the students in quantum information science programs are foreign nationals, and that many of those students struggle to get visas to continue working in Washington state.
Funding for research and development is also a mixed bag.
"Washington state has been doing great at attracting grant money," said Nick Ellingson, WTIA's director of products and startup ambassador. "University of Washington has been tremendous. WSU has also been great at attracting grant money for quantum research. But time and again, Washington state underrepresents in the undilutive investment that can be used to help startups."
Ellingson said the state's startups should be going after more of the types of grants that don't dilute the equity that entrepreneurs have in their ventures. The federal government's Small Business Innovation Research and Small Business Technology Transfer programs serve as prime examples.
He pointed to the circle surrounding Seattle on a map showing distribution patterns for quantum-related federal grants.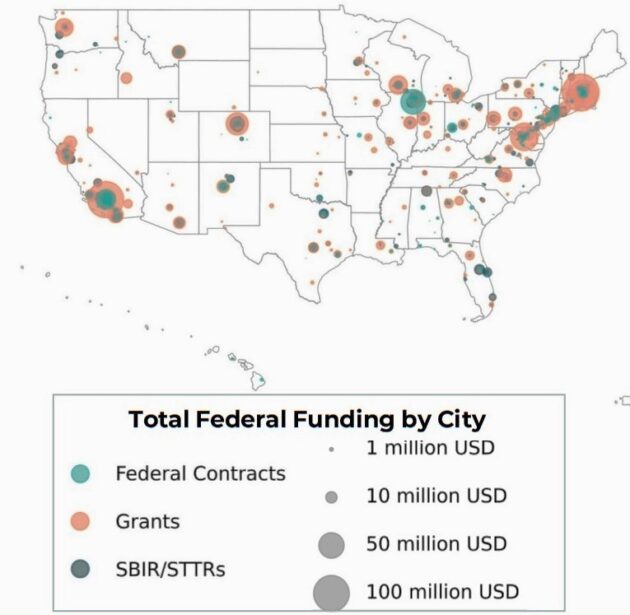 "Given where Washington state stands in terms of the innovation economy globally, that circle is way too small," Ellingson said. "Talking to founders and entrepreneurs in this ecosystem, very little of them know the opportunities that are available for technology commercialization funding. So helping them understand that is pretty critical."
Helping the wider tech community understand quantum computing is another challenge. That's not only because the fuzzy quantum world of superposition and entanglement is weirder than the well-understood ones-and-zeroes world of classical computing. It can also be hard to wrap your head around the fact that it may take another decade for quantum technologies to reach full maturity.
"We're now working with NQN to develop a 'Quantum 101' for both investors and policymakers," Ellingson said.
Ellingson recommended setting up startup accelerators and mentorship programs for the Pacific Northwest's quantum computing ventures, as well as gatherings that can foster connections with other tech clusters.
"We know that we need to bring cross-sector stakeholders together in the region," he said, "but we also think we as a cluster can play a role in bringing other clusters from outside the region, and folks both nationally and internationally, here to have those conversations."
Those sorts of contacts can help Washington state's tech community get a better handle on the quantum computing market — a global market that Precedence Research says is expected to rise from $10 billion in 2022 to $125 billion in 2030.
For what it's worth, the WTIA report doesn't include similar assessments of market size or share for Washington state. "We looked into doing that," Ellingson said. "It's so 'early days' that we didn't feel comfortable in the numbers on that."
Perhaps it's only fitting that the economic outlook for quantum computing is still shrouded in uncertainty, like a cat that's both dead and alive.