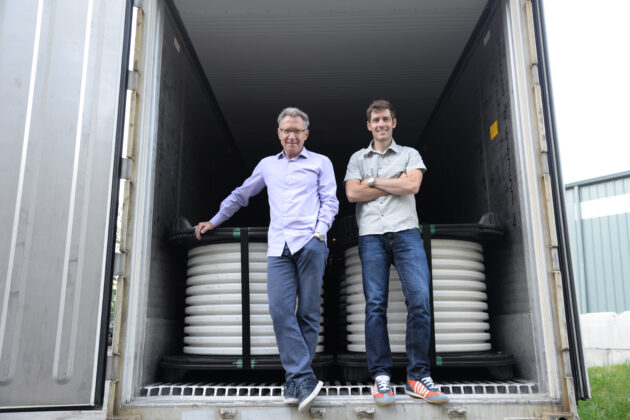 The news: RipeLocker raised $7.5 million, providing the food-tech startup fresh funding to boost production, upgrade its systems and continue doing efficacy trials. The Bainbridge Island, Wash.-based startup sells containers that preserve recently harvested produce and flowers.
The father-son team: The company was co-founded by George Lobisser, who previously co-owned and led Pace International, a company that built food-preserving tech. He is by co-founder and son Kyle Lobisser, a devices engineer who helped create the storage container which creates a low-oxygen vacuum that keeps air saturated with water vapor.
The device: The patented RipeLocker containers, which are about the size of a pallet, preserve the shelf-life of the produce or flowers within the containers by managing its atmospheric pressure and gas composition. The system's tech can also report and respond to shifts in the external environment by making adjustments to reduce decay.
The customers: The startup announced in June that it closed its first purchase agreement with The Queen's Flowers, a floral importer and grower in Colombia and Ecuador with wholesale and distribution warehouses across the U.S. The company said that the RipeLocker containers extended the shelf-life of roses by an extra 2-to-4 weeks.
The state of food-tech startups: RipeLocker's funding comes at a time when the food-tech industry has seen declining investment from venture capitalists. Such startups raised just $5.6 billion across 275 deals around the world in the second quarter of 2022, down 21.5% quarter-over-quarter, according to a report by PitchBook.
Despite the downtrend, inflationary pressures and ongoing supply chain snarls may provide tailwinds to companies that can minimize delivery and service fees, the report said. RipeLocker faces a bevy of startups looking to capitalize on this trend.
The funders: RipeLocker says the funding comes from a mix of angel investors, including customers, farmers and packers, agricultural industry executives, and academics. The company has raised $21 million to-date and says it plans to raise a "much larger" Series A round in the fall.