Seattle Mayor Bruce Harrell has been advocating for the city to adopt gunshot detection technology for nearly a decade, first as a City Council member, and now as mayor.
Harrell's 2023-2024 budget proposal, released last week, includes $1 million for a "gunfire detection system" to help police zero in on locations where gunshots are fired.
The technology works by installing microphones in neighborhoods and using them to identify the sound of gunshots and triangulate their location.
"It comes with some level of controversy, because people do not want to surveil," Harrell, who took office in January, said during a fireside chat at this week's GeekWire Summit. "But this is actually, I think, good tech in certain areas."
He added: "It's not a crime prevention tool. It's an evidence-gathering tool."
ShotSpotter, one of the companies that sells the tech, claims a 97% accuracy rate, based on a third-party audit. ShotSpotter is used in more than 135 cities nationwide, including in Portland, Ore., where city officials recently approved a pilot program.
But the technology has received criticism from researchers, privacy advocates, and other city leaders.
A report from the MacArthur Justice Center at Northwest University studied two years of ShotSpotter data from Chicago, and found that "90% of ShotSpotter alerts lead police to find no evidence to corroborate gunfire when police arrive at the location ShotSpotter sent them: no shell casings, no victims, no witnesses, no guns recovered."
In July, the MacArthur Justice Center filed a class action lawsuit against the city to end its use of ShotSpotter, claiming it led to "unfounded alerts" and "a large number of illegal stops and frisks."
Chicago's inspector general also reviewed the data and last year reported that "CPD responses to ShotSpotter alerts rarely produce evidence of a gun-related crime, rarely give rise to investigatory stops, and even less frequently lead to the recovery of gun crime-related evidence during an investigatory stop."
It added that the tech "changed the way some CPD members perceive and interact with individuals present in areas where ShotSpotter alerts are frequent."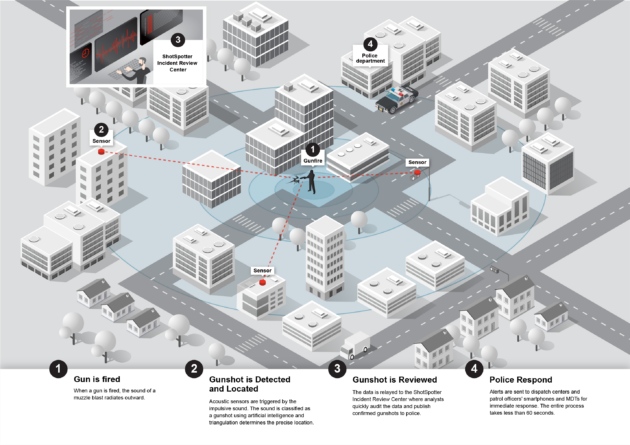 The police department in Dayton, Ohio, recently announced it would not renew its $615,000 contract with ShotSpotter, saying it could not show that the software has done enough to reduce crime to justify its cost.
The system was targeted in specific high-crime areas of Dayton, and the department said it has had success reducing violent crime in those places during the three years Shot Spotter has been deployed in the city.
"We have had multiple successes directly related to the use of this technology, including locating shooting victims, crimes in progress being interrupted and 56 firearms removed from the streets," the department said.
However, the Dayton police said "it is challenging to develop statistics showing how effective ShotSpotter would be on its own." Declines in violent crime "cannot solely be attributed to ShotSpotter's effectiveness, as it was only one of the many tools used to combat violent crime in this area."
In a statement to GeekWire, a ShotSpotter spokesperson said: "Dayton PD's announcement of their intent to not renew their contract with ShotSpotter does not negate ShotSpotter's effectiveness. As the PD themselves indicated, the coverage area did see a reduction in violent crime."
The Associated Press in 2021 published results of a lengthy investigation into ShotSpotter found that the system can miss live gunfire right under its microphones, or misclassify the sounds of fireworks or cars backfiring. Forensic reports from ShotSpotter have been used in court to improperly claim defendants have shot at police or provide questionable counts of the number of shots allegedly fired, leading to judges throwing out the evidence, the report noted.
Police in Fall River, Mass., told the AP that ShotSpotter worked less than 50% of the time and missed all seven shots in a 2018 downtown murder. The Fresno Unified School District in California canceled its contract in 2021, after spending $1.25 million initially earmarked for special-needs children.
ShotSpotter has aggressively defended its product in recent years, including filing a defamation suit against Vice News, which produced a critical report on the technology. The suit was dismissed after Vice retracted some of the claims in the story.
ShotSpotter has a dedicated webpage with responses to "false claims" about its tech, including accusations that the company alters evidence at the request of police departments, or that it leads to over-policing.
ShotSpotter's computer algorithm filters out sounds that aren't gunfire, the spokesperson said. Sounds that are not filtered out are analyzed by human reviewers trained to distinguish the sounds of gunfire from other sounds.
"ShotSpotter is a proven tool that saves lives and helps law enforcement respond to gunfire," a spokesperson said in a statement to GeekWire. "Authorities decide whether to arrest and prosecute someone and ShotSpotter is not involved in those decisions. ShotSpotter identifies and alerts on gunfire incidents, not people."
The City of Seattle reported a ten-year high for shootings and shots fired in 2021.
Business leaders have voiced concern about public safety issues in downtown Seattle, which was hit hard by the pandemic with the rise of remote work.
During his GeekWire Summit appearance, Harrell said he is eager to revive the downtown's former vitality, and acknowledged that he first needs to make it safe "everywhere you go." That means recruiting and training more police officers and getting more city ambassadors on the streets to help people in need, he said.