A new startup is emerging in Seattle with plans to partner with schools to support adolescent mental health.
Alongside is developing an app that interacts with students through a chatbot and guides them to resources like videos of other students experiencing similar issues. Users can access therapy exercises and journaling tools, as well as soothing music or breathing techniques.
The app also connects to outside support and refers students in crisis to their school's support team. The company has lined up pilot programs with public and private middle and high schools this fall, and is signing up more.
Alongside launched this April and recently completed a $5.5 million seed funding round, CEO Jay Goyal told GeekWire. The round was led by Trilogy Equity Partners, with Trilogy Managing Director Amy McCullough joining Alongside's board. Other backers include Pack VC, Madrona Venture Labs, and individual investors.
"My co-founders and I are motivated to break down barriers for youth reaching their full potential," said Goyal, who was previously CEO and founder of Seattle-based curriculum platform Actively Learn, which was acquired in 2018 by Achieve3000 and is now owned by McGraw Hill.
The company's other co-founders, Anish Mehta and Scott Freschet, are also Actively Learn alums. Psychologist Elsa Friis is the company's head of mental health.
More than one-third of high school students experienced persistent feelings of sadness or hopelessness in 2019, a 40% increase since 2009, according to the U.S. Centers for Disease Control.
Others that use chatbots for mental health include adult-focused companies Woebot Health and Wysa. A different program to assess student mental health through surveys is being piloted in the Seattle area, though it has raised privacy and other concerns. Alongside says what people "reveal and do" on its app is private.
Alongside joins a growing list of mental health startups based across the Pacific Northwest, as the pandemic has fueled interest in the sector.
We interviewed Goyal to learn more about how Alongside's app works and its potential to support mental health of adolescents amidst increasing need. Answers were edited for brevity and clarity.
GeekWire: What inspired the company?
Jay Goyal: Over the past year, mental health for adolescents has reached the point of crisis. Adolescents have a massive barrier to accessing help — cost, stigma, language, and limited supply of licensed therapists are all well documented problems. We quickly discovered that a low-cost software solution that brought clinical expertise and partnered with schools would have the highest odds of success. Given our experience providing both, we felt confident we could make an impact.
How do you maintain privacy while also helping students in crisis?
We interviewed 60 to 70 teens before deciding to start the company. We heard that they have nowhere to turn with their struggles, and often feel uncomfortable opening up to those who are trying to help (counselors, parents, therapists). Thus, our objective was to create a space where students feel safe, through confidentiality, and can start to get help.
That said, there are reasons why we would share information adolescents provide with others. When our AI detects a crisis, such as self-harm, we provide resources for a user to access immediately (such as calling the 988 Lifeline) and we also notify the school so they can bring the appropriate resources to help.
We are upfront with adolescents about this scenario when their information may be shared, and they have been understanding that those circumstances would require others to be notified.
Can you explain how the chatbot works? How does the tool compare to a real human?
The chatbot is one part of the app. We also provide journaling and grounding activities. The chatbot is designed to run through evidence-informed exercises that can help with feelings of anxiety, depression, trauma, etc. It uses AI sparingly, to understand what feelings and issues an adolescent is struggling with, so it can match exercises that will be most useful. For the exercises, the chatbot provides a more engaging and supportive method to complete versus an alternative of filling out a worksheet.
The tool is not designed to replace a human. It is subclinical and meant to make self-help for adolescents comfortable and supportive. In fact, for many adolescents who struggle to open up, we expect to be an onramp to school counseling so they can get the proper in-person care they may need, for free.
What is your revenue model?
Schools and districts will purchase the app, paying an annual fee per student. [The company is piloting the app for free this fall.]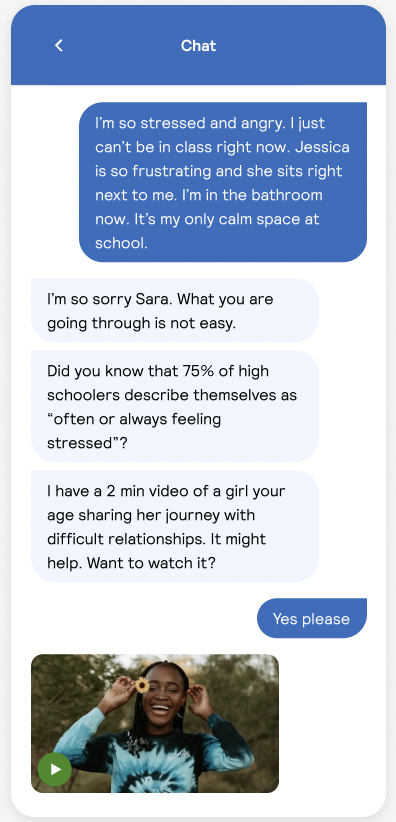 Plans for the future?
We will continue to develop our product with input from adolescents and mental health experts and expand our reach to schools across the country. Over time, we will contribute to research on what works best for subclinical care. We will reveal customer names as they get started.
Any other thoughts?
At least half of youth with a treatable mental health condition do not receive adequate treatment. Of students receiving treatment, 90% receive it in school-based settings and only 10% exclusively rely on general medical providers.
All these kids that need help will not miraculously find therapists, even with the proliferation of teletherapy startups. There is too little supply, and it is too expensive, especially with insurance rarely helping. So, if you care about reaching low- and middle-income families, then a digital-only solution must play an important role. And while most investors want startups to avoid selling to schools, they are a critical solution provider and responsible for every child, whether he or she cannot speak English or needs help paying for lunch. We also want to be there for every child, so we partner with schools to make that happen.