To celebrate its five-year anniversary, Kirkland, Wash.-based smart-home device maker Wyze Labs recently decided to host a public treasure hunt.
A custom "golden" Wyze camera was buried at a secret location that would be live-streamed while a series of cryptic, coded clues were released throughout the week, slowly revealing where the stash was hidden.
At least, that was the plan. The way things played out was a little different.
"We are always looking for ways to have fun and be friends with users," said Wyze co-founder and CMO Dave Crosby. "We were hoping the hunt would be on the harder side because we could always release clues to help people along, as opposed to making it too easy."
In the end, the clues had little to do with how difficult the hunt would be.
On a YouTube live chat, players quickly organized, forming Discord servers to coordinate their efforts, where they were able to deduce — using sounds of airplanes passing overhead and live flight data — that the treasure was located somewhere on the southern half of Vashon Island.
The winner of the hunt did almost no clue-solving at all, but instead went all-in on the brute force method.
"The participants in the live chat quickly narrowed down the location to Vashon Island," explained Sterling Talbott, an IT engineer from Renton, Wash., who found the treasure. "I was fully bought in to pursuing this adventure, so I swung by the store and bought a fog horn and a shovel, then booked it to the Fauntleroy Ferry Terminal in West Seattle."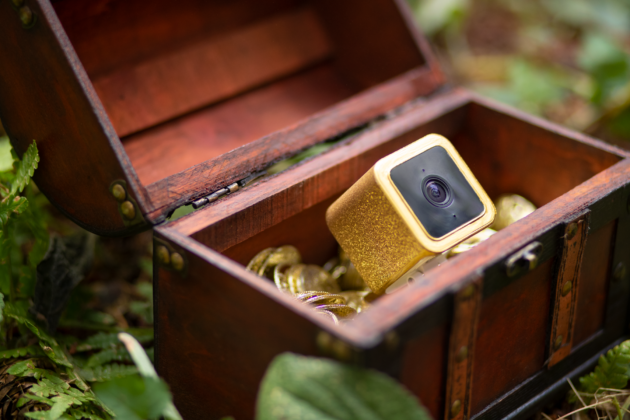 While the online participants struggled to make sense of the official riddles, Talbott and a few others literally drove around the island making as much noise as they could, hoping to hear something on the livestream.
"We expected plane noises to be a part of it but had no idea how quickly people would use that to pinpoint the island," Crosby recalled. "After people discovered it was on Vashon in the first few hours, we expected the treasure to be found the first night. Fortunately, it was harder to nail down exactly where on Vashon island."
After five days of driving around Vashon making all sorts of noises failed to produce any solid leads, Wyze announced on the livestream chat Tuesday night that two out-of-town individuals had submitted location guesses that were close enough to qualify as winners, but to actually claim the prize they would have to physically get to the treasure first.
This set off one last mad dash for the local noise-making teams, to see if they could pick out the location before the out-of-towners were able to get to Vashon.
"I spent Monday evening 'upgrading' my car with two PA horn speakers and two siren speakers," said Talbott, whose family grew up on Vashon Island before he was born. "While I was waiting in line at the Fauntleroy ferry terminal Tuesday night I wired in a fused amplifier and tablet so I could play music."
As Talbott drove around the island playing music through his new car loudspeakers, the livestream chat and Discord group waited with bated breath, and at 11:11 p.m. the patience and persistence paid off when the silence on the livestream was broken by a few seconds of very clear ice cream truck music.
The chats exploded with excitement as Talbott and his Portland-based online teammate Breanne coordinated to try to narrow down his specific location, given the 20-second delay in the livestream.
Five minutes later, Wyze posted "gonna call it guys" in the livestream chat, indicating that they would be done accepting location guesses for the night. But after a flood of protests from everyone in the chat, they relented and waited for an official guess from Talbott. After a few more minutes of "a slow game of Marco Polo," he was able to submit three guesses, one of which was on the mark, allowing him to get out of his car and go dig up the treasure.
The other two people who had identified the correct location from out of town were from Ohio and Tennessee, and neither had boarded a plane before Talbott managed to find the prize.
The treasure hunt also drove a new feature improvement for Wyze cameras. Up to this point, none of Wyze's security cameras have had the ability to livestream. After the team at Wyze developed the feature for the hunt, they decided to roll it out to all users.
"The exciting thing is that eventually it will be a feature all users can take advantage of," said Crosby.
Although it didn't go down quite like they expected, Wyze still considers the hunt a success.
"We are for sure going to do it again," Crosby said. "We have so many ideas on how to make the next one better, mainly just using an app for people to submit their guesses, using a professional game designer to help us, and make the prizes bigger and better. It should be a lot of fun. We don't want to wait a full year before we do the next one, but we'll see."
Founded in 2017 by a trio of Amazon veterans, Wyze has expanded beyond its initial low-cost security camera to a flurry of smart home devices, including floor lamps, smartwatches, sprinkler control systems, vacuums, and more. The company raised $110 million in a funding round last year.