Across Seattle and from Redmond all the way to Iceland, GeekWire had its eye — and cameras — on stories in technology, business, science, startups, space, geek culture and more in 2022.
A high-tech golf complex opened in the Seattle area; a smiling neon elephant came back to life on Amazon's campus; electric delivery vans hit the streets and an electric airplane took to the sky; 6,000 unique plants found a happy new home at the University of Washington; and many more scenes made an appearance on GeekWire throughout this year.
Scroll down to see some of our favorite photos from across the companies, communities, and people that we cover. Happy New Year.
A familiar smile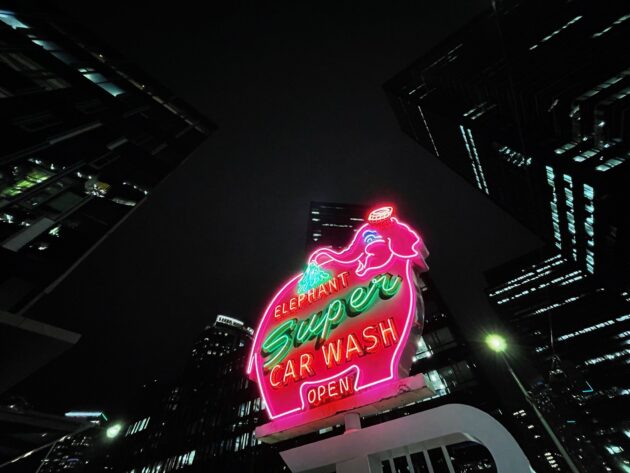 A piece of Seattle history lit up at the base of Amazon's headquarters towers in Seattle as one of the iconic Elephant Super Car Wash neon pink elephant signs came back to life. Amazon was gifted the sign after the car wash chain closed a location just blocks away from its HQ. Read more.
Electrifying moment for flight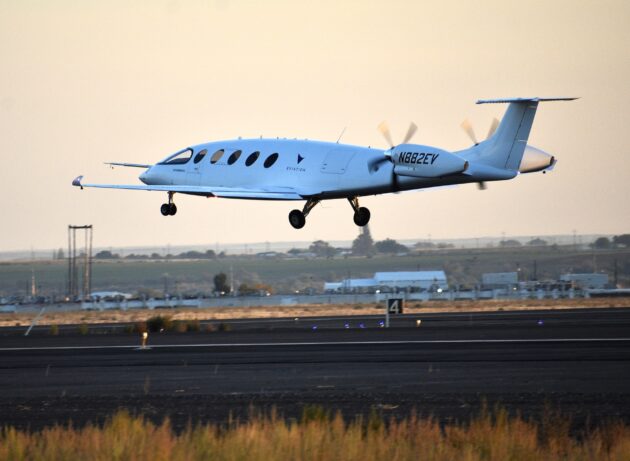 After years of on-the-ground development, Arlington, Wash.-based Eviation's all-electric Alice airplane quietly took to the air in Moses Lake, Wash., for its first test flight in September. "What we have just done is made aviation history," Eviation President and CEO Gregory Davis said. "This is about changing the way that we fly. It's about connecting communities in a sustainable way." Read more.
Green with envy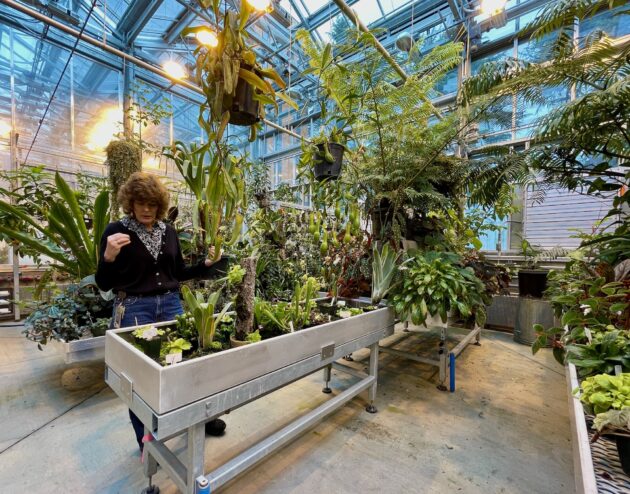 Katie Sadler, manager of the University of Washington's Biology Greenhouse, in one of the collection rooms of the facility on the UW campus in Seattle. The 20,000-square-foot concrete, steel and glass greenhouse replaces the original Botany Greenhouse, where the UW's biology department had amassed one of the country's most diverse plant collections over a period of 65 years. Read more.
A boisterous Ballmer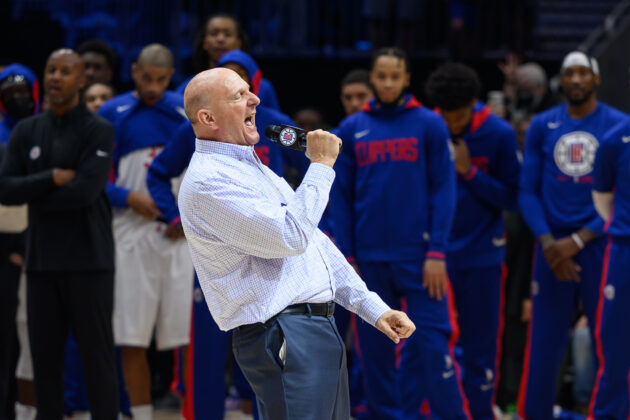 L.A. Clippers owner Steve Ballmer fired up the crowd at Climate Pledge Arena in Seattle before a preseason NBA game between the Clippers and Portland Trail Blazers on Oct. 3. The game represented the first NBA action at the redeveloped Climate Pledge Arena, which was home to the Seattle Supersonics until 2008. Read more.
Elon Musk, are you out there?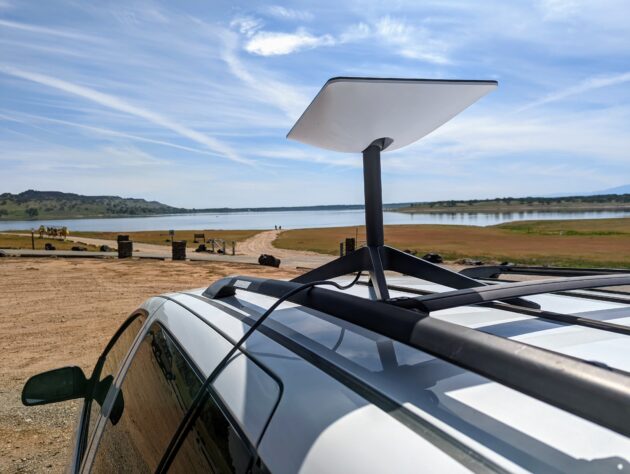 GeekWire co-founder Todd Bishop put Starlink to the test earlier this year in his hometown in Northern California, trying out the broadband internet service from Musk's SpaceX company powered by satellites developed at a SpaceX facility in Redmond, Wash. Read more.
Amazon's dim outlook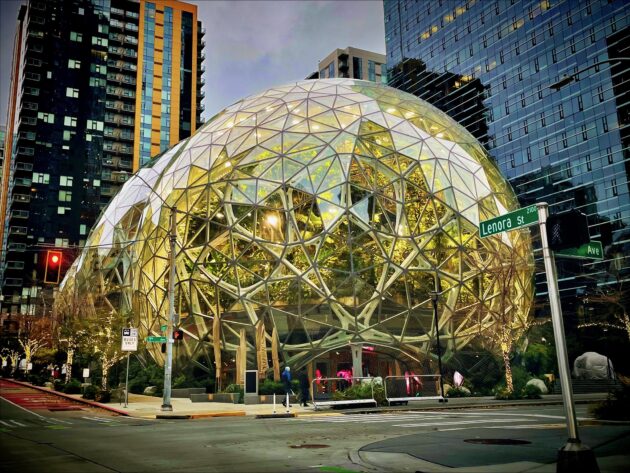 The Spheres on Amazon's headquarters campus in Seattle were glowing this fall, but things were looking less bright for the tech giant as it started the process of laying off potentially thousands of corporate and tech employees. Amazon CEO Andy Jassy said in November that the workforce reduction will continue into next year. Read more.
Swinging into action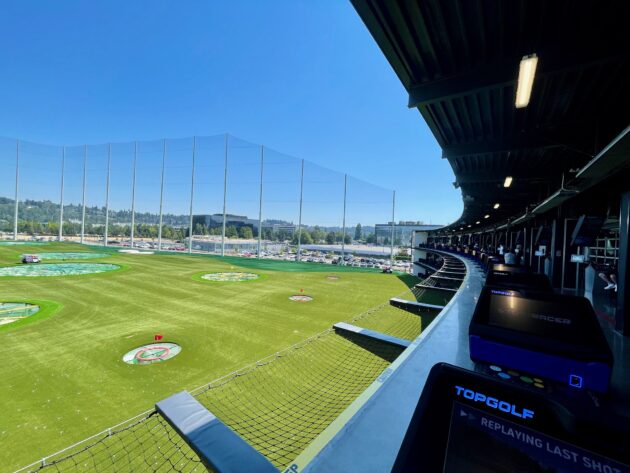 The view from a top-level bay at Topgolf in Renton, Wash., where the high-tech golf and gaming venue opened south of Seattle this summer. The sprawling new sports and entertainment venue is the company's 78th location and first in Washington state, and golfers of all skill levels streamed into the place in the midst of a heat wave to smack golf balls, play games, eat, drink and take in the atmosphere. Read more.
Support for Ukraine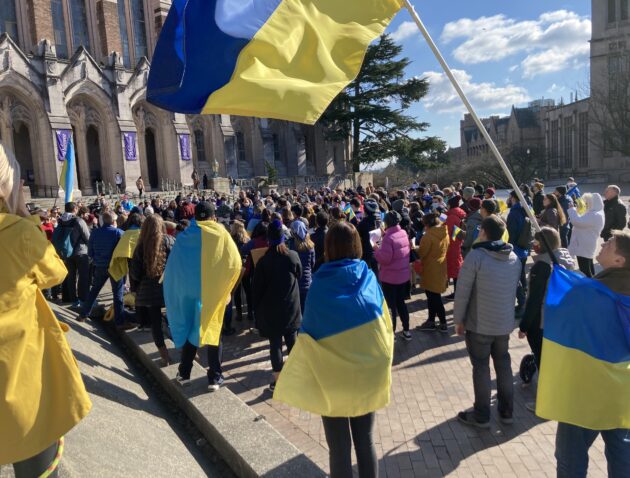 As war raged in Ukraine following the invasion by Russian forces, protesters rallied at the University of Washington in Seattle in February. With disinformation and Russian propaganda flooding social media, information experts provided advice about how to avoid propagating false narratives. Read more.
Road weary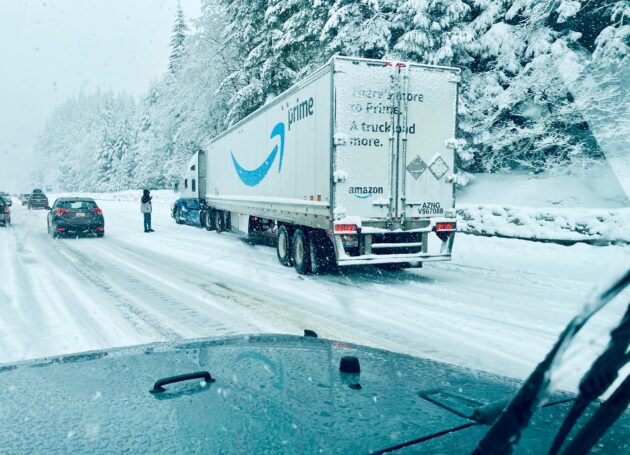 Logistics are fun! An Amazon Prime delivery truck deals with snowy conditions on Interstate-90, east of Seattle. The e-commerce giant, which shipped an estimated 7.7 billion packages globally in 2021, said near the end of 2022 that it was preparing for a slower growth period due to increased foreign currency headwinds, global inflation, fuel prices, and rising energy costs.
It's electric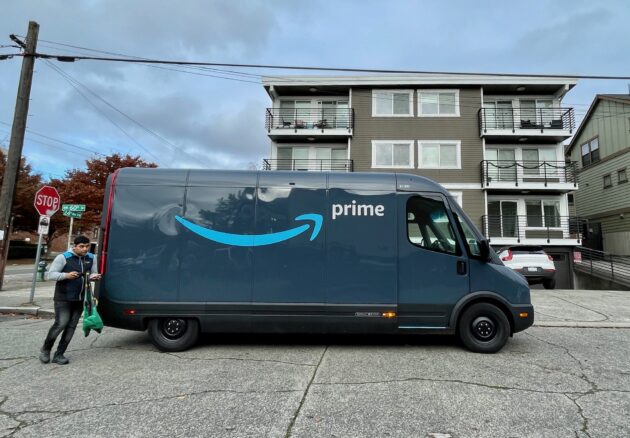 It's getting more common to spot one of Amazon's new Rivian electric delivery vans around Seattle and other part of the country. "It's like driving a spaceship," one driver told GeekWire after we spotted three of the vans in three neighborhoods on a single weekend day. Read more.
What's under the hood?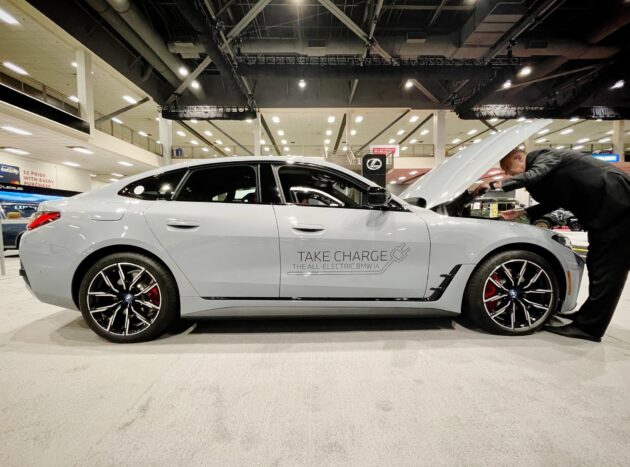 Electric vehicles were also the talk of the Seattle International Auto Show as more mainstream automakers are rolling out cars and trucks that appeal to a wider audience. "These are game changers. They are the vehicles that people want to drive," said Tom Voelk, spokesperson for the show. "They don't look like science fiction projects." Read more.
Coffee taste test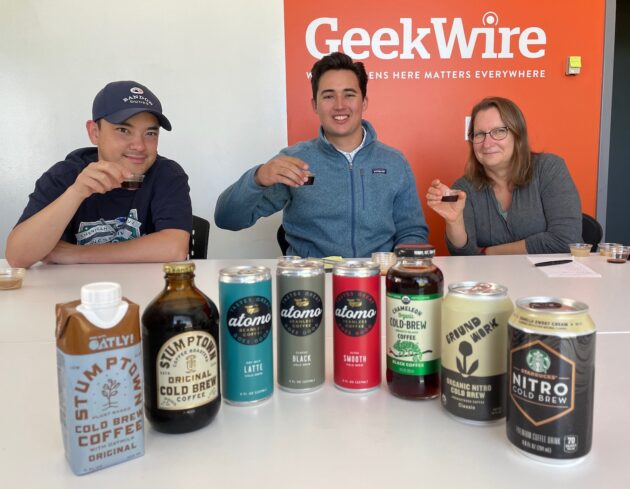 In a blind and not-that-scientific taste test, a trio of GeekWire staffers (above from left: Managing Editor Taylor Soper, reporter Nate Bek, and reporter Charlotte Schubert) took on the tough task of slugging back eight varieties of cold brew coffee in the middle of the afternoon to see if one Seattle startup was especially buzzworthy. Read more.
Microsoft's carbon connection in Iceland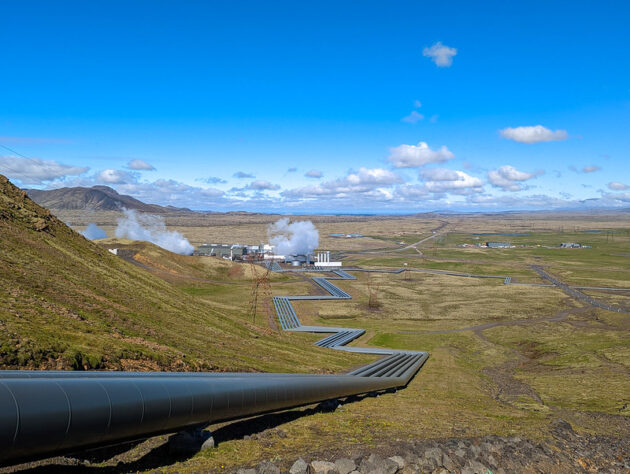 Climeworks, a leader in direct air capture of carbon dioxide, has facilities alongside a large geothermal power plant outside of Iceland's capital Reykjavik. The startup is taking advantage of Iceland's dynamic geology to capture and mineralize carbon dioxide, a key pollutant stoking climate change. In July, the company announced a 10-year deal with Microsoft to offset 10,000 tons of the software giant's CO2 emissions. Read more.
Inside Meta's metaverse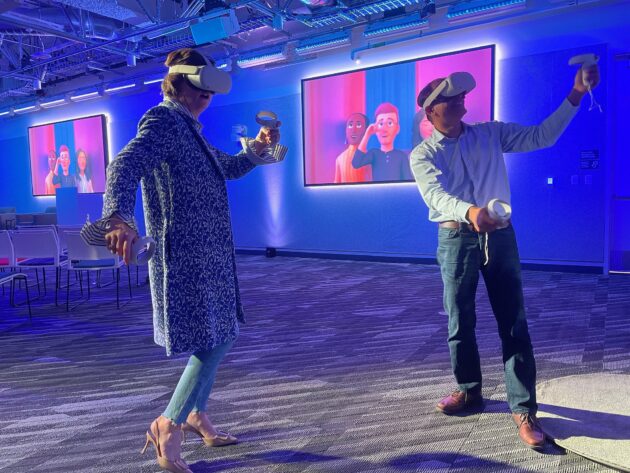 Bellevue, Wash., Mayor Lynne Robinson, left, and Paresh Rajwat, Meta's head of office for the Pacific Northwest, use Quest 2 VR headsets during a ribbon-cutting event officially welcoming Meta to the Spring District development in Bellevue, where the tech giant has multiple building leases. Meta laid off 13% of its workforce in November. Read more.
Recipe for sustainability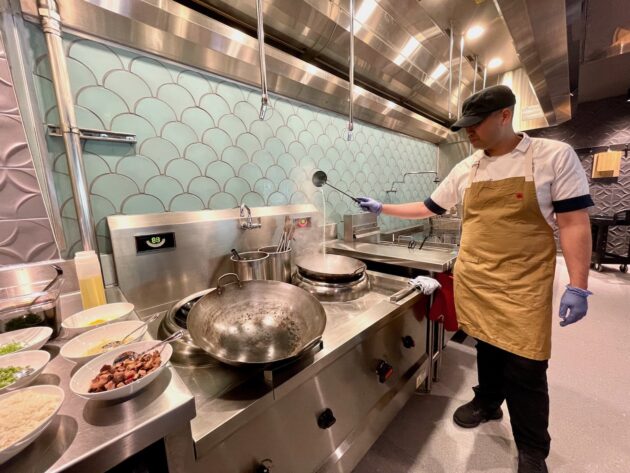 Microsoft chef Jevic Acain works on an electric wok at Pacific Rim, a culinary concept at the new One Esterra Food Hall at the company's headquarters in Redmond, Wash. The 100% electric food hall is a first for Microsoft and a proving ground for what's to come across the company as the tech giant aims to be carbon negative by 2030. Read more.
Just Walk Out, at the game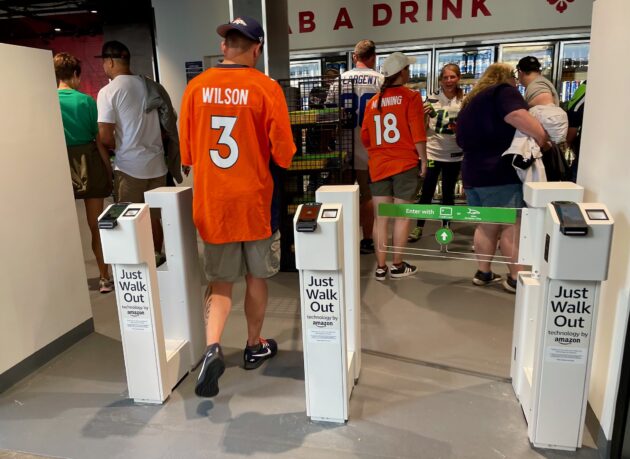 Lumen Field joined T-Mobile Park and Climate Pledge Arena in Seattle by introducing Amazon's "Just Walk Out" cashierless retail technology at concession stores this fall at the Seahawks home opener against Russell Wilson's new team. Read more.
Tech me out to the ballgame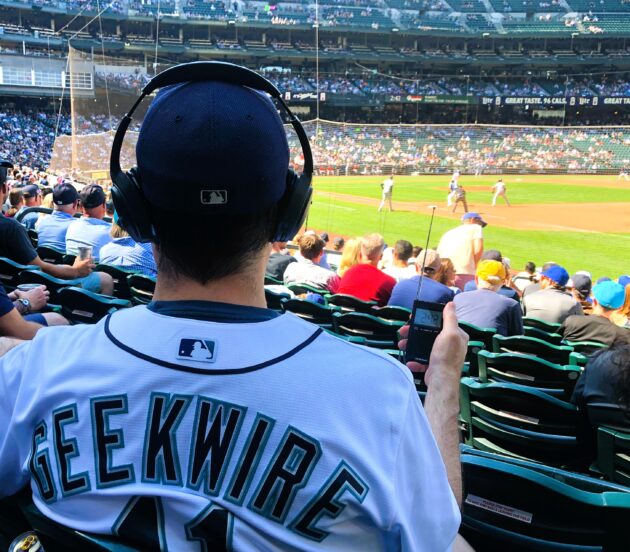 GeekWire co-founder Todd Bishop, above, was among those with Seattle Mariners fever this season as the team finally(!) returned to the playoffs. But he also had a fever for testing technology at the ballpark, including which was the best way for listening to play-by-play audio from the stands. Read more.
Unionization push

Two of Seattle's biggest and best-known brands, Amazon and Starbucks, faced evolving workforce pressures as unionization efforts gained steam at the companies in 2022. Street artists in Seattle, never at a loss for words when it comes to tech or worker rights, took notice and stuck it to the e-commerce and coffee giants. Read more.
Dawgs dig it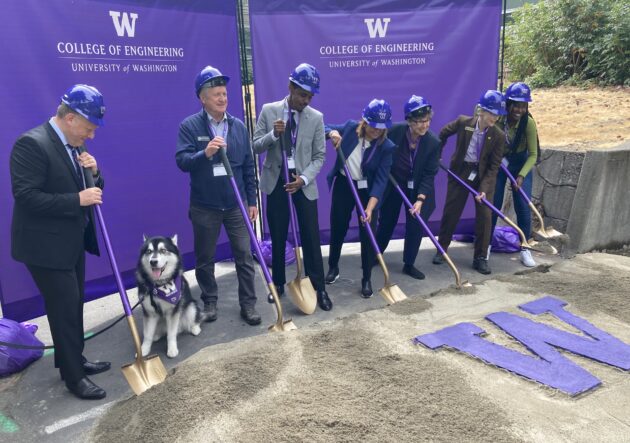 University of Washington president Ana Mari Cauce, third from right, joined UW engineering students and others — including Dubs, the school mascot — to break ground on the UW's new interdisciplinary engineering building in September. The $102 million project is being supported with funds from Boeing, Amazon T-Mobile and others. Read more.
Insights and vision for the future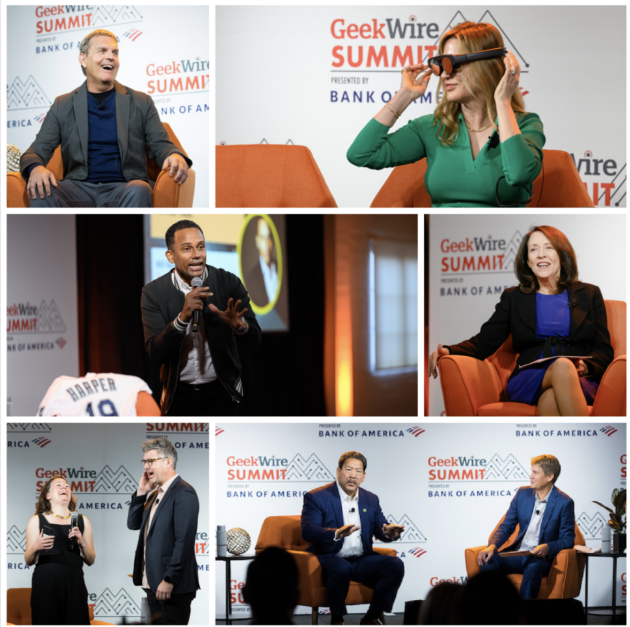 The 2022 GeekWire Summit in October had it all — and lived up to our mantra: What happens here matters everywhere. Some of the participants included, top row: Microsoft EVP Charlie Bell, left, and Magic Leap CTO Julie Larson-Green. Middle row: The Black Wall Street founder Hill Harper, left, and U.S. Sen. Maria Cantwell. Bottom row: Wavely Diagnostics CEO Arna Ionescu Stoll, left, with GeekWire reporter Kurt Schlosser; and Seattle Mayor Bruce Harrell with GeekWire co-founder John Cook. Read more.
Big winners in PNW tech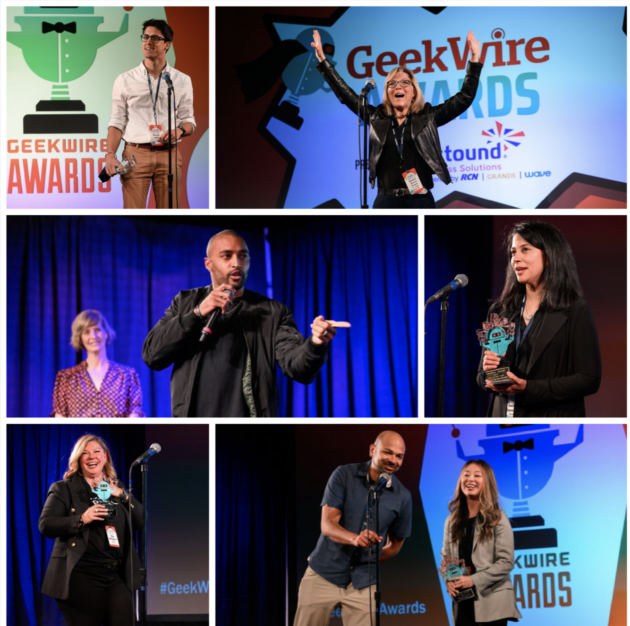 The tech community gathered for the GeekWire Awards in person for the first time in three years in May. From top left, clockwise: Varun Puri of Yoodli; Sen. Sharon Brown; Saema Somalya of Remitly; Viraj Mody and Linda Lian of Common Room; Vija Williams of Place; and former Seahawks star Doug Baldwin. Read more.
More year-end coverage: