This site may earn affiliate commissions from the links on this page. Terms of use.
It was just over three years ago when Stadia went online for "founders" who bought Google's cloud gaming bundle, and now it's all over. As Google previously announced, the Stadia shutdown happened last night, ending the search giant's brief foray into the world of gaming. All is not lost, though. Anyone who has a Stadia controller can repurpose it as a standard Bluetooth gamepad. That might lessen the sting of losing Stadia, but it's a blow to cloud gaming nonetheless.
Google ended game sales as soon as it announced the shutdown, but it allowed Stadia users to continue playing the games they already had until the shutdown. That happened mostly on schedule late on Jan. 18. Zero hour was set to be 11:59 p.m. PT, but gamers reported sessions were still active almost an hour later. By morning, all sessions had been terminated, and Stadia was dead.
Issues began piling up for Stadia early on. After an initial burst of AAA game releases, Google fell into a pattern of rolling out indie game after indie game. There's nothing wrong with rolling out smaller games, but the lack of major releases slowed the service's growth. It felt as though Google didn't want to invest in Stadia, and those suspicions were confirmed when it canned its Stadia Games and Entertainment division before it could even produce a game. This came in the weeks after Cyberpunk 2077 launched with miserable performance on all platforms — except Stadia. The service was getting the best buzz it had since launch, and then Google shot itself in the foot.
Stadia continued to limp along until last fall when Google confirmed an earlier rumor that it was shutting down the consumer-facing side of "Immersive Stream." That's what Google calls the technology underlying Stadia, which in my testing, offers the best cloud gaming experience on the market. Before the Stadia shutdown announcement, Google was seen licensing Immersive Stream to companies like AT&T, which used it to stream a Batman game (that wasn't available on Stadia) to its customers. You may see cloud gaming experiences based on this technology appear from time to time going forward, but the Stadia name, store, and game library are gone.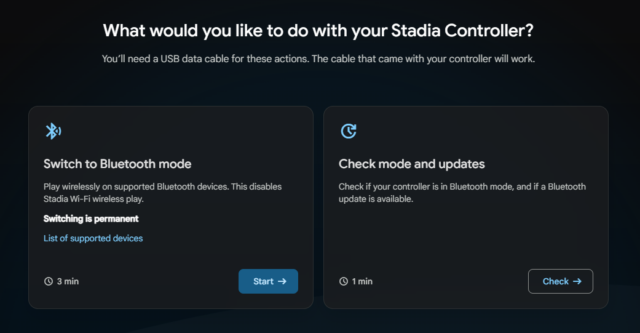 If you have a Stadia controller sitting around, there's some good news. Google has heard the internet's pleas and has provided a tool to enable Bluetooth on the controller. When Stadia existed, the controller connected directly to the internet over Wi-Fi to reduce latency — it only used Bluetooth for setup. With Google's tool, you can make the Bluetooth radio fully functional.
To do so, head to Google's conversion page and plug in your (charged) controller. You'll need a recent version of Chrome as the tool uses a hardware access API to update the controller's firmware. This process is permanent, but it's not like you'll use the Wi-Fi mode anymore now that Stadia is gone.
Now read: