James Gwertzman has always been a "tinkerer." He has early memories of soldering together an AM radio kit with his dad. He dreamed as a kid about going into visual FX. In college he was a stage set and light designer.
But the Seattle-area tech veteran ended up working on things that weren't necessarily physical, building a career around video games, his own game studios, and investing in the gaming space.
Gwertzman co-founded Sprout Games, which was acquired by PopCap Games in 2005, and he founded and led PlayFab, a game infrastructure service that was acquired by Microsoft in 2018. He led cloud-related efforts for Microsoft's gaming arm before leaving in 2021 to become a partner at the venture capital firm Andreessen Horowitz, with a focus on games.
With a new side project, the light is literally shining on Gwertzman's long-held desire to build something other than software.
"I've spent my entire career focused at the intersection of art and technology," he said. "This project has been the most fun I've had in a very long time, getting my hands dirty, designing and building all the hardware."
The project is "The Prairie of Possibilities," a light show and immersive storytelling experience featuring swaying fiber-optic "grasses" and more, which Gwertzman and his team dreamed up three years ago and just staged at the recently concluded Burning Man festival.
'I want to do that'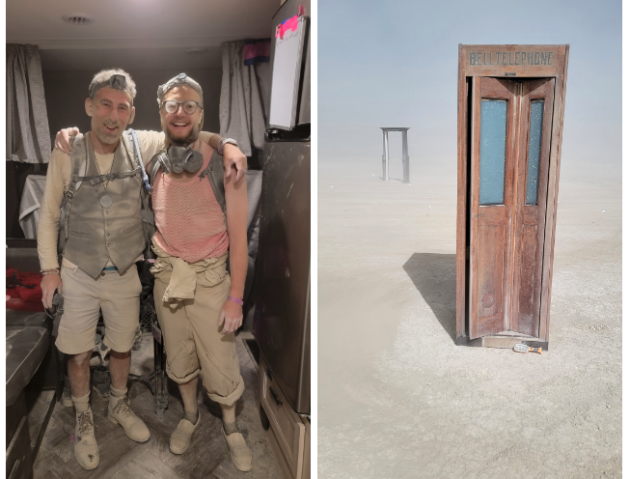 In the dusty desert of Black Rock City, Nev., Gwertzman did indeed get his hands dirty. But the inspiration for "Prairie" was sparked years ago.
Gwertzman first attended Burning Man in 1997, and after a long hiatus returned in 2015. In 2017, he was inspired by a light installation called "Tree of Tenere," a climbable tree featuring 25,000 LED leaves.
"I remember thinking, 'I want to do that. I want to give back,'" Gwertzman said.
Another field of lights project, called "Sensorio," inspired Gwertzman in 2020 and he hoped to get something built for Burning Man that year. He pitched his idea to a Microsoft Makers alias at work and held a meeting with interested folks. But COVID-19 was taking hold and the festival, like so many other events, was ultimately cancelled.
But the seed had been sown, Gwertzman said, and a core team of art and tech enthusiasts had been organized, eventually under the name The Moonlight Collective. They include: Gwertzman as the chief visionary; experience designer and fabricator Casey Martin as creative director; engineer, software architect, and program manager Paul McDaniel as technical director; and game designer and audio engineer Ed Allard as the leader of the sound experience.
When Burning Man was cancelled again in 2021, the group took the opportunity to get away from prototyping on Zoom calls. Last fall they set up "Prairie" on Mercer Island, near Seattle, as a way of testing things out in public. They used a software program called LX Studio to build out the lighting controls, and 250 bases for the fiber-optic "grasses" were manufactured in China.
Over three November days in Mercerdale Park, Gwertzman's vision came to life as a field of nearly 1,500 of the glowing grasses that make up "Prairie" pulsed in colorful synchronicity with Allard's musical soundscape. (See video above.)
By testing the installation at scale, and receiving positive feedback from visitors, the team was ready to plan for Burning Man in 2022. And go much bigger and more immersive.
"Casey gets a lot of the credit for pushing us to think more like a Disney imagineer, to really create multiple levels of interaction for the viewer beyond blinky lights," Gwertzman said.
Those interactions include several "portals," also with their own light and sound displays, which visitors can walk through as a sort of entry and exit between the real world and alternate universes. Phone booths were also employed as way to collect recordings of visitor stories. People could call a phone number — still active at 844-428-0110 — to be directed to share personal tales related to four emotions: fear, sadness, happiness, anger.
"Hello, starborn human," says a voice on the other end of the line identifying itself as The Entity. "You must have questions about who and what I am … I exist to collect and immortalize the stories embodying the human condition."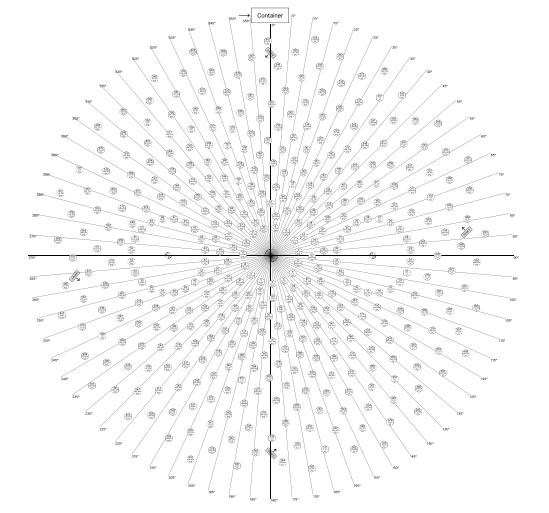 The size of the experience doubled to 420 light bases and the plan to lay them out in the desert relied on a precise mathematical algorithm — inspired this time by patterns in nature, explained in a YouTube video about sunflower heads.
To design and choreograph the installation ahead of time, Gwertzman and the team turned to Unity, a very popular software package for game design.
"All of us, myself and Ed and others who've been involved in games, know Unity inside and out," Gwertzman said. "We were able to use it to simulate the entire installation and walk through it in virtual reality to decide if this is what we wanted."
'Our project was very meditative'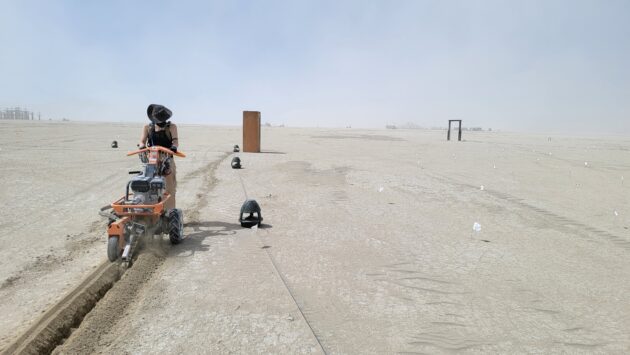 To pull off the setup in the desert, Gwertzman and team arrived a week ahead of Burning Man and literally started planting flags in the playa, or dry lake bed, where the festival is held. They chose a spot deliberately away from other bright lights and the thump-thump of some Burning Man music.
They dug trenches to bury some of the mile of cable and wiring needed to connect everything across a 250-foot-wide area — AC power to the portals, ethernet for networking, speaker wire, and control wires for the lights themselves.
"What I learned about this project is big art like this is 90% logistics, 10% art," Gwertzman said. "Just getting all the stuff to the desert and getting the team pulled together and doing the build, 90% of that is just logistics and planning. The actual art is in some ways the minority."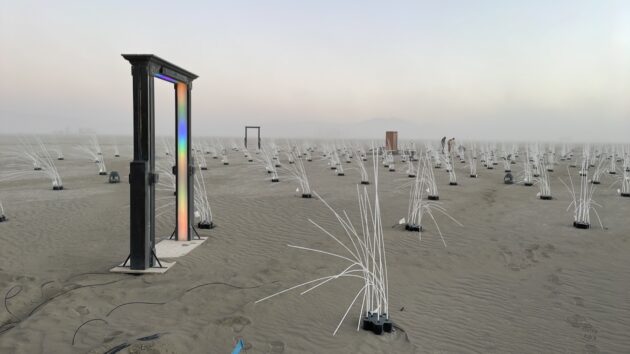 From the first night they flipped the switch until the end of the event, "The Prairie of Possibilities" proved to be a success for those who built it and those who wandered through the glowing grasses, portals, phone booths, and even a container decked out to look like a research facility for scientists studying an otherworldly phenomenon.
When they would return in the morning to shut off the power generator, Gwertzman's team would often find a pile of people sleeping on pillows in the center of the installation, listening to the music and the voices of hundreds of recorded storytellers.
"One of the reasons we got so much praise for this project is that Burning Man can be a very intense techno kind of scene," Gwertzman said. "And our project was very meditative, ambient music. People kept telling us they would come back night after night because it was so rejuvenating and it was so beautiful."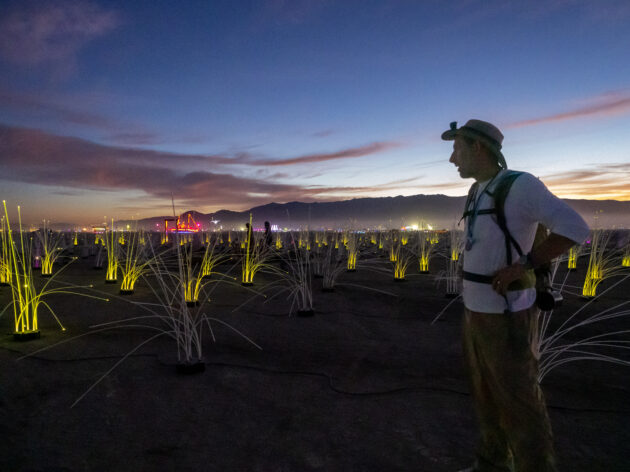 After dismantling the installation, packing up and restoring the playa to its natural state (a Burning Man must), Gwertzman is left to consider what could be next for the "Prairie."
He's considering taking it on the road, to power it up in different locations. He'd love to see what it all looks like in the snow, for instance. But if a professional collector came along and wanted to acquire the piece for a property somewhere, Gwertzman said he would certainly take the call.
Calling his passion project the perfect fusion of art and technology, Gwertzman said he is grateful for the experience.
"It was honestly one of the most creative things I've ever done."