It was often hard to tell from the inside that 2022's Emerald City Comic Con was supposed to be a comic book convention.
With ECCC, the con organizers at ReedPop really leaned into the modern definition of "comic con" as an all-ages, all-inclusive, all-media celebration of sci-fi/fantasy pop culture.
Depending on where you stood in the Washington State Convention Center this past weekend, you might've thought you were at an anime con, an art expo, a streetwear market, a general science fiction show, or a get-together for sword guys. (Seriously, why were there so many sword vendors, with so much variety?) Comics were just the excuse to get everyone in the same room.
As far as ReedPop itself was concerned, ECCC was a celebrity meet-and-greet. Much of the con's schedule was devoted to autograph sessions and photo opportunities with a seemingly random assortment of actors, for seemingly random reasons.
Brendan Fraser was arguably the guest of honor. While he might not have officially been ECCC's primary draw, I saw enough people walking around in T-shirts with his face on them that I'm forced to assume he ran the space.
While Fraser does have some comic-book community cred, due to his recent role on the HBO Max/DC Comics show Doom Patrol, the primary attraction of his time at ECCC was a panel that, for some reason, reunited Fraser with Oded Fehr, his co-star from 1999's The Mummy.
Another panel featured Steve Burns, who used to be the host of the Nickelodeon show Blue's Clues from 1996 to 2002; a third was an inexplicable callback to the 1999 romantic comedy She's All That, featuring the film's stars Freddie Prinze Jr. and Rachael Leigh Cook.
Convention mainstays Felicia Day and Cassandra Peterson were also on hand, alongside a lineup of random actors, reality TV performers, young-adult writers, and two former stars of the BBC's Doctor Who.
It all left me with the impression that ECCC's organizers had gone out and gotten every guest they could, for whatever reason they could come up with, in order to charge fans $60 to take silly photos with famous people.
Like some other pre-COVID ReedPop shows I've seen, there was a lot to do and see at ECCC 2022, but it was drowned out by this abrasive layer of celebrity worship. There were two conventions coexisting here; one was about comics and pop culture, and the other was about paying to be in the same room as a random TV star. The latter was much louder and dumber than the former.
Nature is healing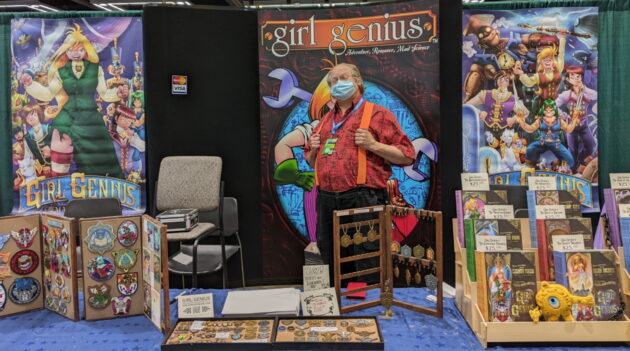 "This is the first show of this size that I've done since COVID started," G. Willow Wilson told me. "I was supposed to be a guest at the Emerald City show in March 2020 that was canceled just 10 days beforehand because of COVID. For me, this is like coming full circle."
Wilson is a Seattle-based novelist who won the World Fantasy Award in 2013 for her novel Alif the Unseen. She currently writes the monthly Poison Ivy comic for DC, but may be best-known for co-creating the Marvel character Kamala Khan, who was recently played by Iman Vellani in the Disney+ miniseries Ms. Marvel.
"This is my home show," Wilson said. "It's great to be back."
That matched the general tone of many of the exhibitors and guests I talked to at ECCC 2022. Despite a few hiccups, like how uncomfortably warm the WSCC got by midday during the show, there was a certain cheerful just-glad-to-be-here atmosphere throughout much of the convention.
As far as comics went, there was actually a lot to see if you knew where to look. Three of the biggest companies in the modern comics industry— Marvel, DC, and Dark Horse — were all no-shows, and Portland's Image Comics didn't seem to have any official presence outside of an anniversary panel (below), but there were plenty of smaller publishers to check out.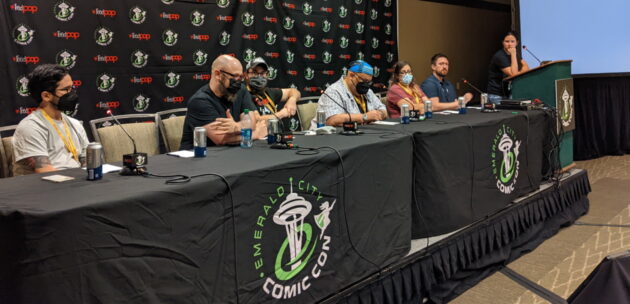 One of ECCC's most visible sponsors this year was Tapas Media, a South Korean webcomic platform, which had a big booth on the expo hall as part of a celebration of a recent merger. It's an interesting commentary on the increasing visibility and popularity of a particular style of webcomic, which is specifically aimed at an audience that's assumed to be reading on their smartphones.
Portland's recently-controversial Oni Lion Forge had one of the biggest booths at the con, in the 4th-floor skybridge, with the Los Angeles-based Aftershock Comics and Stranger Comics and Missoula, Mont.'s Vault Comics in high-visibility spots nearby. While Image Comics didn't have a booth, it did have a discussion panel (above) for several creators who are publishing books through Image.
If there's one thing I like about post-COVID conventions, it's this inadvertent amplification. It seems like bigger companies have been slower to jump back into the convention circuit, which has given a lot of independent creators space to exhibit and grow.
While a few artists had booth space in the expo hall, the Artists' Alley on the 6th floor was packed to the rafters, with both established comics pros and self-employed up-and-comers.
If I had to point to a single "nature is healing" moment that I had at ECCC 2022, it was seeing a line of fans in front of X-Men writer Chris Claremont's booth with actual handtrucks full of comics to get autographed. It was a scene right out of any pre-COVID comic con, except everyone involved was wearing a face mask.
It all gave me a lot of opportunities to pick up books and magazines that I'd never heard of. That's traditionally been my favorite part of comic conventions: buying new books, or books that are at least new to me, straight from the people who made them, just in case something turns out to be cool.
Welcome to the new semi-normal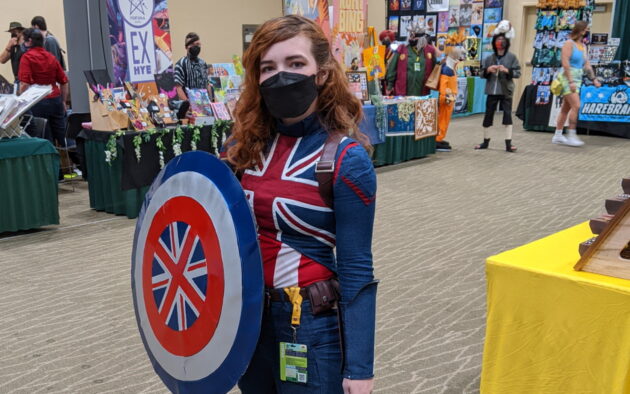 My new least favorite part, of course, is the nagging sense that it's dumb to be physically present at a convention at all. Several of this year's conventions and trade shows have turned into super-spreader events, and ReedPop only implemented a mandatory mask policy for ECCC earlier this month. COVID is still a going concern, and attending any major social event for the last couple of years has felt like playing Russian roulette.
Even so, ECCC felt about as safe as any convention could. Almost every attendee I saw was masked up at all times, with con staff standing at major entrances and exits with boxes of fresh masks. There were free water stations at the Sheraton next to the convention center, and plenty of hand sanitizer both at booths and throughout the show floor. While I heard of and saw a couple of anti-masking exhibitors over the course of ECCC, almost everyone else at the show, including all the attendees, were taking COVID seriously.
"It's good to see people back out in the world, trying to reclaim some semblance of normalcy," David F. Walker said to me from his booth in Artists' Alley.
Walker, based in Portland, is a comic writer and novelist who's worked at DC, Marvel, and Dynamite; while at DC, he co-created the character Naomi McDuffie, who recently starred in her own live-action TV series. Walker's independent comic with Chuck Brown and Sanford Greene, Bitter Root, won an Eisner Award for Best Ongoing Series in 2020.
"I'm glad everybody's wearing a mask," Walker said. "I know that there were some concerns going into the show, but now that there is [a mask mandate], I feel much better about it."
"My whole family had [COVID] in June," Wilson said. "We all have very recent experience with COVID. It is not fun, it is not a joke, and it really did give me pause about doing an event of this size. We'll see. It is Seattle, and people here tend to follow the science."
As of right now, ECCC was a solid show with a couple of mild hiccups, such as the air conditioning falling down on the job.
The real test is going to come in a couple of weeks, when we see whether or not there's been a measurable COVID uptick that can be linked to the convention. The new normal of event planning is balancing attendance against safety, and ECCC was going in at a slight disadvantage. All we can do is wait and see if ECCC was worth it.