The crisis around homelessness in Seattle — and in cities across the country — is nothing short of a source of daily conversation among those experiencing it, witnessing it, or working to combat it.
Fueled by a tech boom that has transformed the region in recent years, housing affordability is a critical issue for city leaders, residents and the companies that have grown into tech giants. As Microsoft and Amazon have earmarked billions toward affordable housing in the region, startups and nonprofits are also getting involved.
New orange and white billboards in Seattle showed up recently to put the crisis in all-caps reality for drivers to ponder as they crossed the Ballard Bridge or sat at a busy intersection in the Greenwood neighborhood.
But in recent days, "HOMELESSNESS" started to disappear and transition to "HOME" on both signs.
Seattle-based Compass Housing Alliance, a non-profit that provides affordable housing and services for people living on Seattle's streets, could only wish to solve the problem so easily. But the billboards are part of its broader ad campaign to at least spur action.
"Primarily, we wanted to get people talking," Mary Steele, executive director of Compass, told GeekWire. "Homelessness has been a declared emergency in Seattle for seven years. The crisis has been going on so long that people have become numb to it."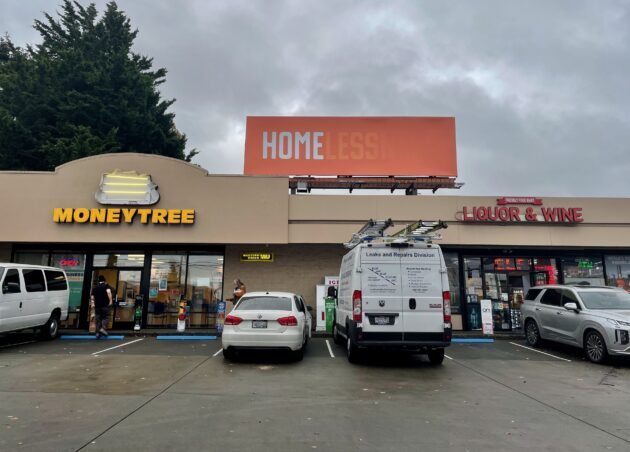 The ad campaign extends to signs on buses and inside light rail cars, as well as radio spots. Steele called the campaign bold and said Compass hopes it will inspire people to act.
"It's centered around our belief that everyone deserves a home — a safe, affordable place to live and grow," Steele said. "Elements of the campaign show the faces and stories of real people who have changed their lives with the help of our services and programs. People can change. People can meet their goals if they have the support and resources they need."
Before the word homelessness started to morph into home, the billboards were a curious sight for some who took a "thanks for pointing out the obvious!" approach in places such as Reddit. Users there questioned the campaign and what it was intended to do.
"We definitely wanted people to be a bit puzzled by these billboards at first," Steele said. "They were designed to ultimately reveal our tagline 'Everyone Deserves a Home' and our logo. We're happy that people were discussing and speculating!"

Compass brought in $21.6 million in support and revenue last year, according to its 2021 Impact Report. The organization's board chair is Jonathan Perrino, a senior business manager at Microsoft, and Compass has previously been involved in projects with ties back to the tech community.
In 2016, Compass received a $1 million donation from the late Microsoft co-founder Paul Allen to convert a 6,000 square-foot parking lot in Seattle's Columbia City neighborhood into a housing village for the homeless.
In 2018, Compass worked with the Allen-backed Seattle startup Blokable on housing units for complex being built in Edmonds, Wash.
"Our work touches the lives of thousands of people every year. But we need to go further," Steele said. "Homelessness is a community crisis, but it is not a problem that is unsolvable."