Happy Friday, space cadets, and welcome to your favorite escape from Earthly news shy of literally fleeing the planet. There are images of Neptune and its moons from the James Webb space telescope. We also heard this week that the Perseverance rover found "exciting" organic molecules in a sample from Mars. But my favorite bit of news from this week is the space rocks that left a series of craters on Mars that look a little like the Mandelbrot set, if you squint.
NASA Finally Tanks Up the SLS
I know I just promised you an escape from Earthly news, but this one exception is worth it: NASA finally completed a fueling test on its beleaguered Space Launch System moon rocket. The SLS uses liquid hydrogen and oxygen, which have to be delivered at cryogenic temperatures to stay liquid. However, the rocket's hydrogen systems have been deeply troublesome to date. When NASA tried to launch the thing on Aug. 29, it still hadn't completed a successful fueling test. That makes this good news indeed.
The agency has a post-test briefing scheduled for this afternoon (Friday). If nothing else goes wrong, Artemis 1 will launch on Tuesday, Sept. 27, during a 70-minute launch window that opens at 11:37 AM EDT.
Perseverance Rover Finds 'Excellent' Organic Molecules on Mars
Normally I don't even open a new tab for "we found organic molecules on such-and-such celestial body." That's because "organic molecules" is so unhelpfully vague. Organic just means carbon-based. Organic molecules are everywhere. All four major types of biomolecules are organic. Believe it or not, even amino acids are just a chain of nitrogen-carbon-carbon atoms, with substituents if you're feeling fancy. When scientists successfully re-created the Miller-Urey experiments, it made clear that a rock sitting in a puddle will make organic molecules if you hit it with lightning enough times.
Happily, the Perseverance rover's project scientists are not so cynical. The rover has been trundling around the Three Forks river delta, taking samples and seeing what it can see. And what it sees, says Perseverance project scientist Ken Farley, is beautiful.
"The delta, with its diverse sedimentary rocks, contrasts beautifully with the igneous rocks – formed from crystallization of magma – discovered on the crater floor," said Farley. "This juxtaposition provides us with a rich understanding of the geologic history after the crater formed and a diverse sample suite. For example, we found a sandstone that carries grains and rock fragments created far from Jezero Crater – and a mudstone that includes intriguing organic compounds."
Perseverance is currently exploring Wildcat Ridge, where it drilled out samples of the mudstones above. At left you can see the coarser sample from Skinner Ridge, about twenty meters away. Wildcat Ridge's sample is much more fine-grained. That has NASA's experts excited because small grains tend to settle out in low-energy environments where it's very still. Such environments tend to preserve finer detail in fossils. If life ever existed on Mars, these sediment cores are probably our best shot at finding it.
InSight Lander 'Hears' Space Rocks Crash Onto Mars
NASA sent its InSight lander to Mars to peer below the crust and tell us how Mars works deep down. Even at end-of-life due to its waning power budget, the lander is still doing science. Last year, we reported that InSight had identified a series of marsquakes that made the Red Planet ring like a bell. Now, NASA says, the lander has "heard" the sound of meteoroid impacts on Mars.
Earthquakes, marsquakes, and sound are all the same thing — pressure waves through a medium. Still, not all quakes are equal. InSight has picked up enough marsquakes by now that we know magnitude 5 is a whopper on the Martian seismic scale. Impact events are quieter still. The first of the four impacts was the loudest by far, and even it was a relative whisper at magnitude 2.0 or so. Nevertheless, it made its mark on the Red Planet. When it hit Mars' surface, the space rock exploded into at least three shards that each kicked up a cloud of regolith and left a crater behind. And it really does look a little like a Mandelbrot set.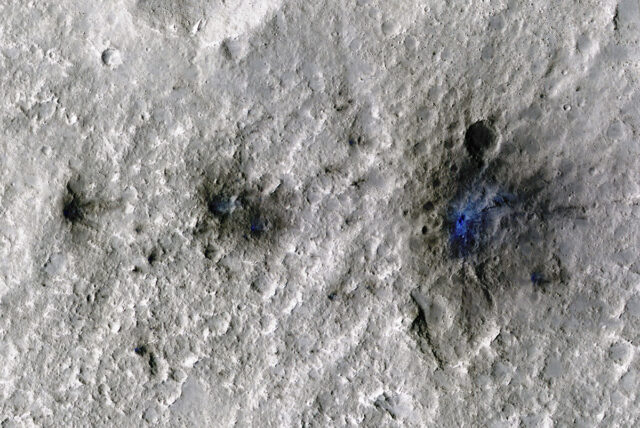 "We're learning more about the impact process itself," said InSight project scientist Raphael Garcia. "We can match different sizes of craters to specific seismic and acoustic waves now." Garcia and colleagues' analysis of the impacts appears in Monday's (Sept. 19) issue of Nature Geosciences.
Naturally, NASA posted the audio on — where else? — Soundcloud.
Webb Telescope Captures Mars, Rings of Neptune
A million miles from Earth, the James Webb space telescope continues to provide a steady stream of lovely and informative science images. Remember how we kept hearing how the JWST was booked solid for its entire first year? Last week, it treated us to images of the Orion Nebula, and of Saturn's luminous rings. This week, we've got Webb's first close-ups of Mars. We also have a haunting image of Neptune's rings, including the seven largest of its fourteen moons.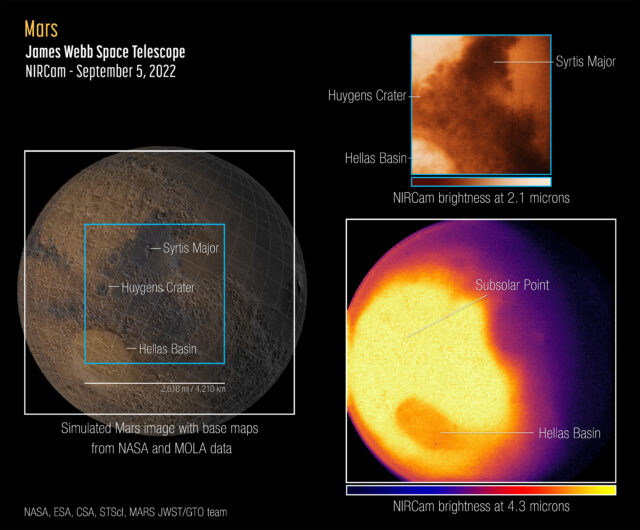 At left is a composite from Webb's NIRCam, mapped onto pre-existing visual spectrum data from NASA's archives. At right, an infrared image shows how Mars glows in the near infrared. The brightness decreases toward the poles, which are cooler because they receive less sunlight. It's also winter in Mars' northern hemisphere, so it's cooler and therefore dimmer in the infrared. However, temperature is just one factor affecting the amount of 4.3-micron light reaching Webb with this filter. Some of Mars' IR glow is absorbed by carbon dioxide in its atmosphere. Hellas Basin, which you can see at the bottom right, is a declivity in the Martian terrain. Just like Death Valley, Hellas has higher atmospheric pressure than its surroundings, because there's more atmosphere pushing down into the basin. That means there's more CO2 there to absorb the light, resulting in the dark spot we see.
And then there's Neptune. Just… bask in the glory.
In this image, Triton almost dominates the frame, due to the now-familiar diffraction spikes from Webb's optics. The only reason this isn't a photobomb is that Triton is supposed to be there. It shines so brightly because its whole surface is a gleaming nitrogen ice sheet. Just like the blinding glare from Earthly ice, Triton reflects back up to 70% of the sunlight that hits it.
Hayabusa Project Scientists Report Water in Ryugu Sample
Much ado about a dewdrop? Japan's aerospace agency, JAXA, launched its Hayabusa-2 probe to asteroid Ryugu in 2014. Since then, it's made two Earth flybys to drop off samples. Earlier this summer, news broke that scientists had found organic molecules in grains of dust from the asteroid. Now, a team of Hayabusa project scientists has reported finding a "drop of water" hidden inside one of the samples.
At a conference before publication, lead author Tomoki Nakamura of Tōhoku University said that the team was delighted to find a tiny liquid inclusion in one of the crystals. The inclusion turned out to be a droplet of "carbonated water containing salt and organic matter," said Nakamura.
"This drop of water has great meaning," he continued. "Many researchers believe that water was brought [from outer space], but we actually discovered water in Ryugu, an asteroid near Earth, for the first time. … We have discovered evidence that this may have been directly linked to, for example, the origin of the oceans or organic matter on Earth."
The research appears in Friday's issue of Science.
Skywatchers Corner
I don't know about you, but when I went to bed Wednesday in New York, it was summer. Hot, muggy, and plenty of mosquitoes. But Thursday I woke up and somehow, suddenly it was autumn. And what elegant timing, that it should happen on the day of the equinox — Thursday evening marked the September equinox, at 9:04 PM, Eastern time. Most years it isn't like this, but this year, it was.
Solstices and equinoxes are part of our changing seasons, which happen because of the Earth's axial tilt. Even in ancient Greece, astronomers knew that the Earth was a sphere, and eventually its size and inclination. Ptolemy, himself an astronomer of historical renown, reported that Eratosthenes calculated the Earth's axial inclination some two thousand years ago. By that time, the Antikythera Mechanism was more than a hundred years old. The ancient device is thought to be an orrery, a sophisticated model of the solar system that shows the progression of the planets over time. It was also the world's first mechanical computer, calculating the orbits of the five planets known to antiquity.
Mathematics and astronomy intersect along the orbital plane. However, the astronomers of classical antiquity saw more than math in the movement of their planets. To both the Greeks and Romans, each planet had its associated ruler. Classical astronomers noticed that sometimes planets appeared to move "backwards" in the sky, against their normal cycles of motion. (Trying to explain this is where 'epicycles' came from.)
Not only did it confound their equations, retrograde motion confounded the horoscopes drawn up by more spiritually-inclined astronomers. During periods when the planets were in retrograde, astrologers then and now forecast that the characteristics associated with each planet could turn on their heads, changing the horoscope like an inverted tarot card changes a reading. The gamut ran from stubbed-toe inconveniences, à la Mercury in retrograde, to celestial omens that swayed the hand of Alexander the Great in his march across the Mediterranean and the Near East.
Imagine what he would have thought to hear that NASA means to launch a moon rocket with six planets in retrograde.
It's true, though; Mercury, Venus, Jupiter, Saturn, Uranus, and Pluto are all in retrograde. All six will remain in retrograde until October 2, when Mercury breaks away into proper motion.
Speaking of Mercury, this morning it entered inferior conjunction as it passed between Earth and the Sun. And starting this coming week, the small planet will begin to emerge from the glow of breaking dawn, if you look to the eastern horizon before sunrise. (This should go without saying, but as with eclipses, you really shouldn't look straight at, or even near, the Sun without specifically purpose-built eye protection.)
Now Read: