(Credit: NASA)
Hello, readers, and welcome back. There's much ado about the moon this week and a ton of launches scheduled for March. The James Webb space telescope is seeing triple — and that's a good thing. Meanwhile, Hubble has been just as hard at work. Unfortunately, two NASA satellites are on the fritz. But we'll start today with news from Washington State of a
very
cool new way to manage space dust.
Frosty New Cleaning Spray Could Rid Space Suits of Moondust
In the most recent edition of Acta Astronautica, researchers from Washington State University report that a liquid nitrogen spray can rid space suits of moondust. Moondust is just like Mars dust: viciously sharp little shards of regolith that find their way inside everything. They're like packing peanuts or cursed space glitter. Worse than packing peanuts, moon dust is made of ultra-fine particles with the consistency of ground fiberglass.
"Moondust is electrostatically charged, abrasive and gets everywhere, making it a very difficult substance to deal with," said Ian Wells, first author of the report. "You end up with a fine layer of dust as a minimum just covering everything."
But the dust doesn't just cover everything. It does a great job wrecking everything it touches. Apollo astronauts tried to use brushes to clear their suits of the dust, but it was worse than nothing, clearing next to no dust and damaging the suits in the process. The grit destroyed seals in their space suits and caused the astronauts themselves to suffer from 'lunar hay fever.' Worse yet, experts believe longer exposure to moondust could cause a lunar 'black lung' syndrome. Since NASA is actively working to establish a long-term human presence on the moon, it's important to mitigate this threat. And that's where the liquid nitrogen comes in.
WSU researchers made one-sixth scale models of space suits, using Barbies to model them while they covered the suits in moondust. The researchers discovered that a spray of liquid nitrogen caused the moondust to "bead up and float away on the nitrogen vapor." Poetically, it's a phenomenon called the Leidenfrost effect. Here on Earth, you may have seen it in the way touchless car washes are gentler on a vehicle's finish than the kind that uses brushes. In the frigid vacuum on the lunar surface, liquid nitrogen might be the best way to clean that wretched dust off our next-gen space suits.
Cool.
'KaRIn' Instrument Knocks Out NASA's SWOT Satellite
Launched in December, the sea-gazing SWOT (Surface Water and Ocean Topography) satellite is a collaboration between space agencies of America, Canada, the UK, and France. According to NASA, it will take high-resolution measurements of the height of water in the world's oceans and freshwater bodies. That is — if it ever boots up again.
Once in orbit, the spacecraft started commissioning activities: the six-month "checkout period" before its scientific mission begins. This includes turning on all the satellite's science instruments, among them the main science instrument, the Ka-band Radar Interferometer (KaRIn). Engineers fully powered on the instrument in mid-January 2023, and everything looked great. The satellite sent back telemetry just fine — for a week. Then, one of the KaRIn instrument's subsystems shut down with no explanation. Naturally, it brought down the entire satellite and left the whole system pinwheeling.
In a statement, NASA officials said that mission engineers are "working systematically to understand the situation and to restore operations, performing diagnostics and working with a test bed that simulates the KaRIn instrument on Earth." The agency expects the satellite to finish its commissioning period in June, as originally scheduled, for the beginning of science operations in July.
IBEX Spacecraft Lapses Into Paralyzed 'Contingency Mode'
NASA's Interstellar Boundary Explorer (IBEX) spacecraft is suffering from a planned computer reset that went awry. Flight computer resets have happened before. However, NASA officials said, this time the IBEX team lost the ability to command the spacecraft altogether during what should have been a routine recovery after power cycling the computer.
The spacecraft's flight software still is running, and its onboard systems appear to be functional. However, while uplink signals are reaching IBEX, it's not processing the commands it receives. The team also was unsuccessful in regaining control by power cycling and resetting hardware and software systems on the ground.
However, all is not lost. Even if NASA mission techs can't regain control of the computer, IBEX will perform an autonomous reset and power cycle on March 4. This affords another opportunity to get the spacecraft back to its primary mission: studying the boundary where our sun's solar wind gives way to the interstellar medium.
European Space Agency Moves to Establish a Lunar Time Zone
With multiple space agencies trying to establish a long-term human presence on the moon, it's important to be able to synchronize our various clocks. But timekeeping on the Moon is a fiddly thing, not unlike Star Trek's system of 'stardates,' which change depending on where you are in the galaxy. ExtremeTech's Adrianna Nine writes, "Clocks on the Moon run faster than what we consider normal here on Earth, gaining about 56 microseconds daily. This itself isn't consistent; how much faster these clocks run depends on their exact position on the Moon, causing organizations to wonder whether the Moon's time zone should be kept independent from Earth."
Undaunted, this week, the European Space Agency announced a joint effort to establish a timekeeping standard for the moon. The common framework, LunaNet, will encapsulate "mutually agreed-upon standards, protocols, and interface requirements allowing future lunar missions to work together."
Archaeologists Find
Gate Room

Hidden Chamber Inside Great Pyramid of Giza

After years of painstaking work, scientists have used muon tomography to confirm the presence of a previously unknown chamber hidden behind the chevron blocks on the north face of the Great Pyramid of Giza. Thanks to the unique powers of the imaging method, scientists have now successfully mapped the space, and it appears to end in an upward-sloping corridor. They've even taken photos of it with an endoscopic imaging tool. Here's what you'd see if you peered down the corridor: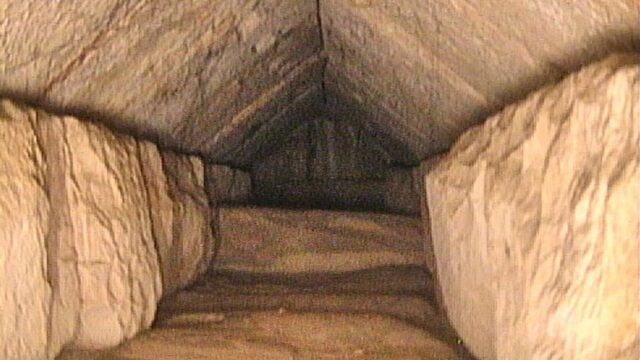 The scientists write:
Among these discoveries, a corridor-shaped structure has been observed behind the so-called Chevron zone on the North face, with a length of at least 5 meters. A dedicated study of this structure was thus necessary to better understand its function in relation with the enigmatic architectural role of this Chevron.
Muon imaging is ideal for investigating the Great Pyramid because it allows scientists to peer straight through solid rock. In this way, scientists can detect empty spaces that we otherwise wouldn't be able to find without dismantling the monument.
The scientists behind the study do not attempt to explain how the void was made or what its purpose might have been. However, fans of sci-fi may have some ideas. To quickly recap, we've discovered a mysterious space behind a chevon-shaped opening deep inside an Egyptian pyramid. There's an obvious explanation for this:
Reports of glowing-eyed "researchers" with imperious attitudes and strangely deep voices could not be confirmed at this time.
Launches and Landings
Three rockets may get their first taste of vacuum this month, one of them 3D-printed. ULA is going through last-minute tests before the inaugural flight of its Vulcan Centaur this spring. SpaceX is forging ahead with its next-gen Starlink satellites — and the company sent Crew-6 to the International Space Station in a striking midnight launch.
Relativity Space Schedules 'GLHF' Terran 1 Launch
Right now, Relativity Space's Terran 1 rocket is scheduled to lift off as early as March 8 (Wednesday) from Cape Canaveral. The methane-fueled rocket is mostly 3D-printed. Its mission, called "GLHF" (for "Good Luck, Have Fun"), is a test flight, which means it won't have an official payload — just sensors.
Relativity is working toward building another fully reusable rocket that will succeed Terran 1. The company is also collaborating with Impulse Space, trying to beat Elon Musk's SpaceX to Mars in their own miniature 'space race.'
JAXA Makes a Second Pass at H3 Rocket Launch
Japan's H3 satellite launcher may also make its first flight in March. The rocket was scheduled to launch in February, carrying an Earth-imaging satellite. However, things went pear-shaped during a Feb. 17 launch attempt when the rocket's side boosters failed to ignite. Spokespeople from the Japanese Aerospace Exploration Agency (JAXA) say that despite the launch failure, the rocket wasn't damaged. The agency intends to make another launch attempt next Friday (March 10).
SpaceX Starship Rocket Could Take Flight Within Weeks
SpaceX recently held a test fire of its simply-named Starship. During the test, 31 of its 33 Raptor engines fired, which Elon Musk says is entirely within the mission's margin of error. (Later, Musk said the engines had run at just half their expected thrust.) However, the FAA hasn't yet published its concurrence with Musk's opinions. SpaceX still needs to get the FAA's blessing in the form of a launch license before sending Starship to space.
Gary Henry, senior advisor for national security space solutions at SpaceX, spoke to the issue during a panel discussion last week. "We hope to secure that license in the very near future," he said, for a launch attempt "probably in the month of March."
ULA Announces Target Date for Vulcan Centaur Launch
In a media briefing, ULA Chief Executive Tory Bruno announced a date for the long-awaited inaugural flight of the company's Vulcan Centaur rocket. Mission teams are running through a final series of tests of the rocket before its takeoff from Cape Canaveral's Space Launch Complex 41 'no earlier than' May 4.
Based on that window, we are targeting #VulcanRocket's first launch in May. We will continue to work our launch manifest with our customers to determine upcoming launch dates.

— ULA (@ulalaunch) February 23, 2023
ULA says the date depends on the outcome of these last tests of the rocket and its main engines. However, it's also constrained by launch windows for the rocket's payloads. In addition to Astrobotic's Peregrine lunar lander, the rocket will deploy a pair of prototype satellites for Amazon's upcoming Project Kuiper broadband constellation. It will also carry to orbit the remains of four U.S. presidents (Washington, Eisenhower, Kennedy, and Reagan) and other luminaries, including cast and crew from Star Trek, for space memorial company Celestis.
Good luck, folks. May the Fourth be with you.
Replacement Soyuz Docks With International Space Station
Finally! After weeks of scheduling bedlam, a replacement Soyuz capsule has arrived at the International Space Station.
In September, NASA astronaut Frank Rubio and Roscosmos cosmonauts Sergey Prokopyev and Dmitri Petelin flew to the ISS in a Soyuz capsule, MS-22. However, in mid-December, the capsule sustained a direct micrometeoroid strike to its external coolant loop. The impact destroyed the coolant system and left the capsule unfit to carry home the people it had carried to space.
Russia immediately set about launching a replacement Soyuz as fast as it could. But assorted problems, including a subsequent micrometeoroid impact to another Russian spacecraft (the Progress-82 cargo freighter docked to a different Russian module), ended up delaying that launch until last week.
The new capsule, Soyuz MS-23, will replace MS-22 as the ride home for Petelin, Prokpyev, and Rubio. However, for those watching the dates, the trio will be in orbit until this coming September — about double their expected stay.
Dazzling Midnight Launch Sends SpaceX Crew 6 to the International Space Station
After launching very early Thursday, the SpaceX Dragon capsule Endeavour docked with the ISS at 1:40 this morning, Eastern time.
The capsule is carrying the four members of SpaceX Crew-6: NASA astronauts Stephen Bowen and Warren Hoburg, along with Emirati Sultan Alneyadi and cosmonaut Andrey Fedyaev.
Liftoff! Dragon takes flight!#Crew6 launched at 12:34am ET (0534 UTC) March 2, lighting up the skies as the crew heads to orbit in the @SpaceX Dragon Endeavour spacecraft. pic.twitter.com/lEgqJmRu76

— NASA (@NASA) March 2, 2023
After Endeavour separated from its Falcon 9 rocket, an elated Hoburg radioed back to Earth: "Just want to say, as a rookie flyer, that was one heck of ride. Thank you!"
Hoburg added, "It's an absolute miracle of engineering, and I just feel so lucky that I get to fly on this amazing machine."
In a blog update, NASA did a complete roll call of the people currently aboard the station. The agency writes: "Crew-6 joins the Expedition 68 crew of NASA astronauts Frank Rubio, Nicole Mann, and Josh Cassada, as well as cosmonauts Anna Kikina, Dmitri Petelin, and Sergey Prokopyev, and JAXA astronaut Koichi Wakata." Until Crew-5 departs, there will be eleven people on the space station.
JWST Sees the Same Supernova 3 Times Through the Same Gravitational Lens
The James Webb space telescope is seeing triple — and that's a good thing. Thanks to gravitational lensing, the telescope has seized a rare opportunity to see the same supernova at three different times in its history, all in the same frame.
Gravitational lensing allows astronomers to take advantage of how massive objects like black holes and neutron stars 'bend' light by dragging in passing photons. Consequently, different photons from the same event can have paths of different lengths. This means they take different amounts of time to get to our telescopes — even though they're all traveling at the same speed. That lets an observer see through the same window into the life of a celestial object at different times in its history.
Triples is best.

This Webb image features a special galaxy that appears 3 times. Why? There's a galaxy cluster here whose mass and gravity are so great that time and space around it gets warped. This magnifies, multiplies, and distorts galaxies behind it: https://t.co/ftRTPC4bDr pic.twitter.com/fzTjUGc5UO

— NASA Webb Telescope (@NASAWebb) February 28, 2023
Now, between the telescope and the galaxy — which is River, and which is the Doctor?
Hubble Spies Cosmic Collision, 'Jellyfish Galaxy'
Not to be outdone by Webb and its fancy new mirrors, Hubble has been hard at work indeed. Recently, the telescope spied an epic cosmic collision of three separate galaxies…
…and a galactic seascape including a 'jellyfish galaxy' floating next to Cetus, the constellation of the Great Sea-Monster:
📸 The NASA/ESA @HUBBLE_space Telescope has captured a Jellyfish galaxy, JO201, moving through space and being slowly stripped of gas. This gas trails behind the galaxy illuminated by clumps of star formation, giving it its jellyfish-like appearance.

👉https://t.co/xdy00Oq690 pic.twitter.com/UxfnItDQMk

— ESA (@esa) February 27, 2023
Skywatchers Corner
March though it may be, it's still cold out there and squelchy wherever it isn't icy. So this week, instead of sending you outside, I wanted to show you a time-lapse image of a planetary conjunction from last week, whose surpassing beauty stopped me in my tracks.
Over the winter, Jupiter and Venus have been slowly drifting together. Last Wednesday, the Moon slipped between the two planets in their close approach for just one night. This Wednesday, Jupiter and Venus entered conjunction, visible in the evening sky less than a degree apart. In a stunning ten-day photo collage titled "10 Days of Nearness," astrophotographer Soumyadeep Mukherjee of Dhanbad, India, captured the planets' graceful arc of approach against the rich pastels of the gathering dusk.
Mukherjee told Space.com that he's part of a group known as Astronomads Bangla, which "works towards popularizing astrophotography in India." H/t to Space for boosting the signal and to Mr. Mukherjee himself for the work of celestial art. For more, check out his portfolio on Instagram.
Feature image credit: NASA/Joel Kowsky
Now Read: