Are robots more poetic than humans?
That was my question as I saw Alandra Markman seated on the sidewalk with an old typewriter on a recent brisk Sunday morning at the West Seattle Farmers Market.
For the past 15 years, Markman has written on-demand original poems to public passersby and at private events. "Poetry Upon Request" reads the sign attached to his small wooden table.
Creating poetry and musical lyrics is a common use case for ChatGPT, the popular chatbot from OpenAI that uses natural language technology to respond to queries and instantly produce content. OpenAI this week released GPT-4, the latest and more advanced version of ChatGPT that is reportedly better at crafting poems.
Before asking him to write a poem — and giving the same prompt to the robots — I chatted with Markman about the rise of chatbots and potential impact on poets like himself. He isn't worried about robots coming for his job.
"Artificial intelligence can reflect the creative power of organic intelligence very strongly. It can give us new assemblies that seem highly creative," he said. "But that's still not creativity."
The debate over whether AI is creative or not is heating up as the technology improves and increasingly becomes part of everyday life.
The winning prize at last year's Colorado State Fair art competition went to an entry created by AI program Midjourney — and sparked major backlash. Generative AI systems also raise new legal questions for content creation.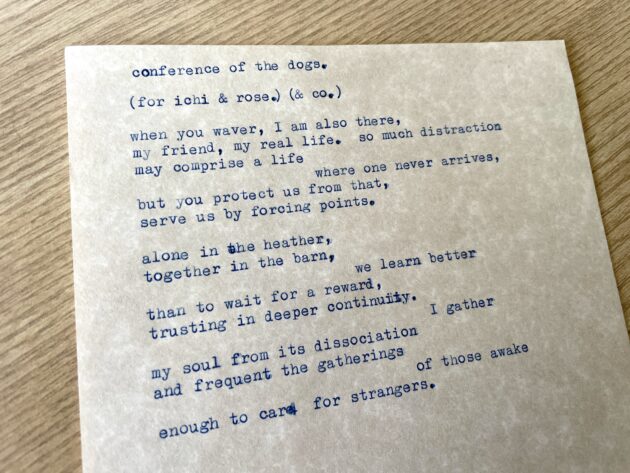 There is a level of personalization and "true intimacy" that comes from a human poet, Markman said.
But he isn't against AI. Markman uses AI image generators to help spark creativity for his visual art work.
"I'm not worried about competition or having my creative process being stolen," he said. "I think more information just enriches us all."
I spent a few minutes telling Markman about our dogs, Rose and Ichi. He soaked in the story and spent the next few minutes crafting a poem.
I later gave the same prompt, in written form, to ChatGPT:
Please write a poem about our dogs, Ichi and Rose. Ichi is a 3-year-old chocolate Labrador. Ichi is named after the famous baseball player, Ichiro Suzuki. Rose is a 16-year-old Yorkie-Poo. Rose survived a wildfire and we adopted her two years ago. The dogs live together, with us. They don't play much together, but they enjoy each other's company. Ichi likes to watch Rose eat and clean up her leftovers. We love the dogs very much and cherish what they bring into our lives.
I also tried giving it to Microsoft's new Bing chatbot, as well as the new GPT-4.
Here's what Markman came up with.
conference of the dogs

(for ichi & rose.) (& co.)

when you waver, I am also there,

my friend, my real life, so much distraction

may comprise a life

where one never arrives,

but you protect us from that,

serve us by forcing points.

alone in the heather,

together in the barn,

we learn better

than to wait for a reward,

trusting in deeper continuity.

I gather

my soul from its dissociation

and frequent the gatherings

of those awake

enough to care for strangers.
Here's what OpenAI's ChatGPT came up with:
Ichi and Rose, our furry friends
Bring joy and love that never ends
Ichi, a chocolate Labrador so strong
Named after a legend who played baseball long
Rose, a Yorkie-Poo who's been through fire
Adopted by us, she's our heart's desire
Despite their age and size so different
Together they share a bond so consistent
Ichi watches Rose as she eats
And cleans up her leftovers, such a treat
They may not play together every day
But their company brings us delight in every way
Their wagging tails and friendly licks
Fill our hearts with love that quickly picks
Our moods up from the lowest low
Ichi and Rose, our dogs, we cherish so
Thank you, our furry friends, for all you do
We promise to love and care for you
Until the end of time, our hearts entwine
Ichi and Rose, forever in our lives will shine
Here's what Bing's chatbot — which is powered by GPT-4 — produced:
Two dogs of different breeds and ages
Share a home and a family's love
Ichi is a chocolate lab with energy and grace
Named after a baseball star who hits above

Rose is a yorkie-poo with wisdom and courage
She survived a wildfire and found a new place
She doesn't play much but she enjoys Ichi's company
He watches her eat and cleans up her space

They are our furry friends who brighten up our days
They make us laugh and smile with their antics and their ways
We love them very much and cherish what they bring
Ichi and Rose are our dogs, they are our everything.
And finally, here's what GPT-4 gave me this week:
In the realm of tails and paws, two hearts reside,
Ichi and Rose, our joy and pride.
Side by side in our abode,
A tale of friendship and love bestowed.

Ichi, the Lab, a chocolate hue,
A name inspired by Ichiro, true.
Three years young, he bounds and leaps,
A loyal companion, our love he keeps.

Rose, the Yorkie-Poo, petite and sweet,
A wildfire survivor, with courage replete.
Sixteen years of life, a story untold,
In our family's arms, her heart we hold.

They share a home, a love serene,
Not playful jests, but a bond unseen.
Ichi, the guardian, watches Rose feast,
In hopes of leftovers, a canine treat.

Together they stand, a duo so rare,
A testament to love and care.
Each day they bring us laughter and cheer,
Our precious pups, forever near.

So, let us celebrate this canine pair,
Ichi and Rose, beyond compare.
Through thick and thin, their love unwavering,
Our lives enriched, their presence, a blessing.
So who wrote the better poem? Personally, I was most impressed with GPT-4, though I liked some of Markman's more nuanced lines. Let me know on Twitter.