This year started slow in the video game industry, due to a combination of pandemic slowdowns and highly-anticipated titles such as Elden Ring, but it ended with a tidal wave of big releases that seems likely to continue into next year.
Here's a look at what's coming in 2023 for gaming companies, including giants based in the Pacific Northwest such as Microsoft, Amazon, Valve, Nintendo, and the now Sony-owned Bungie.
Microsoft
The big question Microsoft faces, going into 2023, is whether or not the Federal Trade Commission will successfully block its acquisition of Activision Blizzard. If it goes through, Microsoft would dislodge Sony from its position as the No. 2 biggest video game publisher in the world, behind the wildly diversified Tencent.
Xbox Game Studios would subsequently end up with a dizzying number of tentpole gaming franchises under one roof, with Call of Duty, Warcraft, and Diablo joining a group that already includes Halo, Minecraft, Doom, Fallout, Age of Empires, Sea of Thieves, Gears of War, and Psychonauts. Only a handful of other video game publishers have a roster even close to that stacked, and it's usually because they've been building that roster from scratch for the last 30 to 40 years.
More importantly, Microsoft filings indicate that it intends to use Activision Blizzard's subsidiary King, makers of phone-game franchises like Candy Crush and Bubble Witch, to create a beachhead for Xbox in the lucrative mobile game industry.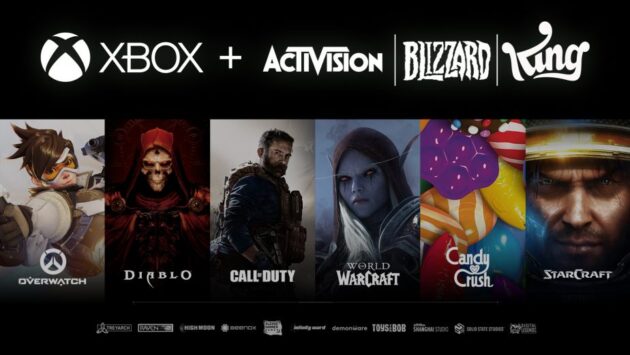 If the FTC successfully prevents the acquisition, it would be a blow to Microsoft's plans for expansion, as well as removing the chance that Xbox could conduct a much-needed teardown and rebuild on Activision Blizzard. To some extent, any other news about the gaming console market will have to wait to happen until this acquisition is resolved.
In non-acquisition news, the Xbox Series X|S was a peculiar no-show at this year's Game Awards ceremony, which suggests there wasn't much Microsoft had to announce that we didn't already know. Looking forward to next year, though, the system is on deck to start 2023 with the release of three big 1st-party games, all of which will ship at a new, higher price point.
Redfall, a cooperative vampire-hunting action game by Dishonored developer Arkane Studios, will launch in the first half of the year as an Xbox/Windows exclusive. For racing fans, the new, unnumbered eighth entry in the Forza Motorsport series, created by Redmond, Wash.-based Turn 10 Studios, is coming at some point in Q3 2023.
Both of those games take a distant back seat behind Starfield, however. Bethesda Game Studios has a habit of creating RPGs that define the cultural conversation for a while, like how 2012's Skyrim got us all making "arrow to the knee" jokes for the last decade. Now Bethesda's moving into deep space with Starfield, its first brand-new intellectual property in decades.
Granted, this is a Bethesda Game Studios release, so it's likely to have a few hilarious bugs at launch, and Fallout 76 has lowered some of the audience's faith in the studio. This isn't necessarily a slam dunk, but if Starfield can recapture even some of the Skyrim magic, it's a potential "killer app" for the Xbox Game Pass and the Xbox platform as a whole.
Xbox is also closing out 2022 with an interesting rumor, which was ignited by a quickly-deleted Dec. 13 tweet by senior producer Todd Kaumans: an "Xbox Studios" is apparently in the works. This could mean anything from Xbox taking control of its own game presentations, much like Nintendo does with its pre-recorded "Directs," to Microsoft planning to move into in-house cross-media production like Sony.
Nintendo
The weird part about Nintendo's 2023 is that two of the biggest events on its schedule aren't actually video games. April 7 sees the release of The Super Mario Bros. Movie, featuring Chris Pratt (Guardians of the Galaxy) as the (mildly controversial) voice of Mario, and Universal Studios Hollywood will open its Super Nintendo World theme park on Feb. 17.
On the other hand, the next Legend of Zelda game is coming up fast. Tears of the Kingdom, the follow-up to the best-selling 2018 game Breath of the Wild, is scheduled to drop May 12 as an exclusive for the Nintendo Switch. Nintendo has traditionally organized its entire fiscal year around its big first-party releases, and they don't come much bigger than this.
At time of writing, all of Nintendo's first-party eggs appear to be in that particular basket, with no other major releases on the schedule aside from the latest Fire Emblem game, Engage, on Jan. 20. This is the first mainline Fire Emblem game since 2019's Three Houses, and marks a return to the series's traditional strategy/tactics gameplay.
Nintendo does have some audience goodwill to claw back in 2023, however. The latest entry in the Pokemon series, the Switch-exclusive Scarlet and Violet, got raked over the coals at launch for inordinately poor performance, with critics and players citing issues with crashes, lag, and low frame rates.
This would be a bad sign for any company, but is particularly weird from a flagship Nintendo product, which tend to be tested to within an inch of their lives before release.
Nintendo also made a few headlines this month over the sudden shutdown of the independently-operated Smash World Tour, an esports tournament built around Nintendo's Smash Bros. games.
Nintendo had previously announced in November 2021 that for the first time, it would officially support Smash's esports scene via a partnership with the Detroit-based brand Panda Global. A similar licensing negotiation was being conducted with Smash World Tour, but it abruptly fell through Nov. 30, resulting in the cancellation of the Tour's upcoming plans.
This led to a series of shakeups at Panda Global, which replaced its CEO and lost many of its sponsored players in early December. The implication was that Panda had pulled strings at Nintendo to get a rival tournament canceled due to licensing, although Nintendo and Panda both deny those allegations. In the meantime, Nintendo has seemingly returned to the pre-2021 status quo of keeping its esports scenes at arm's length.
Amazon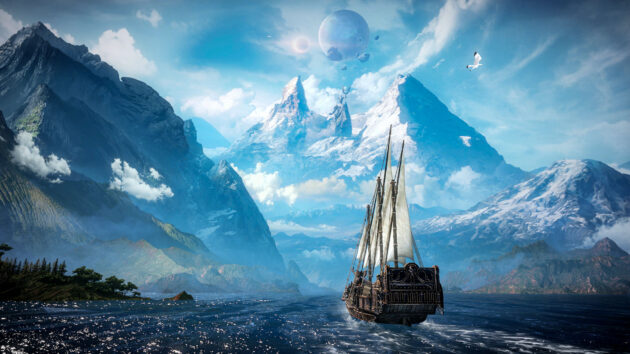 Last year, Amazon Games famously overcame years of false starts and canceled projects to finally score a success with the debut of its MMORPG New World. While New World has yet to get anywhere near the heights of its September 2021 launch window, it seems to have found a stable enough audience to continue.
This year, with many of its other original projects still in development and under wraps, such as the team of Rainbow Six veterans that Amazon assembled in Montreal in 2021, Amazon has found a surprising amount of success by publishing other companies' games.
This includes Smilegate RPG's Lost Ark, a free-to-play action-RPG that set all-time records on Steam following its Feb. 11 release. At time of writing, Lost Ark is still the No. 2 most-played game on Steam, with a daily peak of over 330,000 concurrent players as per SteamDB.
The success of Lost Ark seems to have encouraged Amazon, and it's since announced two more high-profile projects as a publisher: Bandai Namco's Blue Protocol and the next, unnamed entry in the Tomb Raider series.
Lost Ark is still the jewel in Amazon Games's crown, as well as an example of how Amazon can leverage its various platforms. According to the latest State of the Stream report, by StreamElements and its analytics partner Rainmaker.gg, Lost Ark was the game debut of the year on the Amazon-owned livestreaming platform Twitch. It even managed to narrowly beat out Elden Ring with 72 million hours watched, vs. Elden Ring's 71 million.
While it may seem counterintuitive, Twitch is a significant driver of video game sales. For example, the social-deduction game Among Us (recently seen in Glass Onion) famously became a big hit two years after its original release when several high-profile streamers unexpectedly made it go viral. With Lost Ark, Amazon leveraged both Twitch, with exclusive drops in-game that were unlocked by watching streams, and Amazon Prime Gaming to take the game further and faster.
We might start hearing about some of Amazon's original in-house productions over the course of 2023, from studios like Disruptive and Glowmade. It's just as likely that we won't, however, as Amazon has always been careful to note that it wants to make "AAA" games. This is an informal industry term that's typically meant to indicate a production with a big crew and high budget, which in turn means they tend to take a while to make. Many of Amazon's big in-house games won't be available for so much as a closed beta test until 2024 or later.
What Amazon has exhibited so far with its current projects is that it's got a lot of ways to gently encourage players to pick its games up. We're seeing Amazon lean into some of its unique synergy options, and that's going to be worth paying attention to as it starts to unveil its upcoming games.
Amazon has also continued to devote attention to its cloud-based gaming service, Luna, which left beta in March. While Amazon does not appear to have revealed any of Luna's sales numbers for 2022, it's going into 2023 at a slightly improved position due to the imminent shutdown of its competitor Google Stadia.
Valve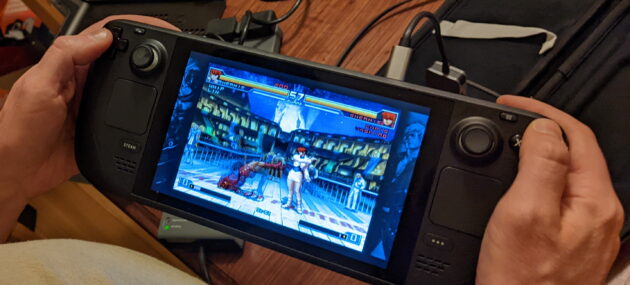 It wasn't that long ago that I was writing stories about the various challengers that were stepping up to compete with Valve. Its digital storefront Steam is still the largest market in the world for PC gaming, but ongoing issues with curation and revenue sharing had led to big companies like Epic, Microsoft, Ubisoft, and Electronic Arts opening their own exclusive marketplace apps or trying to attract game developers to their services.
In 2022, that seems to have all quietly fallen apart, as recently observed by PC Gamer. While many of those additional storefronts are still in operation, many of those same companies have quietly snuck their games back onto Steam. You can once again buy digital copies of the entire Assassin's Creed series or the last three Madden games on Steam, when they were previously made unavailable in an attempt to drive you to their original publishers' storefronts.
Valve in 2018 felt like it had a tenuous hold on its market position, as well as Steam in general, but it's gotten its act together over the course of the last few years. While you can still criticize a number of things about Steam, regular tech updates have cleaned up issues like its busted discovery algorithms or its custom filters.
The company also brought its portable gaming PC, the Steam Deck, to market in early 2022, which seems to have broken its black-cat streak when it comes to releasing hardware. The Deck has a few rough edges, but has proven popular among tinkerers and as an entry-level purchase for new PC gamers. There are other portable gaming PCs on the market, many of which are more powerful or ergonomic, but they're also usually at least twice as expensive as the cheapest version of the Steam Deck.
As for what's next for Valve, the company is, as ever, content to do its own thing. Rumors persist that it'll move further into the VR hardware market by releasing a standalone version of its Index headset, but as of now, they're just that: rumors.
All that Valve has confirmed outright for 2023, at time of writing, that, despite rumors, it's still on board for the True Sight documentary series for its MOBA Dota 2.
Bungie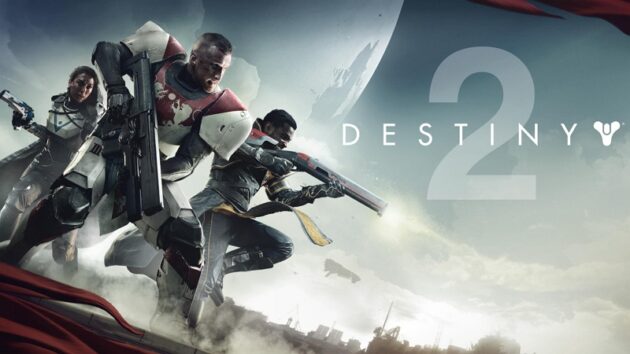 2022 was a long, strange trip for Bungie. It went from an overwhelming indie success story in 2021, breaking ground on a new headquarters in Bellevue, Wash., and announcing a new international office in Amsterdam, to becoming the newest member of the PlayStation studio network as of July 15.
Bungie, the original creator of the Halo franchise, is still primarily devoted to its online first-person shooter Destiny 2, which will release its latest expansion, Lightfall, on Feb. 28. Despite its acquisition by Sony, Bungie has officially stated that Destiny 2 will remain cross-platform.
Back in May, Sony announced as part of a presentation to investors that Bungie's experience with Destiny 2 would make it a crucial part of their strategy with PlayStation going forward, as the company intends to focus more of its first-party development efforts on open-ended, frequently-updated online multiplayer games. (It turns out I called this one, and trust me, nobody's more surprised about it than I am.)
In the meantime, Bungie told GeekWire in May that it intends to continue growing its office footprint in the Seattle area, in addition to becoming a "digital-first workplace." As of Sep. 8, Bungie accepted applications for remote workers from 21 U.S. states.
Panic
The Playdate, a handheld 2-bit video game system by Portland, Ore.-based software publisher Panic (Untitled Goose Game), has had a long road to release.
Originally announced in 2019, when appeared at that year's Penny Arcade Expo in Seattle, the Playdate proceeded to run into an elaborate series of roadblocks. Panic planned to release the system in 2020, but factory shutdowns and hardware shortages further screwed up the production schedule.
The Playdate finally managed to reach the first wave of buyers in April, and since then, Panic has slowly been able to produce more units. Each Playdate comes with a wirelessly-delivered "season" of content, where users receive two games a month; I've been enjoying Crooked Park's Demon Quest '85, about a nerd who tries to become popular at school by messing with dark magic.
The real reason to pick up a Playdate, however, has arguably turned out to be its homebrew scene. Panic set up each unit so that it doubles as a development kit; there are dozens of extra games available for the system on platforms like Itch.io. It's an appropriate place for a Pacific Northwest-made video game console to end up, where the best thing about it is what it allows you to make.
Outside of the Pacific Northwest
2023 will see the return of the Electronic Entertainment Expo (E3), which was canceled due to COVID in 2020, and then due to administrative gridlock in 2021 and 2022.
E3 2023 is being held in Los Angeles by the events organizer ReedPop, which also runs Seattle-area shows like Emerald City Comic Con and PAX. That means it's likely E3 is about to finish its gradual, years-long evolution from an industry-focused trade show to a general-purpose nerd convention. It's anyone's guess whether any actual news will break there or not, although traditionally, many game publishers reveal their Q3/Q4 releases at E3.
What we do know about 2023's overall release schedule includes the following big games:
Marvel's Spider-Man 2, a sequel to 2018's open-world superhero simulator, comes out in fall 2023 as a PlayStation 5 exclusive. It features a team-up between Peter Parker and Miles Morales, who are put up against a new version of Spidey's classic villain Venom.
A full HD remake of the 2008 survival horror game Dead Space arrives in January. It's a dark science fiction/horror experience set aboard a derelict spaceship, where many of the crew have transformed into hostile "necromorphs."
The Japanese developer Capcom continues its streak of remaking the earlier Resident Evil games with Resident Evil 4, out in March. The original RE4 is one of the most influential action games of all time, and the remake appears to preserve the broad strokes of its story while updating the graphics and gameplay to modern standards.
Capcom will also release the latest Street Fighter game in June. Street Fighter 6 features a new protagonist and setting for the classic fighting game, along with a World Tour mode that lets you create, customize, and train your own fighter.
While it's come under fire for project mismanagement, Blizzard's dungeon crawler Diablo IV is at least scheduled for June. This can be seen as a make-or-break release for the classic PC franchise, which took some big PR hits after the notoriously grindy 2022 mobile game Diablo Immortal.
Square Enix's adventure game Forspoken comes out for PS5 and PC on Jan. 23. Frey (Elia Balinska, Netflix's Resident Evil) is transported from modern New York to a fantasy world called Athia, where she's forced to master magic in order to survive and return to Earth.
2010's Alan Wake was a surreal action-adventure game, heavily influenced by Stephen King and "Twin Peaks," that was set in a fictional town in Washington state. After buying the rights to the franchise back from original publisher Microsoft, Finnish developers Remedy (Control) plan to release a sequel, Alan Wake 2, in 2023. The new game is said to be a full-on survival horror title, which traditionally means it focuses on atmosphere, narrative, and the careful use of extremely limited resources.
After multiple delays, Rocksteady and WB Games' Suicide Squad: Kill the Justice League will finally release in 2023. As four members of the titular team of DC Comics antiheroes, you've been sent to protect Metropolis from an alien invasion, only to discover that most of the Justice League has been brainwashed by Superman's nemesis Brainiac. Technically, Kill the Justice League is set in the same universe, and made in the same studio, as the best-selling Arkham series of Batman games.