Almost two years after officially attaining "unicorn" status, Seattle startup Rec Room continues to expand the audience for its eponymous flagship app Rec Room, with new physical gift cards, a virtual haunted house, a brand crossover with Mattel's Masters of the Universe, and perhaps most importantly, the possibility of feet.
The free Rec Room app is currently available in 2D on PC, Xbox, PlayStation, iOS, and Android, and in VR on the Meta Quest store. Rec Room users can create, customize and dress up simple avatars. They can then use those avatars to travel into one of a few million player-created "rooms," where they can play games, create custom experiences, and socialize with other users.
Over the course of the 2020 pandemic lockdown, Rec Room's player population rapidly expanded, with its users creating in-app "rooms" for events like socially-distant birthday parties, school classes, and therapy sessions. The company subsequently rode that wave of interest to a $3.5 billion valuation by December 2021.
As of this month, Rec Room reports 640% year-over-year growth on mobile, with 29 million active users across all platforms in Q1 2022. It estimates that one new "room" was created by players in-app every three seconds during that time frame.
Despite its status as a virtual social space, Rec Room doesn't consider itself a "metaverse" company.
"One of the things that we talk about is Rec Room being a place you can go, and not really an alternative to or replacement for real life," Mike Schmid, head of publishing for Rec Room, told GeekWire in a recent interview.
"We don't use the term 'metaverse.' We don't talk about ourselves in the sort of creepy way that some other experiences do. We're just supplementing real life."
The app also allows users to make and monetize in-app content, such as unique outfits for avatars, which other users can acquire with real money. In Q1 2022, Rec Room paid out $1 million to those creators, and recently announced a line of physical gift cards available at WalMart locations nationwide.
In its virtual event space, Rec Room hosted its third annual "Rec Con" in September, which attracted more than 400,000 users, in order to promote its upcoming Rec Room Studio app. This feature set, based in Unity, is intended to speed up and simplify the process of creating "rooms," as well as open the possibility of collaborating on each individual project.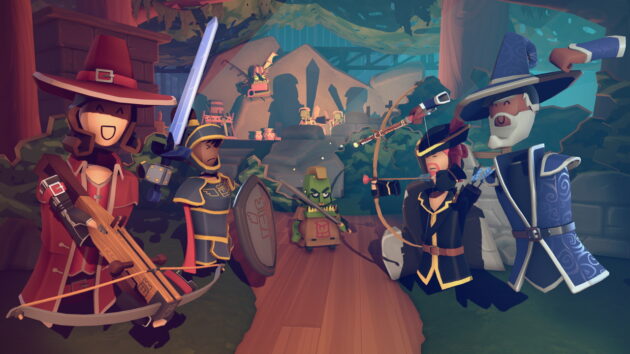 On Dec. 13, Rec Room announced a deal with Mattel that brings the Masters of the Universe franchise to Rec Room from Dec. 15 through Jan. 15, as part of MOTU's 40th anniversary.
The in-app Rec Center now features a photo booth and a pop-up shop, which allows Rec Room users to dress up as He-Man, Skeletor, and Teela. The three pieces that make up each costume, as well as a separate accessory made to resemble He-Man's Power Sword, will be available for purchase until March 31.
"We're very much in a space where we're thinking, 'Let's test out some stuff with some partners and see who we can spend a lot of time with,'" Schmid said. "If you look at other people in our space, physical goods and toys are really important."
Schmid added that "you can probably connect the dots on that to see where Rec Room will be two years from now."
"We want to start building those relationships … we want to build the physical versions of Rec Room stuff in a way that's really true to Rec Room, and building and creation is a big part of that. We don't have any solid plans right now."
The possibility of moving into the toy space is part of the motivation behind an option, which is currently in development, to change the characteristic look of Rec Room's player avatars, known internally in the company as the "beans." Right now, those avatars have a distinctive rounded appearance, with no arms, neck, or legs.
Over the course of the next year, Rec Room plans to experiment with ways to change avatars to add more options for personalization. This is currently in a phase that Rec Room calls "ready, fire, aim," with the first tweaks potentially coming to the app by the end of Q1 2023.
Those tweaks could go so far as to include some or all of the limbs that are currently missing on Rec Room's avatars. Feet are apparently in particularly high demand, as that would allow Rec Room content creators to begin to produce new lines of fashionable virtual shoes.
"We really do like that the avatars are stylized, and they still feel like they're very much in a game space," Schmid said. "How do we give that optionality without totally breaking that brand identity? That's really important to us."
Next year, Rec Room plans to investigate more brand partnerships, particularly with local Seattle companies. This could include music, apparel, or other video games, alongside more official "game-adjacent" content for Rec Room such as a trivia night.