Early on the morning of Jan. 14, two thieves hit four separate retail outlets in Kent, Wash., by backing a stolen Audi SUV through their front doors. This included GameBound, an independently-operated, locally-owned store that specializes in "everything that is geek and nerdy."
A week later, GameBound was back in business, using the break-in to reorganize and come back "even better."
It was the first robbery at the Seattle-area store since owner Kiet Pham opened it in 2017.
"I thought I had everything down, to the security, the cameras, the sensor, the bars," Pham told GeekWire. "My store was heavily secured and gated. The one thing I couldn't plan for was the car."
The thieves stole multiple games and consoles from GameBound, in addition to inflicting what Pham estimates to be roughly $22,000 in damage.
The thieves also hit a GameStop, an Xfinity outlet, and an eyeglasses store over the course of the night, using the same SUV.
Pham said he's working with his landlord to install bollards. If they aren't able to do that, he said he may need to relocate to a safer area.
According to Pham, every other store in the same retail complex as GameBound has been broken into once or twice in the last couple of years, and a couple have been robbed every month.
Commercial burglaries in Kent were up 45% in 2022, according to data from Kent Police.
Last year, Seattle video game store Pink Gorilla also dealt with break-ins, but has bounced back and even opened a new location in December.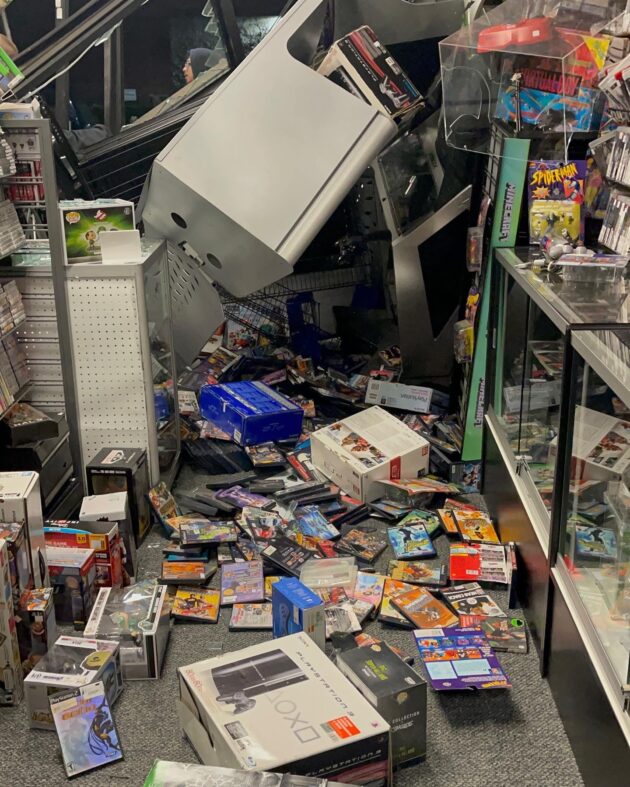 Pham doesn't anticipate needing financial help with the store's repairs, as he also happens to own an insurance agency, and made sure GameBound was well covered.
"It's a good thing I wrote a really good policy for myself in the beginning," Pham said. "I'm lucky. Still, as an insurance professional for 13 years, there are the labor costs and the time costs for cleaning up, and the deductible."
The merchandise taken from GameBound on Jan. 14 includes complete-in-box PlayStation, PlayStation 2, PlayStation 3, GameCube, Wii, Xbox, and Xbox 360 video game consoles; a Game Boy; a Game Boy Color; a Texas Instruments graphing calculator in its original packaging; and multiple Sega CD and Sega Saturn games. The items were all labeled with GameBound stickers.
In addition, the break-in destroyed four glass display cabinets and cases, the store's folding security gate, and two items from Pham's personal collection: original display kiosks for the Xbox and PlayStation, of the sort that you might've seen in video game stores when the systems were new. The kiosks, which will be difficult at best to repair or replace, are the only damage from the break-in that's truly upset Pham.
GameBound's "bread and butter," according to Pham, is selling used video games, from current releases to old "retro" titles such as the Atari. In addition, GameBound offers toys, trading cards, and comics.
Pham took to social media last week to spread word of the break-in, as well as put out photos of the two thieves that were taken by his store's security cameras.