"Small Business Saturday" turned out to be a good day to spot a growing effort by one very big business to shrink its carbon footprint.
Across Seattle, GeekWire spotted Amazon's distinct electric delivery vans made by Rivian. The tech giant began rolling out the vans in Seattle and select U.S. cities this summer, but spotting them in the wild has still been a bit of a rare occurrence.
Amazon said in a blog post earlier this month that its fleet now has more than 1,000 electric vans making deliveries in more than 100 cities across the U.S.
"I love it. It's like driving a spaceship," an Amazon delivery driver said while making a stop along East Pike Street in the Capitol Hill neighborhood. The van's unique blinking headlights and a red taillight that rings most of the back door of the vehicle definitely give off a spaceship vibe.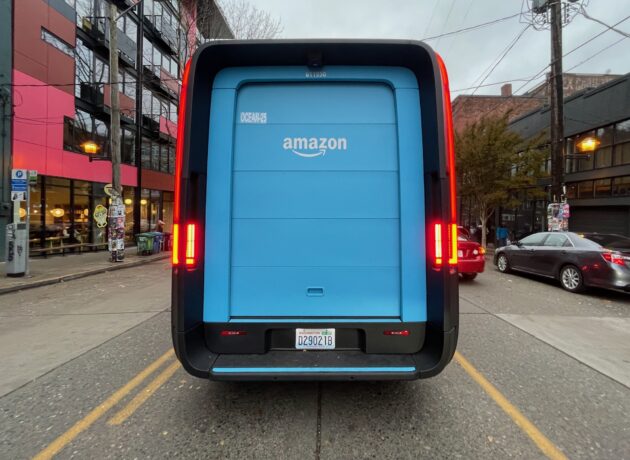 Another van was spotted in the Ballard neighborhood and a third was seen cruising down 5th Avenue beneath the Seattle Monorail tracks. One vision of futuristic transportation was created in 1962 to wow World's Fair visitors. The vans are newer, and the goal now is to impact future climate concerns.
Amazon previously said that it planned to have 100,000 of the vans on the road by 2030.
In 2019, the tech giant pledged to become carbon neutral by 2040 and encouraged others to do the same as it co-founded and became the first signatory of The Climate Pledge. Its emissions, however, have continued to rise over that time, including pollution associated with transportation.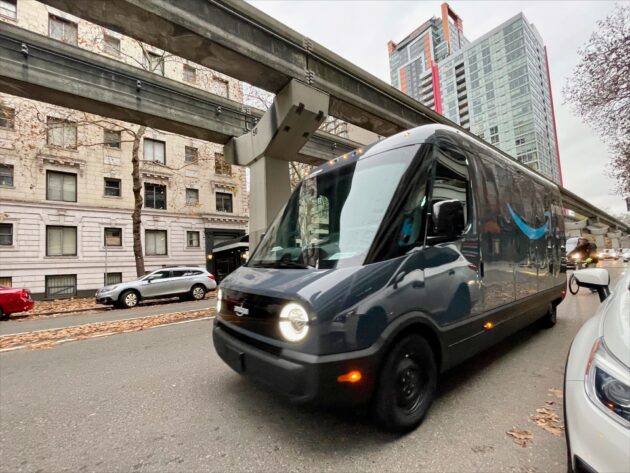 "Fighting the effects of climate change requires constant innovation and action, and Amazon is partnering with companies who share our passion for inventing new ways to minimize our impact on the environment," Amazon CEO Andy Jassy said in July, calling the rollout of the Rivian vans a significant milestone in Amazon's sustainability efforts.
Shifting to electric vehicles will be essential in shrinking its carbon impact. Amazon first partnered with Rivian three years ago and has continued to pour money into the EV maker through its Climate Pledge Fund. Last year Amazon was among the lead investors in a $2.5 billion financing round in the company.
Founded in 2009, California-based Rivian, which also makes pickup trucks, has raised about $10.5 billion to date. The company has a service center in Bellevue, Wash. The Amazon vans are made at Rivian's factory in Illinois.
Check out a couple quick videos of the vans we spotted: