How's this for an epilogue?
Barnes & Noble, the chain bookseller that struggled for years to compete against Amazon and other online retailers, is actually growing its physical stores footprint. And in an especially ironic twist, two new Barnes & Noble stores in the Boston area opened in former Amazon Books locations.
The Wall Street Journal reported this week on how the company's store expansion is leading a "big-box real-estate revival" in 2023. Barnes & Noble, which peaked at 726 locations nationwide in 2008, now has about 600 stores, with plans to grow that number by 30 stores next year, the Journal reported.
Long before it became a tech giant, Amazon got its start as an online bookseller. On its way to disrupting multiple retail verticals, the company's e-commerce dominance took a toll on physical bookstores. To make matters worse, in 2015 the company opened the first Amazon Books location, signaling its physical retail ambitions.
But in March Amazon announced that it was permanently closing 68 physical retail locations, including all of its Amazon 4-star, Books, and Pop Up stores — a surprising twist for the company's bricks-and-mortar pursuits.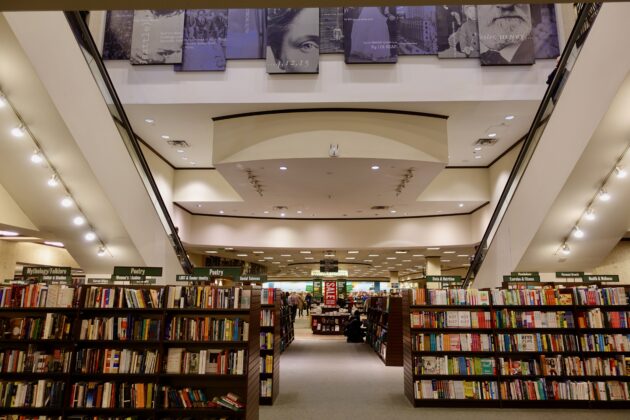 Barnes & Noble, which still operates a location in the Northgate area of Seattle, closed its downtown store in 2020 after 22 years.
"I'm sad to see any bookstore close," customer John Lewis told GeekWire at the time. "I think it's a real harm for the city because all kinds of information and diverse opinions are sold here and it's a real social good to have good bookstores around."
Barnes & Noble CEO James Daunt credited pandemic tailwinds with the company's recent success as more people turned to books while stuck at home.
"We've now got both the profitability and the confidence to start opening up stores again," Daunt told the Journal.
Amazon has expressed no such plan to change course on its recent decision regarding Books and other stores. And another report this week signaled some concern around its physical grocery plans. The Information reported that at least seven newly built Amazon Fresh locations in the U.S. are sitting empty as store openings ground to a halt.
The website, which referred to the locations as "zombie" grocery stores, said keeping them in limbo could be a cost-cutting tactic for the tech giant, which started laying off corporate and tech workers in November and plans to cut further in the new year.
Meanwhile, at what was the first Amazon Books location, at Seattle's University Village, Barnes & Noble did not grab the space. It's now a pop-up location for Vuori, makers of athleisure apparel.
Barnes & Noble previously operated a large store at the shopping mall for 16 years, but closed more than 10 years ago. The Village is without a bookstore now.