This site may earn affiliate commissions from the links on this page. Terms of use.
Intel CEO Pat Gelsinger holds an 18A SRAM wafer. (Credit: Intel)
Intel has reported its earnings for all of 2022 as well as Q4, and it's so bad that analysts are likely diving for their thesauruses to properly characterize it. "Historic collapse" is how one summarized the losses. One just said there are simply "no words." Intel reported its worst earnings in more than 20 years. Though the company's earnings were still within its guidance, they came in at the very low end and mark a historic downturn for the company. The news caused Intel's stock to fall almost 10% in value. Its earning reports are available in various forms on its investment website.
For 2022, Intel earned $63.1 billion in total, a 20% decline from its 2021 earnings. Its Q4 revenue was $14 billion, a precipitous 32% drop from the same quarter last year. One analyst notes this is the largest year-over-year decline in the company's history. It posted a net loss of $664 million for the quarter, which almost matches its worst quarterly loss in history: In 2017, it reported a loss of $687 million in the fourth quarter.
Though Intel ended 2022 with $8 billion in profit, last year it made $19.1 billion. That's a remarkable 60% reduction, which is why the word "collapse" is being thrown around. Its gross margin for Q4 of 39.2% is the lowest in decades as well. Intel used to get 60% margins not that long ago.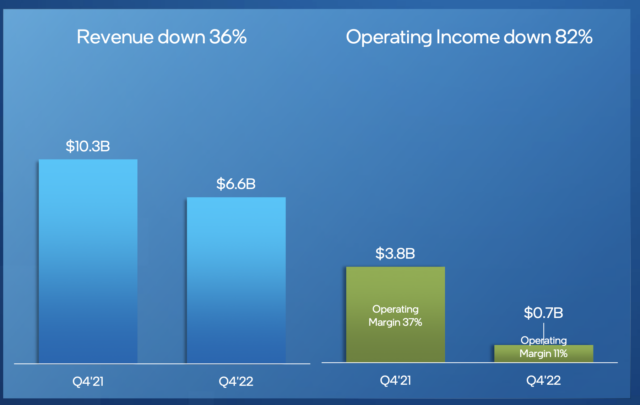 As far as where the hits came from, it's in both data center and client computing. It earned $6.6 billion on the client side, which is down 36% from last year's Q4. Total revenue for client computing in 2022 dropped 23% compared with 2021. Its Data Center and AI (DCAI) group's revenue fell 33% YoY, and 15% for the year as a whole. The only bright spots were gains in Mobileye, Intel Foundry Services, and its graphics division. All three divisions posted increases, with its foundry services posting a surprising 30% improvement for the quarter.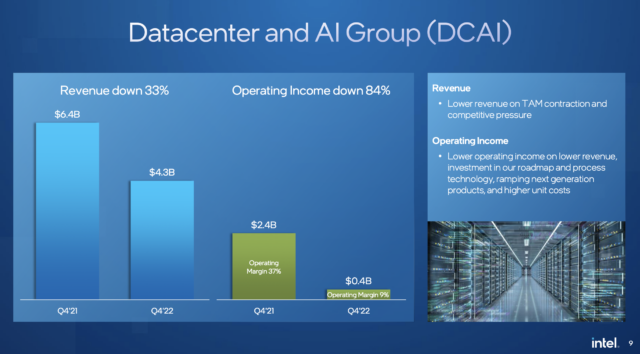 Despite the grim report, Intel says it's still on target to achieve its long-term goals. It notes it's still pursuing its "five nodes in four years" strategy laid out by CEO Gelsinger upon his arrival in 2021. This will theoretically allow it to achieve industry leadership in both transistor performance and efficiency leadership by 2025. To that end, Gelsinger says it's looking to begin its ramp for Meteor Lake in the second half of 2023. If that occurs, we'll be surprised as it's been rumored to be delayed. Instead, we may see a Raptor Lake refresh.
"We are at or ahead of our goal of five nodes in four years," said Gelsinger in the earnings report. "Intel 7 is now in high-volume manufacturing for both client and server. On Intel 4, we are ready today for manufacturing and we look forward to the MTL (Meteor Lake) ramp in the second half of the year," he said.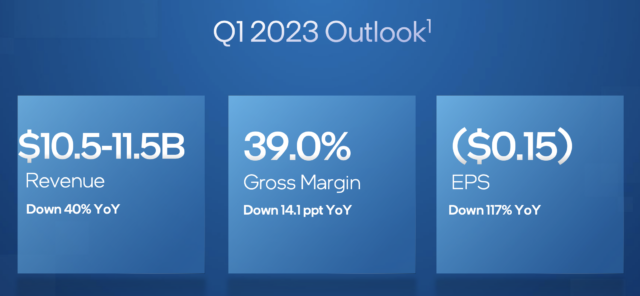 Unfortunately for Intel, it doesn't anticipate a quick rebound from its financial nadir. Its CEO predicted continuing "macro weakness" through the first half of 2023. However, he noted there's a possibility of an uptick later this year. Given the uncertain economic conditions though, Intel is only providing guidance for Q1 of 2023 and nothing beyond that. That guidance is even more brutal than this report: It predicts YoY revenue will be down 40%, with gross margins hitting 39%.
Intel's earnings report follows news this week that it has canceled a planned $700 million R&D facility in Oregon. It was also announced this week that it was laying off 544 employees in California as it begins to tighten its belt. It's stated it plans on reducing expenses by $3 billion in 2023, with that number increasing to $10 billion by 2025.
Now Read: