Star Trek: Picard's third season has felt like such a departure from its first two at times that it has felt almost standalone, the rare character beats and plot points that have mattered to its nostalgic tale of changelings and family mattering little more than a footnote. But this week saw the series try to relate to its past self—and clear the board for its finale in a rare clumsy misstep.
Mica Burton on Which La Forge Character She Related to More
"Surrender" acts as a coda to last week's Titan invasion subplot, and also a convenient rebalancing of the Next Generation scales in order to get all of Picard's old friends back beside him in time for one last boardroom meeting (and a resulting adventure, I guess, but Trek fans really wanted that boardroom meeting). As Vadic stalks the bridge of the Titan in an attempt to get Jack Crusher in her clutches, aboard the ship and the Shrike alike we are given the chance for key heroes we've yet to spend much time with this season to reconcile themselves back in the familial fold.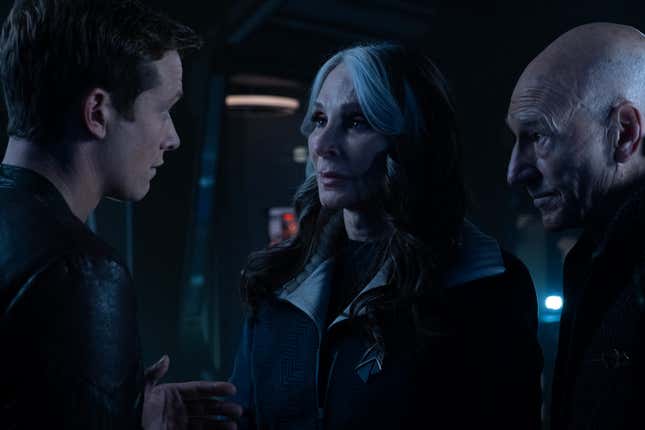 G/O Media may get a commission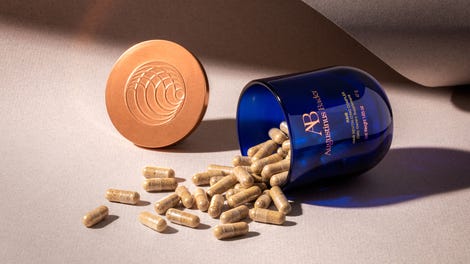 $32 off
The Hair Revitalizing Complex Full Set
Fight hair loss with science
Right now, you can get The Hair Revitalizing Complex Full Set for the price of the Refill. That's just $98 for a 30-day supply, and $32 off the supplement's normal price. This supplement is proven to deliver results. Augustinus Bader performed a six-month double blind trial that found those on the supplement had increased their hair count by 56%, hair shine by 100%, and saw a 98% reduction in hair damage compared to those who took a placebo.
It makes for a peculiarly tense episode, one that dances in between rehashing last week's chaotic dilemma (whether or not Geordi and the remaining crew can trust Data/Lore enough to use his vast computational abilities to wrest control of the ship back), emotional catharsis (as Riker and Troi reconcile their differences aboard the Shrike), and the aforementioned tension, as Vadic and her men try to strike a deadly bargain for Jack. It makes "Surrender" also surprisingly messy in a way Picard's third season rarely has been, as it tries with blistering pace to deal with plot threads and character beats from long in its past, while also clearing the board for what's to come in the final two episodes. While shocking exits and unanswered questions abound, much of "Surrender" ultimately feels like it didn't really matter, outside of a singular aim: getting Picard and all of his old friends back in one room together.
And that moment is, for the most part, worth it—not to fast forward to the climax, but there is indeed a loving glee, both among the gathered heroes and the audience, to finally see the TNG main crew side by side, ready to do what they do best as they're confronted with an existential threat to the Federation. With Deanna all but telling Jack, one she's free aboard the Titan, that it's time to figure out what makes him so peculiar (but as long as we do so next time), there's a sense of relief—not so much in the knowledge that there are answers to come, but that Deanna Troi is here, our TNG heroes are here, and everything is going to be all right. But it's how "Surrender" gets to this moment of relief that makes it feel like a slight stumble for a season that has otherwise surprised with its consistency thus far—even if that stumble was more out of excitement to finally get to the thing that everyone wanted.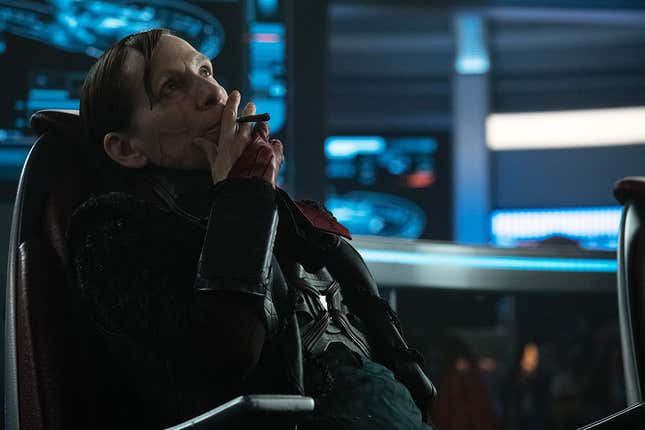 Let's rewind a little. As Vadic begins threatening the Titan bridge crew to goad out Jack—by promising to execute an officer every 10 minutes until he shows up—the increasingly desperate survivors, especially after the shock death of Vulcan science officer T'Veen at Vadic's hands, find themselves pondering the troubling choice of unleashing Data/Lore, threatening to lose their old friend entirely even as the powerful android can use its abilities to wrest control of the Titan from Vadic. On the one hand, making this the dilemma that distracts from the actual tension aboard the bridge is peculiar because it is essentially the same dramatic conflict that occurred in last week's episode. On the other, this time at least the conflict is resolved thanks to a genuinely emotional solution rather than a logical one—as Geordi mournfully decides that the only way this can all work is if Data and Lore's warring positronic brain halves have the walls broken down between them, so they can mentally duke it out for primary control of this new and improved amalgam body.
Meanwhile, aboard the Shrike, Riker and Troi use the opportunity of their lax imprisonment to tackle in person their differences over the death of their son Thaddeus, and how the trauma of failing to address that loss has driven them unintentionally apart. These scenes are for the most part great, even if they do also occasionally dip into a weirdly meta mockery of the life Troi and Riker had set up for their family on Nepenthe in the first season of the show—a strange tack to knock an episode of Picard that is arguably, before this season, one of its strongest and most warmly-received. The emotion between Deanna and Riker feels earnest in spite of these tonal fumbles, though, thanks to stellar performances by Marina Sirtis and Jonathan Frakes, and the parallel of the duo repatching their marriage by sharing the burden of their son's death forms a nice parallel to the tension aboard the Titan as Picard and Beverly find their own son under threat.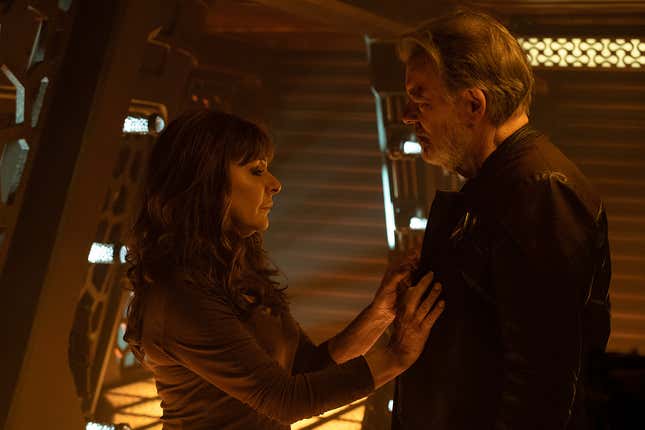 This all climaxes when Data and Lore's existential knock-out in the stark white of their collective unconscious sees an emotionally fraught Data seemingly lose himself to Lore, bit by bit. The domineering brother gloats as one by one the moments of Data's life, rendered as his rare trinkets and collections from his time aboard the Enterprise—from his memorial hologram of Tasha Yar to even Spot the cat—are offered up to Lore only for him to disseminate the memories as nothing more than frivolous, forgettable garbage. It's gut wrenching to watch, even with the hindsight that Data had already been given a far more personal farewell at the climax of Picard season one, especially because we also get to see Geordi's reaction to Data's slow, seeming death. But that tragedy turns to catharsis again, when Data reveals that he wasn't surrendering his memories and being to Lore, but integrating himself into his brother's positronic consciousness.
With Lore gloating that he will keep Data's memories for himself, he has inadvertently allowed himself to become everything Data is—the shape of the experiences and emotions, from joy to grief, in his time aboard the Enterprise that made Data the Data we knew and loved. It lets this newfound amalgam of Soong androids, with enough of an approximation of Data in charge, to be reborn—for Geordi and us to get our robot friend back, for Data to save the Titan and literally expel Vadic from the bridge, for everything to truly feel like the TNG reunion Picard had been teasing for months and months to finally come to pass.
And yet, in doing so "Surrender" reveals some of its messier steps. The Shrike scenes with Riker and Troi being so dissonant from the rest of the episode's action aboard the Titan already didn't help, but placing the focus on these two more emotional arguments lead to a snapshot resolution of the tension in the episode's main plot—Data promptly booting Vadic out of the ship's systems, and Jack rescuing himself and Seven when Vadic and her cohorts get sucked out into the vacuum of space by an emergency hatch being opened. Womp womp, the villain of the piece is gone in an instant, and if you weren't sure it was permanent, they smashed her body into itty biddy bits across the Shrike's hull, and then blasted that hull into itty biddy bits for good measure. It's a shame because Amanda Plummer has been fantastic as a villainous threat this season; to see her just go out so suddenly with little more than the shock value of the fact she's not sticking around for the last two episodes doesn't feel worthy of the promise Vadic had as Picard's most competent villain. But it's also a shame because after an episode of tense build up aboard the Titan, the resolution feels largely clinical, like the episode realized it had already performed the emotional resolution of reuniting Troi and Riker, and healing Data, so now it just had to end and get everything out the way for the proper finale.
It's messy, for sure—but like I said up top, it gets Picard to where it really wants to be ahead of its endgame. We'll just have to wait and see if this little stumble, pacing-wise, is going to have been for an endgame that'll make this feel more like a little blip along the way. But for some Star Trek fans, just getting to see TNG's heroes all together again might be worth just about anything, this stumble included.
---
Want more io9 news? Check out when to expect the latest Marvel, Star Wars, and Star Trek releases, what's next for the DC Universe on film and TV, and everything you need to know about James Cameron's Avatar: The Way of Water.