The success path for modern businesses traverses through excellent customer experience and strong customer relationships. Companies centralized around customer relationships are in long-term contracts with customers for business sustainability and profitability. Business goals become more straightforward and achievable when viewed through the lens of the customer. Still, companies must overcome a range of obstacles to derive true value from the customer relationship. Enterprises should proactively plan for customers' needs before they look for one. It is possible only when companies work closely with customers and analyze their preferences thoroughly. It can be done by integrating an advanced Customer Relationship Management or CRM system into business and unleashing customers' interaction on every front. But simply implementing a CRM system cannot give desirable results. Business owners need an end-to-end understanding of the CRM system to maximize its effectiveness. 
What Is a CRM System?
CRM or Customer Relationship Management System is a tool that helps business organizations to manage all relationships with their existing and potential customers. This data helps business enterprises to get a better understanding of their customers' needs and preferences. By acting on these data, organizations can build stronger relationships with customers. 
What Are the Different Stages of the CRM Process?
Stage 1) Reach customers and generate awareness: This is the first stage of the customer life cycle. In this stage, brands reach out to customers through various marketing activities like paid advertising, email marketing, referral programs, etc., and generate brand awareness. Brands can make a head-start if they can reach customers through various channels and provide the information they want. Brands must ensure that their presence is prominent on every channel customers visit.
Stage 2) Acquisition:  This is the stage where interested customers inquire about the products by visiting the websites, making a  phone call inquiry, or initiating a live chat. Customers try to explore products or services and check whether it addresses their concerns. Brands that respond satisfactorily to customers and help meet their goals have a high chance of converting them into potential customers. Remember, this stage is also crucial because the company collects personal information about the customers, such as email addresses, contact numbers, and other details. It is instrumental in establishing long-term relationships.
Stage 3) Conversion:  After all the inquiries, the customer decides to make the purchase. Potential leads are now converted into customers. The conversion stage is essential to identify the potential customers and the channels through which customers have explored the product or services.
Stage 4) Retention:  Once the lead is converted into customers, brands need to keep customers engaged and retain them. It is a critical stage of customer relationship because customer retention costs more than customer acquisition. The customer retention process provides cross-selling and up-selling opportunities, and it allows business owners to extract more value from existing customers. Product managers and marketers must continuously try to retain customers and fix the problems that impact customer retention rate. Business organizations can also push various loyalty programs to engage the customers and make them feel valued. Eventually, it helps to strengthen the relationship with customers.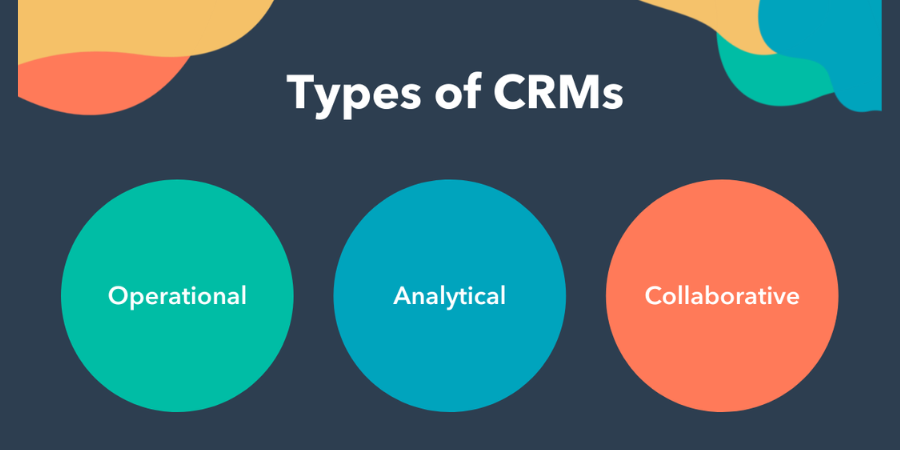 Operational CRM: The objective of operational CRM is to automate and fine-tune customer-centric business processes such as sales, marketing, and services. Since all the customers' details are stored and shared through a common repository, it is easy to coordinate between team members and keeps everyone on the same page. Operational CRM uses advanced technology like AI and machine learning to automate the process of lead scoring and predict lead qualification, which eventually helps in boosting the conversion rate.
Analytical CRM:  Analytical CRM collects customers' data from various sources and analyzes them to understand their behavior and patterns. It eventually helps them to target customers based on their product preferences and interest. Business owners can predict customers that are likely to respond to offers or customers that are most loyal. Analytical CRM helps to increase customer satisfaction and customer retention. 
Collaborative CRM:  Collaborative CRM is about integrating customer interaction and communication channels such as email, phone, web, social media, etc., so that organizations can solve customer problems and enhance customer experience. The basic idea behind collaborative CRM is to enhance the interaction with customers and increase customer retention.`
How Does CRM Software Help Business Organizations Streamline the Customer Relationship Management Process?
Automation: CRM software can automate a series of workflows, from email marketing campaigns to assigning qualified leads and answering customer queries through chatbots. CRM software automates mundane tasks and allows marketers to focus on more mission-critical tasks such as lead generation and lead capture. Automation in CRM further helps the team to follow up with prospects much faster and generate more SQLs (Sales Qualified Leads) and MQLs ( Marketing Qualified Leads). 
Data driven leads: The sales team appreciates as many leads in the sales pipeline, but the truth is that not all these leads can be converted into customers. Moving cold leads into the sales pipeline can impact sales and marketing efforts. It is essential to qualify leads as per the customer's interest and improve the conversion rate. CRM software holds all crucial information about the customers and sorts these leads based on demographics and buyer stage. Leads backed by data can be helpful for a sales rep to manage the leads efficiently.
Better customer support: Prompt customer support is a secret to customer loyalty. CRM solutions can be pretty effective in quickly responding to customer concerns and improving loyalty. CRM solutions are interlaced with various customer support services such as live chat, AI bots, ticketing, etc.
Real-time reporting: CRM solutions gather customer data and populate them into meaningful reports. The data gives real-time insights about potential leads, customer status, conversion rate, etc. Advanced CRM solutions incorporate machine algorithms to these insights to predict sales and make important business decisions.   Besides that, it provides better visibility of the CRM process and increases the upselling opportunities.     
CRM Installation- On-premise and Cloud-based CRM Software
CRM software can be used as on-premise software or as cloud-based software. With on-premise CRM software, the organization completely controls its data, maintenance, and security. This type of installation demands upfront investment and infrastructure costs. In contrast to on-premise software, cloud-based CRM software is more budget-friendly and scalable. The service provider takes complete responsibility for maintenance and data security. However, it is designed around the concept of one-size-fits-all; software customization may not always be possible. Besides that, vendors have the right to control the data.
Common Features of Advanced CRM Software
Contact management
Lead management
Workflow automation
Real-time data analytics and reporting
Third-party tool integration
Customer service
Employee tracking
Document management
Proposal management
Sales pipeline management
Key Strategies to Successful CRM Software Implementation
Figure out CRM goals:  Before investing in CRM, it is essential that business owners figure out the goals they need to achieve through CRM software.
Conduct research to find the right CRM solution:  Once the objective to invest in CRM software is clear; the next step is to conduct thorough research to find the right CRM solution. Remember, although CRM solutions are designed to enhance customer relationships, it is not a one-size-fits-all solution. A business organization needs to find the right CRM software to achieve business goals and gain high ROI.
Choose CRM implementation team:  Depending on the business, allocate designated team members for CRM implementation. The team members could be project managers, systems developers, data analysts, QA engineers, etc. These people convey the significance of CRM to team members, train the team members, and support in successful data migration.
Migrate and integrate data:  It is most likely that before using CRM software, the customer data would be fragmented and scattered. It is essential that business owners migrate data into CRM software. It might take days or weeks to migrate and integrate data into the CRM system.
Integrate with third-party tools:  Integrating a CRM system with third-party tools maximizes organizations' efficiency. Some popular integration users can consider are ERP tools, help desk apps, project management tools, live chat programs, etc.
Test the CRM system: Put the CRM system for test and see whether it fulfills the business goals.    
Advanced CRM Systems Conclusion
Data is gold in this digital age as it allows businesses to flourish well in the digital landscape. Companies collect various types of data, but customer data provides a deeper understanding of the market. Collecting customer data has become more significant with the ever-changing expectations of customers for superior customer service and personalized experience. A fully integrated CRM extracts actionable insights about customers and nurtures long-term relationships. It helps to strategically increase lifetime value and enhance the company's bottom line. Finding the right customer relationship management solution that resonates with the business needs and understanding its mechanism is key to its successful implementation.